Insights on relations offered
By KONG WENZHENG in New York | China Daily USA | Updated: 2018-11-30 23:30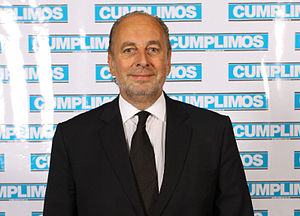 There are many similarities between Chinese and Argentine culture, and media coverage and people-to-people exchanges are adding to understanding, a former Argentine minister of the interior said.
Jose Luis Manzano, now a partner in the media giant Grupo América, told China Daily a few days ahead of President Xi Jinping's state visit to Argentina that there is more potential for the two countries to enhance economic ties and cultural exchange.
Manzano said "the best way of getting channels" through which cultural exchanges would take place, "is having a permanent flow of Argentineans going to China and Chinese people coming to Argentina".
That could happen through exchanges in institutions such as universities and the media, but what lies at the core of such exchanges are people, he said.
The similarities shared between people from the two cultures are noticeable, according to Manzano, who has visited China numerous times since the 1980s and been impressed by the economic progress and the hardworking nature of the Chinese people.
"I found China is a country where the hardworking culture is there, (and) the friendliness of the people is there," Manzano said.
Those attributes along with China's family culture remind Manzano of Argentineans.
"Argentinean people are family people, are hardworking people," said Manzano. "I believe the empathy that Argentinean people express for Chinese culture is (from) that. I saw more similarities in the cultures than the first initial idea of differences."
The rising number of Argentines visiting China each year is a product of the increasing exchanges between the two countries, Chinese Ambassador to Argentina Yang Wanming recently told China Daily.
From 2015 to 2017, the number of tourists visiting China from Argentina every year has doubled, from 30,000 to 60,000, Yang said.
"The best way of approaching two cultures is through people that know each other and visit each other," Manzano said.
The increasing presence of news about China in Argentine media also helps the country learn more about a major trade partner, he added.
"Obviously, the coverage of China in Argentinean media is growing and will constantly grow with the role that China plays in investments and in trade in Argentina," said Manzano.
As of 2017, China was Argentina's third-largest trade partner. China imported $4.7 billion in goods from Argentina in 2017, according to data from China's Ministry of Foreign Affairs.
"Argentina is a reliable supplier of products to China — soybeans, agricultural products and oil," said Manzano.
The government and society are working on broadening exports to China, a process that could be helped by Chinese media, as they introduce those products to Chinese consumers.
"The media cooperation is an accelerator of that," he said.
With Xi's visit to Argentina for the G20 Summit this week, Manzano is seeing increasing cooperation between the two nations, including more export opportunities for Argentine businesses and more Chinese investments.
The enhanced business relationship also is expected to facilitate further cultural exchanges, according to Manzano.
Contact the writer at nancykong@chinadailyusa.com