Reception marks 40 years of exchanging expertise
chinadaily.com.cn | Updated: 2018-11-30 23:50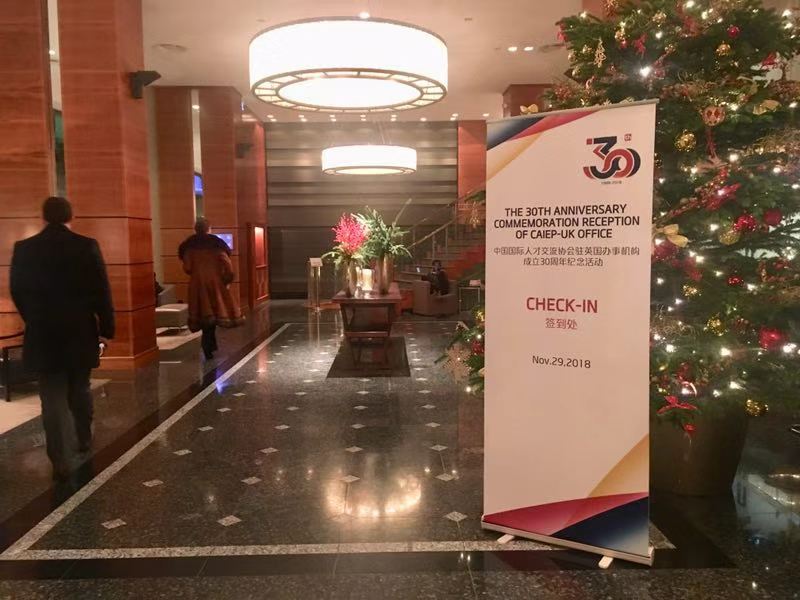 A reception was held in London on Thursday evening to mark the 30th anniversary of the founding of the UK office of the China Association for International Exchange of Personnel, known as CAIEP.
The event also doubled up as the launch ceremony for the United Kingdom being guest of honor at the 17th Conference of International Exchange of Professionals that will be held in Shenzhen on Apr 14 and 15 next year.
In his keynote speech, Vice-Chairman and Secretary General of CAIEP Zhang Jianguo, who is also China's vice-minister of the Ministry of Science and Technology and administrator of the State Administration of Foreign Experts Affairs, stressed the importance of international exchanges and cooperation in science, technology and talents.
"At present, there are more than 40,000 British experts working in China every year," Zhang said.
"After years of accumulation, this group has become an important talent base and driving force for Sino-UK innovation cooperation."
He said the Chinese government will implement "a more active, open and effective talent policy" in order to provide high quality services for foreign experts working in China.
The London event also coincided with the 40th anniversary of China's reform and opening-up and the 40th anniversary of the signing of the China-UK intergovernmental cooperation agreements on science and technology.
Also in attendance were around 120 representatives from the Chinese embassy in the UK, and representatives of British institutions and organizations that have established cooperative links with China's Ministry of Science and Technology.
Zhu Qin, minister and deputy head of mission of the Chinese embassy in the UK, said: "It is very important that experts, scholars and students from both China and the UK exchange their expertise and explore further cooperation in science, technology and other areas.
"That will contribute more dynamics to the bilateral relations between China and the UK."
Han Baoyi contributed to this story.