China, US should stand together: Kentucky governor
By Matt Bevin | China Daily | Updated: 2018-12-01 00:38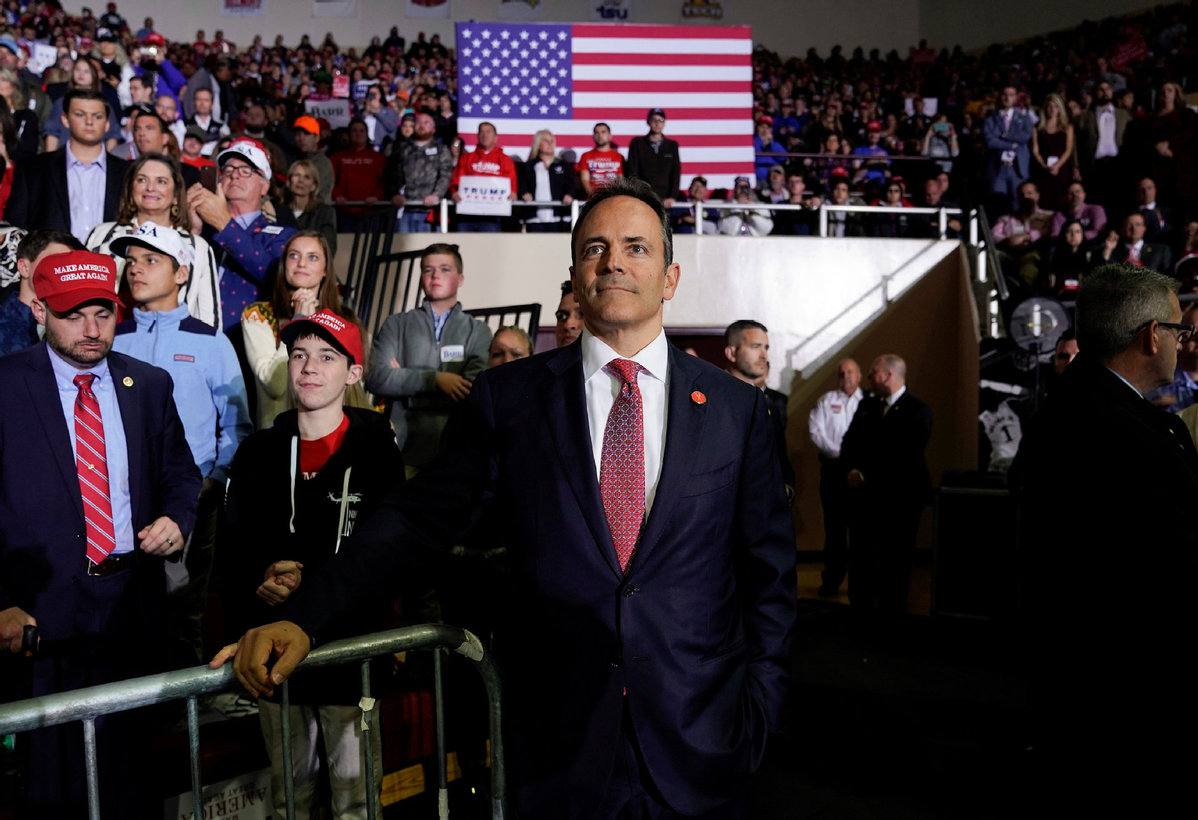 The United States and China provide tremendous benefit to the world through our strong and productive economies. In fact, recent statistics show that our two countries together produce a combined 39.4 percent of the global GDP. Therefore, it is critical that we work together economically for the good of our countries and for the good of the world.
Currently, much of the global media attention is focused on the trade negotiations between our nations. They use sensational words and phrases such as "trade war" and "conflict". This is both inaccurate and unhelpful. When our two large and powerful economic engines interact, there will naturally be some points of disagreement. This is to be expected. I am very confident that, over time, these differences will be worked out. I believe there is a bright economic future ahead that will be mutually beneficial to both China and America.
Kentucky leads the US in welcoming Chinese business investment and job creation. I am passionate about both helping our existing business relationships continue to flourish and creating new economic ties. Chinese companies currently own eight facilities in Kentucky, which employ 8,700 people in our state.
These corporate owners include Haier, Legend Capital, China National Chemical, Yiwu State-Owned Capital Operation, Midea, Tangshan Shenzhou Manufacturing Co. Ltd and Shandong Borun Industrial Processing Equipment. Recently, a Chinese owned paper manufacturer purchased a mill in west Kentucky and plans to create 500 jobs in the coming years, bringing Kentucky's total to well over 9,000.
Kentucky imported more than $8 billion in goods and services from China in 2017, including communications equipment, motor vehicle parts and electronic products.
In China, our state's name is best known for the world famous Kentucky Fried Chicken (a subsidiary of YUM Brands). However, our state also offers China's business leaders many great investment opportunities beyond chicken.
Last year, Kentucky exported $2.81 billion in goods and services to China, including motor vehicles (the Lincoln Navigator and Lincoln MKC, both manufactured in Kentucky, are currently very popular in China), aerospace products (Kentucky is the second leading exporter of such parts among all the US), pharmaceuticals, resins, wood products, soybeans, beef and bourbon. This export total represents a 60 percent increase from 2016. As governor, I am working to continue this trend over the coming months and years.
In August of 2018, it was my honor to host the Chinese Ambassador to the US, the Honorable Cui Tiankai, at the Governor's Mansion where we discussed business opportunities with key Kentucky stakeholders. Additionally, I recently enjoyed a week-long trip to China with officials from our Economic Development Cabinet to explore further potential partnerships between our state and Chinese businesses.
My vision is to make Kentucky the center of engineering and manufacturing excellence in the United States. As we proceed toward fulfilling this vision, I am certain more opportunities for these China-Kentucky partnerships will present themselves. With our central location in the United States (our state is within 1,000 kilometers of 65 percent of the US population), our low electricity and housing costs, our high quality of life, our incredible logistical capabilities (currently ranking 2nd in all of the US for total air cargo shipments), our abundant natural resources and our outstanding infrastructure of highways, railways and riverways, Kentucky should be considered by every Chinese company looking to invest in North America.
Kentucky's motto is "United we stand. Divided we fall." This is also an appropriate motto for our two nations.
As we strengthen our sub-national relationships at the person-to-person and business-to-business level, we will develop deeper cultural respect and understanding for one another.
Together, we must stand united for global peace and prosperity and together, our futures will shine more brightly than ever.
The author is the Governor of Kentucky.