Old friend who helped set the course for ties
People's Daily Online | Updated: 2018-12-03 07:55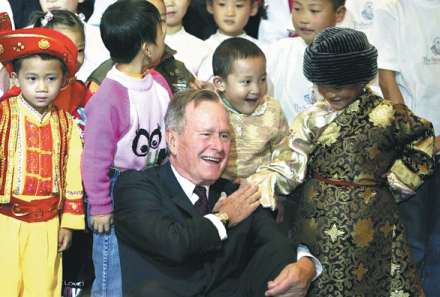 Editor's note: George Herbert Walker Bush, World War II US naval aviator, Texas oil pioneer, and the 41st US president, died on Friday. He was 94. The People's Daily's WeChat account Xiakedao comments:
It is worth mentioning that George H. W. Bush served as director of the US liaison office in Beijing in 1974 before the establishment of diplomatic relations, and contributed to the thawing of the China-US relations.
The Soviet Union collapsed during his presidency (1988-1992), during which the US also extended its hand directly to the Middle East by initiating the Gulf War. Although he failed to be re-elected-mainly for failing to reboot the US economy-Bush helped to put an end to the Cold War and usher in the post-Cold War era.
True, the military actions he started in the Middle East and Somalia seemingly came to nothing. But in fact, they began a process of the US rebuilding the world order, during which the US quickly established its dominancy in geopolitics.
It is fair to say, Bush was a statesman of vision, not only for being a co-founder of the US dominancy in the post-Cold War era, but also his insightful observations on China, which were the key for the forming of the US' China policies in the 1980s and beyond.
He knew that China was different from the Soviet Union, and insisted Washington should cooperate with China, and give up applying its Moscow tactics when dealing with Beijing, which was an offbeat thought in contrast with the then mainstream thinking in Washington.
History shows Bush was correct, and his successors have largely inherited the essence of his China policies, which has been crucial for China-US ties to weather the changes in the times and the international situation over the past decade, and still bears meaning today.
In the 1990s and early 21st century, both China and the US witnessed fast economic growth thanks to the win-win cooperation of the two sides, Bush's influence on the US' China policies should take some credit for that.