Israel's political arena in turmoil after police recommend charging PM with bribery
Xinhua | Updated: 2018-12-03 09:22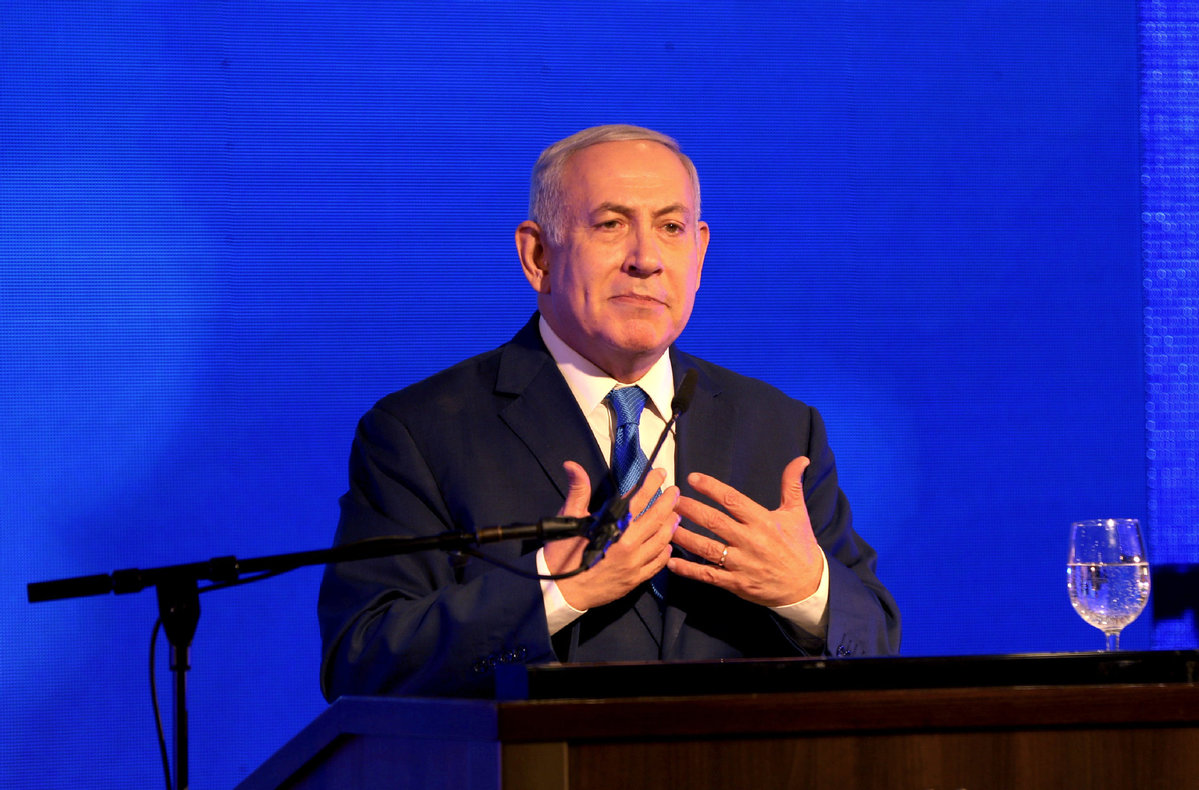 JERUSALEM - Israel's political arena was in uproar on Sunday after the police recommended indicting Prime Minister Benjamin Netanyahu and his wife Sara in corruption charges.
The announcement prompted the opposition to urge the prime minister, who has been entangled in a series of corruption investigations over the past years, to hand his resignation immediately.
The calls came after the police and the Israel Securities Authority announced that there was sufficient evidence to indict the Netanyahus for accepting bribes, fraud, and breach of trust in a case involving Israel's largest telecom company, Bezeq.
Opposition leader and Israel's former Foreign Minister, Tzipi Livni, called on Netanyahu to resign. "Netanyahu must go home before he destroys the law enforcement in order to save his own skin," Livni wrote on Twitter, referring to Netanyahu's repeated suggestions that the criminal investigations in which he is involved are part of a "witch hunt" against him.
"The people of Israel deserve a clean leadership. Elections now," she wrote.
Heads of other opposition parties echoed Livni's call, saying Netanyahu must step down.
Yair Lapid, leader of the center party of Yesh Atid and a former finance minister in Netanyahu's previous government, called for the Likud, Netanyahu's party, to remove the prime minister from his post and select another member of Knesset (parliament) to replace him until new elections.
"This is a sad day for all Israeli citizens," Lapid said in a statement. "The State of Israel deserves better."
Head of the Labor Party Avi Gabbay referred to the police conclusion, according to which Netanyahu gave Bezeq financial and regulatory benefits in return of favorable coverage in the Walla, a news site and a subsidiary of Bezeq. "A man driven by a sick obsession of what will be said about him in the media can't lead the State of Israel," Gabbay wrote on his Twitter account.
"Every additional day at his post means damage to the citizens of Israel," he warned. "A prime minister with so many corruption cases around him cannot continue at his job and must resign."
Lawmakers from the Likud played down the significance of the announcement and lashed out at the police.
Likud lawmaker Miki Zohar denounced the police, saying they "continue to cross all lines." Miri Regev, a lawmaker with the Likud and Israel's culture minister, and coalition head David Amsalem also criticized the police, suggesting that the police were quick to accuse Netanyahu ahead of the expected departure of Police Commissioner Roni Alsheikh on Monday.
The increasing calls for Netanyahu's resignation cast doubts on his ability to end his current term, which is supposed to end in November 2019.
Last month, Netanyahu was left with a narrow coalition after former Defense Minister Avigdor Lieberman resigned over Israel's cease-fire with Gaza Strip's Hamas group.
After Lieberman's far-right party left, the coalition remained with 61 members in the 120-member parliament, making it even more susceptible to collapse.
Earlier on Sunday, in a joint statement concluding the nine-month-long investigation, dubbed by the police as "Case 4000," the police and Israel Securities Authority recommended indicting the prime minister and his wife for accepting bribes, fraud, and breach of trust.
According to the statement, Netanyahu promoted regulations favoring the telecom giant, the Bezeq Group, in return for favorable coverage in Walla. Both Bezeq and Walla were controlled by Shaul Elovitch, a businessman and Netanyahu's long-time friend.
The police also recommended indicting Elovitch and his wife Iris.
The investigation showed that between 2014 and 2017, when the prime minister also acted as Israel's communication minister, he allegedly awarded Bezeq with regulatory and financial benefits worth hundreds of millions of U.S. dollars.
Netanyahu has denied any wrongdoing.
Shortly after the police recommendations were publicly announced, the prime minister released a statement dismissing the allegations.
"I am sure that also in this case the relevant authorities, after examining the matter, will reach the same conclusion that there was nothing because there is nothing," he said in the statement.
In February, the police recommended to indict Netanyahu for a series of corruption charges including bribery, fraud, and breach of trust in two other cases, "Case 1000" and "Case 2000."
In "Case 1000," Netanyahu and his family allegedly received expensive cigars, champagne, and jewelry worth about 1 million new shekels (268,200 dollars) from the Israeli businessman and Hollywood tycoon, Arnon Milchan, and Australian businessman, James Packer, between 2007 and 2016.
In "Case 2000," Netanyahu allegedly received bribes from Arnon Mozes, the publisher of Yedioth Ahronoth, one of Israel's largest newspapers.
According to the police, Netanyahu and Mozes held talks over an "exchange deal," in which Netanyahu would receive favorable coverage in Yedioth Ahronoth in return for promoting a law and other measures that would limit the distribution of Israel Hayom, Yedioth's main rival.