Mexico's new president vows end to 'rapacious' elite
China Daily | Updated: 2018-12-03 09:54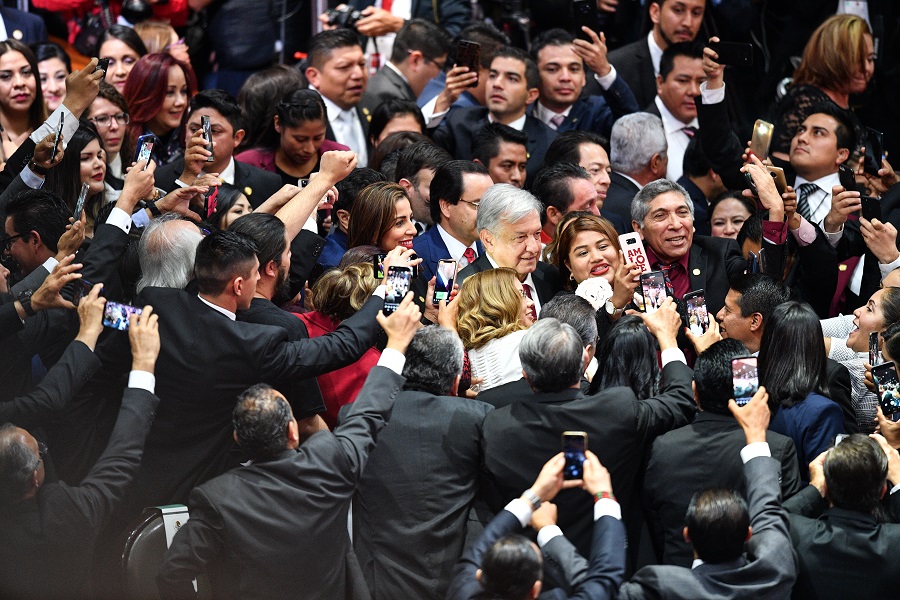 MEXICO CITY - Veteran leftist Andres Manuel Lopez Obrador took office as Mexican president on Saturday, vowing to see off a "rapacious" elite in a country struggling with corruption, chronic poverty and gang violence on the doorstep of the United States.
Backed by a gigantic Mexican flag, the 65-year-old took the oath of office in the lower house of Congress, pledging to bring about a "radical" rebirth of Mexico to overturn what he called a disastrous legacy of decades of "neoliberal" governments.
"The government will no longer be a committee at the service of a rapacious minority," said the new president, who is often nicknamed AMLO. Nor would the government, he said, be a "simple facilitator of pillaging, as it has been."
Lopez Obrador later addressed a massive crowd of supporters in the heart of the capital, promising to put Mexico's sizable indigenous minority first in his drive to root out inequality.
A major challenge facing the new leader is managing relations with Mexico's top trading partner, the US, after repeated broadsides by President Donald Trump against Mexico over illegal immigrants crossing the US border.
Lopez Obrador repeated he was seeking to contain migration through a deal with Trump and Canadian Prime Minister Justin Trudeau to foster development in Central America and Mexico.
The first leftist to take office in Mexico in a generation also tried to reassure business after markets slumped since the July 1 election on worries about his policies, including the abrupt cancellation of a $13 billion new Mexico City airport.
Lopez Obrador reiterated investments in the country of 130 million people would be safe, and pledged to respect central bank independence. Saying his government would make savings by stopping losses from the public purse into the "sewer of corruption", he promised not to raise national debt or taxes.
But he promised higher wages for the poor and zero tolerance for corruption in his administration.
One of Lopez Obrador's first official acts was to throw open the gates of the secretive, sprawling presidential residence known as Los Pinos, located in a corner of Mexico City's largest park. Closed to the public since the first parts were built in the 1930s, the compound will now be used for public events.
Meanwhile, authorities are investigating an apparent grenade attack on the US consulate in the city of Guadalajara, officials said on Saturday, underscoring the security challenges facing Mexico's new president.
No one was killed or injured in the attack, according to a US official in Mexico.
Reuters