Freeze-frames of growing excitement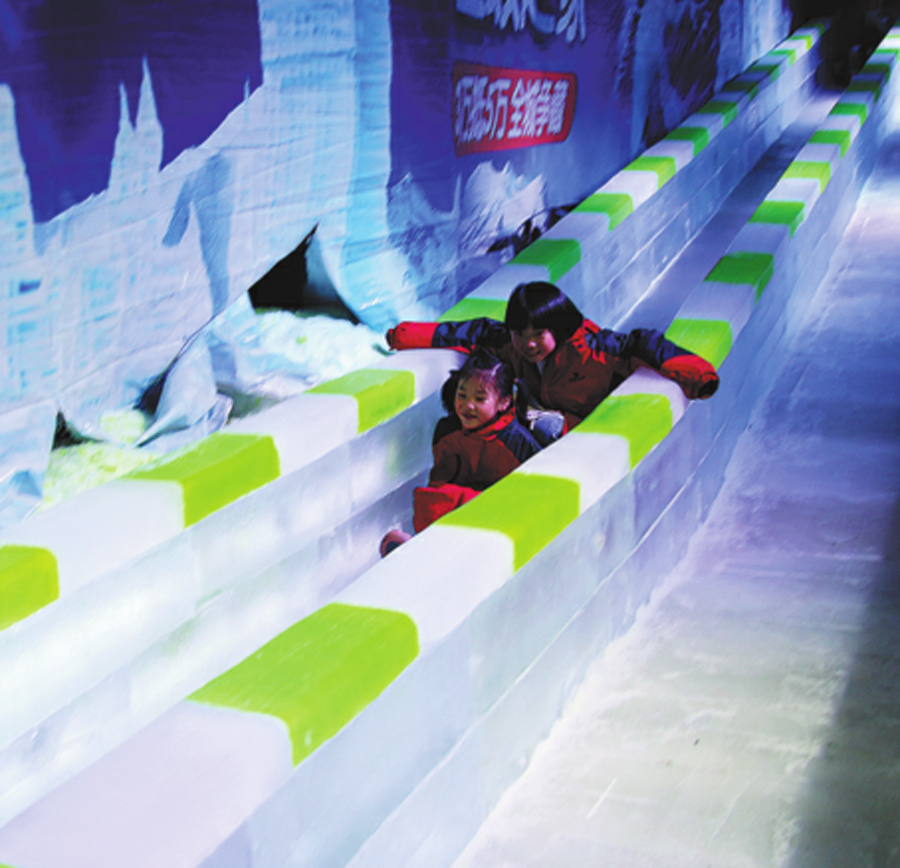 Even without the chills, there are more than enough thrills and spills in winter sports to captivate China's warm south as the nation's annual mass ice and snow carnival expands its reach.
With the 2022 Beijing Winter Olympics looming, interest in winter sports has broken climatic and geographical boundaries in the world's most populous nation.
The festivities are helping push that expansion to untapped markets with Thursday's launch in Shanghai of a four-month campaign that will feature promotional events and amateur competitions.
The annual mass celebration was initiated by the National Winter Sports Administrative Center and local sports bureaus in 2014 to support Beijing's bid with co-host Zhangjiakou, Hebei province, for the 2022 Games.
This year's highlight is an ice and snow "open class" program that will run at about 100 skating rinks and ski resorts-many of them in southern and southwestern China-where citizens of all ages can learn entry-level skills from experienced instructors through March.
The inaugural China Ice and Snow Sports Convention, which will be held at the Beijing Exhibition Center from Dec 22-24, will put the latest technologies for all-season winter sports training on display in an immersive set-up to intrigue the public with equipment such as VR skiing simulators, dry-snow courses and portable artificial ice rinks.
Thursday's launch ceremony will be a selling point of its own as organizers have invited all of China's winter sports stars, active and retired, to join central government officials, performers and amateur enthusiasts at the 15,000-seat main stadium of Shanghai's Oriental Sports Center, where a 70-meter-long ski ramp and a 2,800 sqm ice rink will be built on stage.
"To open this year's events in Shanghai, a metropolis renowned for hosting all kinds of summer sports, will send a strong message that winter sports are not just confined in the northern part of the country," said Ding Dong, a deputy director of the winter sports administrative center.
"To bring the excitement of winter sports across the country leading up to the 2022 Winter Olympics is a major mission as important as preparing our elite athletes for the Games.
"The mass ice and snow season will strive to fulfill that mission by getting more facilities, members of the public and investors in southern China involved in leisure activities, training and grassroots competition."
As a national goal set by the central government, China aims to involve 300 million people in winter sports activities in the buildup to 2022 and is rolling out a plan to build at least 650 rinks and 800 ski resorts to facilitate the demand.
The winter sports sector is expected to generate industry value of 1 trillion yuan ($144 billion) from venue revenues, equipment production and training fees by 2025, according to a national winter sports development plan.
Shanghai, host of an annual Formula 1 race, ATP Tennis Masters and NBA preseason games, is gearing up for more winter sports excitement.
The city now runs 15 public and private rinks and six indoor skiing centers, which served more than 350,000 visitors in the 2017-18 winter season, according to Shanghai Municipal Sports Bureau.
Shanghai also became the first city in China to host the world championships in both short-track speedskating (2012) and figure skating (2015), and the first pilot center to accommodate and train summer athletes who are transitioning to winter events.
"The expansion of winter sports has brought more fun to the mild winter in Shanghai," said Xu Bin, director of the bureau.
"The future holds a great potential in a lot of warmer regions like Shanghai to embrace winter sports in all possible ways."
The city has set a goal to run 50 skating and skiing facilities while introducing winter sports training to physical education classes in 500 schools from the current 70 by the end of 2025, said Xu.