Enovate's novel approach to fun aims to inspire car sector
By Li Fusheng | China Daily | Updated: 2018-12-03 13:20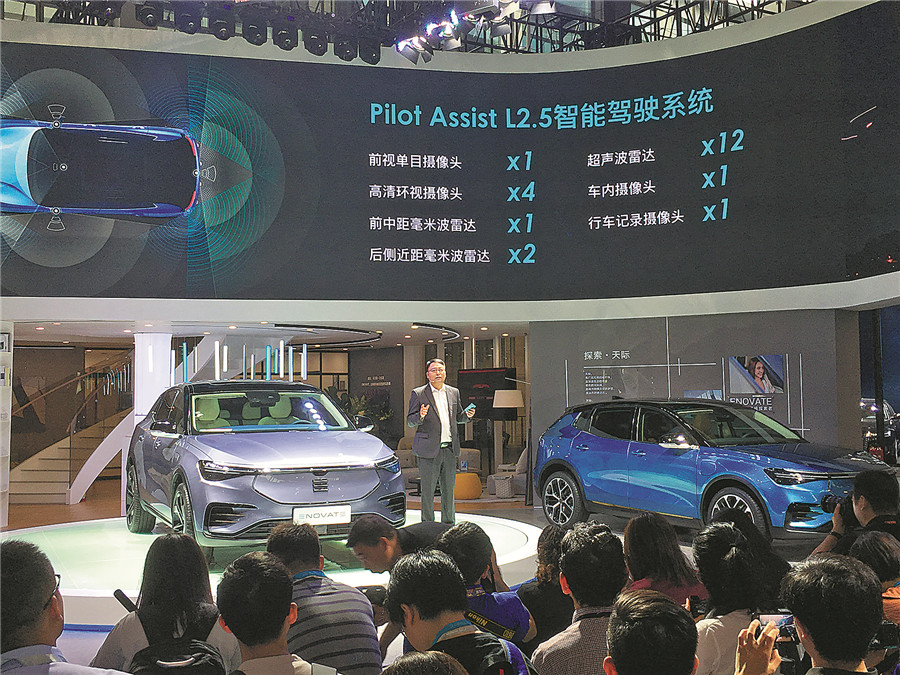 The key to future success in the automotive industry is to produce reliable and fun cars, and traditional carmakers may become followers, according to senior executives at Enovate, a high-end brand of Chinese electric car startup DearCC.
"Vehicles will remain vehicles in the future, but they have to be fun and interesting, primarily by means of smart connectivity functions," said Enovate Chairman and CEO Zhang Hailiang in an interview with China Daily after the brand showcased its first model, the ME7 SUV, at the Guangzhou auto show in November.
The electric model, which is expected to hit the market in 2019, has a number of features that the carmaker said are designed to make the time inside the car enjoyable.
For example, it has five displays allowing the driver and passengers to get connected and entertain themselves, 22 sensors that help deliver advanced driving assistance functions, and facial recognition technology that detects the driver and thus offers what he or she enjoys based on memory and learning.
Zhang, who once headed SAIC-Volkswagen, said in the future vehicles should be a mobile living space, and companies should try their best to meet customer demands, or "become a company defined by customers".
He said startups have advantages in the new round of competition because of their fast responses.
"Traditional carmakers have good comprehensive strength and strict discipline, but as a result of that, they are more likely to move slower, and when they start to change, the world has changed again," Zhang said.
He said their biggest problem currently was not even about the speed they changed. "They are too obsessed with car-making technologies, and usually trivialize smart and connectivity functions."
Niu Shengfu, chief technology officer at Enovate, said the fact that electric vehicles are easier to make is offering newcomers a chance to stand out, but traditional carmakers should be applauded in terms of their strict standards and tested abilities in car manufacturing.
He said the process to develop the model is full of difficulties, but finally his team of veterans from such brands as Volkswagen, GM and SAIC Motor are helping Enovate to deliver products that can compete with traditional carmakers.
The model has a maximum range of 700 kilometers, and the four-wheel-drive version can accelerate from 0 to 100 km/h in 4.9 seconds despite its class-leading dimensions, according to the carmaker.
"Compared with many startups, we have respect for traditional brands; and compared with traditional brands, we have respect for startups, especially with their internet-based mentality, which focuses on customers," Niu said.
He said startups must race to get established first, as seizing a leading position will prove crucial in the new round of competition in the automotive industry. "As you know, when traditional carmakers awaken, they will be really competitive," Niu added.