China's ambassador honored by City of London
By Cecily Liu in London | China Daily UK | Updated: 2018-12-04 01:01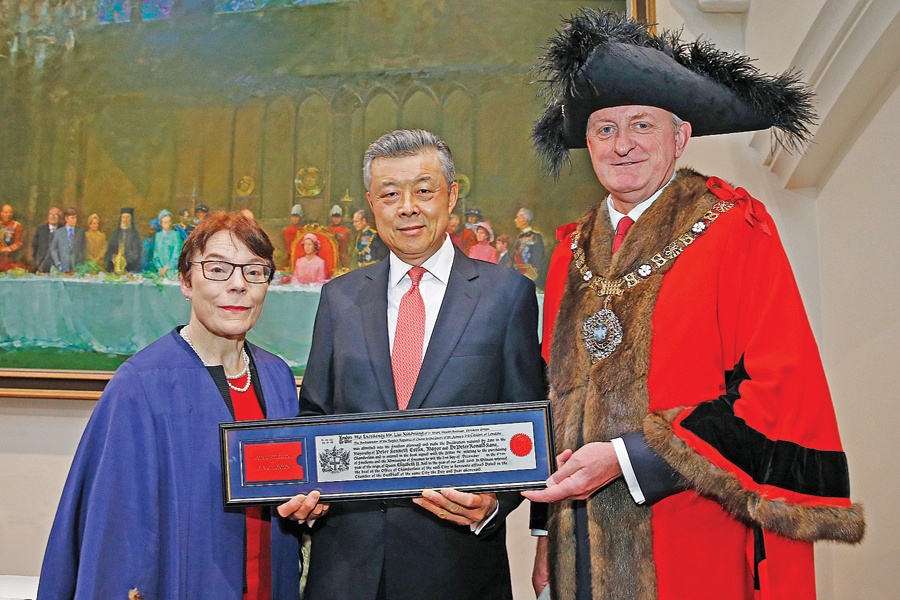 China's Ambassador to the UK Liu Xiaoming received the Freedom of the City of London on Monday, a title of privilege that dates back to the 13th century.
Liu, who has served as China's ambassador to the UK since 2009, was recognized for his outstanding contribution to promoting UK-China relations.
He received the honor at a grand ceremony in the Guildhall Art Gallery, in the presence of the newly installed Lord Mayor of London Peter Estlin, the City of London Corporation's policy chairman Catherine McGuinness, and numerous political and business leaders.
"It is a great pleasure to award the Freedom to the ambassador, in recognition of his tremendous energy and enthusiasm in building relationships between China and the UK, and in particular with the City of London," Estlin said.
Liu said: "The Freedom award is an honour. This honour is based on trust. This honour imparts confidence."
Liu said his confidence in China-UK cooperation is supported by three elements: China's deeper reform and further opening-up, China-UK collaboration on the Belt and Road Initiative, and a sound China-UK relationship.
"I believe, with firm confidence, we will overcome difficulties and strive ahead together to create an even brighter future for China-UK relations!"
Believed to have been first presented in 1237, the honor of the Freedom of the City of London is one of the oldest surviving traditional ceremonies still in existence.
In medieval times, the Freedom provided an individual the right to trade or craft in the City of London, the financial district of the capital. Other archaic permissions came with the honor, including the right to take sheep and cattle across London Bridge without paying a toll.
Today, the honor is open to a much wider section of society, and includes many notable dignitaries and celebrities who have achieved success, recognition or distinction in their chosen field.
Earlier this year Sun Yu, former general manager of Bank of China London Branch, received this title. China's Vice-President Wang Qishan also received it in 2007, when he was mayor of Beijing.
Other well-known recipients of the title include Microsoft co-founder Bill Gates, Academy Award winner Eddie Redmayne and Nobel Peace Prize recipient and former South African president Nelson Mandela.
At Monday's ceremony, Liu was presented with a beautifully inscribed parchment copy of his Freedom certificate, together with a copy of a little archaic book entitled the Rules for the Conduct of Life.
Over the nine years that Liu has served as China's ambassador in the UK, bilateral relations have advanced significantly. Bilateral trade between the two countries hit $79 billion in 2017, up by 6.2 percent year-on-year. More significantly, British exports to China grew by 19.4 percent in 2017, to reach $22.31 billion, according to Chinese government statistics.
London has also become a leading Western offshore renminbi hub, and an important financing center for some Belt and Road infrastructure projects. About 30 Chinese financial companies now have subsidiaries in the City of London.