Global Food Safety Governance Forum held in Beijing
chinadaily.com.cn | Updated: 2018-12-04 22:10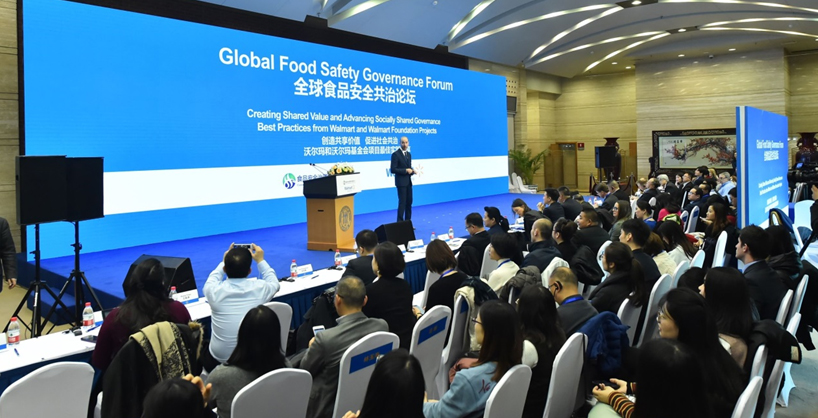 The Walmart Food Safety Collaboration Center and Renmin University of China's Center for Coordination and Innovation of Food Safety Governance held the Global Food Safety Governance Forum at Renmin University's Century Hall. Top food safety experts, heads of industry organizations and business leaders from China and around the world gathered to discuss creating shared value for the industry and advancing socially shared food safety governance through collaborations and exchanges of global best practices.
In October 2016, Walmart and the Walmart Foundation announced a plan to invest $25 million in funding over five years to support projects in applied science, education and communications that enhance food safety in China. The forum invited leaders from the organizations conducting supported projects to share their progress, what they've learned and future plans.
Eight projects from seven organizations were presented, including the University of Arkansas, Massachusetts Institute of Technology, Tsinghua University, Chinese Institute of Food Science & Technology, China Chain Store & Franchise Association, China Food Information Center and China Children and Teenagers' Fund. The research topics of these projects covered a broad range of food safety issues. These included enhancing the transparency of food supply chains, curtailing food adulteration, improving the food safety management capabilities of small and medium-sized enterprises, and promoting public food safety education, especially children's education on food safety and health. The projects are designed to complement principles of socially shared food safety governance in China, creating shared value for the whole food industry and the end consumer.
Intricate and complex global food supply chains have brought enormous benefits to increasingly sophisticated Chinese consumers, but, at the same time, have brought new challenges to ensuring food safety. Food safety is no longer an issue that can be resolved by any one country, company, or association; instead, it requires cooperation along the entire food supply chain and broader society. Far-reaching in its impact, the Chinese government's 2015 Food Safety Law proposed socially shared food safety governance as a key principle for improving food safety, a principle that has provided important guidance for realizing a new form of global food safety supervision.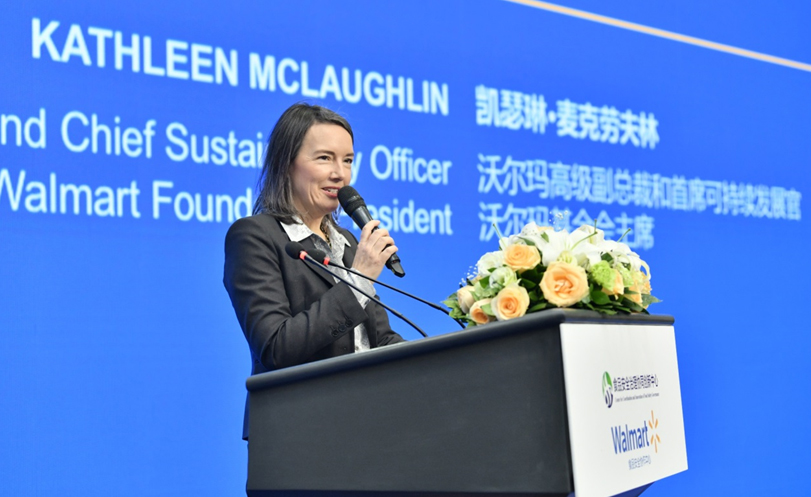 Kathleen McLaughlin, senior vice president and chief sustainability officer for Walmart and president of the Walmart Foundation, said, "Walmart works to make food safety part of our culture. As a leader in the retail food business, we believe that maintaining a progressive and effective food safety management system is a critical part of our continued success. We also have an opportunity to collaborate with suppliers, associates, customers, researchers, communities, nonprofits and governments to promote food safety in China and in other markets around the world. The Walmart Food Safety Collaboration Center is part of that work, and the conversations we're having today are designed to spark collective action and provide solutions that benefit society."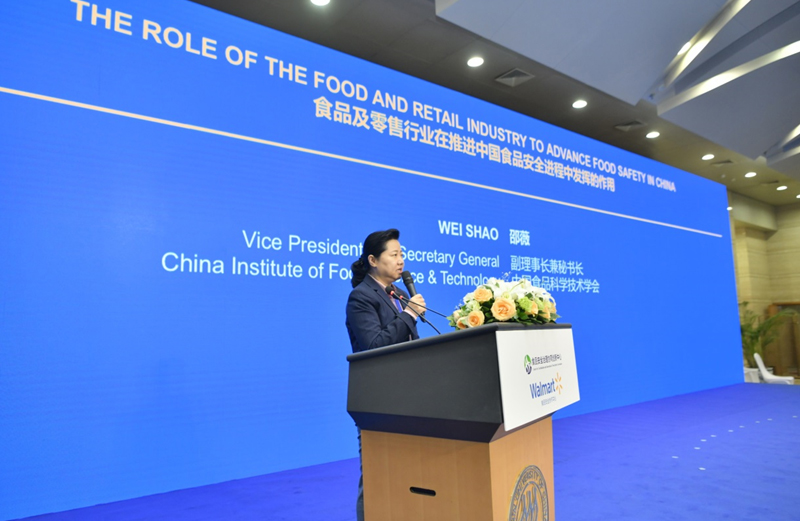 Wei Shao, vice president and secretary-general of the Chinese Institute of Food Science and Technology, emphasized the importance of socially shared food safety governance in improving food safety and health in China, from the perspective of public education. She praised the positive role of the food and retail industry, championed by Walmart, to advance food safety in China. She stated in her opening remarks that promoting collaboration and socially shared governance is the only way to improve food safety for all.
"Improving China's food safety requires the participation and collaboration of all stakeholders," Wei said. "Using the collaborative project by the Chinese Institute of Food Science and Technology and the Walmart Food Safety Collaboration Center as an example, both sides have integrated the resources developed by domestic and foreign enterprises, scientific research institutions, industry organizations and government departments to carry out a series of public education activities that aim to increase people's awareness and knowledge on food safety and nutritional health. These activities have already begun to pay off and helped improve Chinese consumers' trust in food safety. We look forward to more food processing and retail companies joining this multidisciplinary collaboration to jointly promote China's food safety development."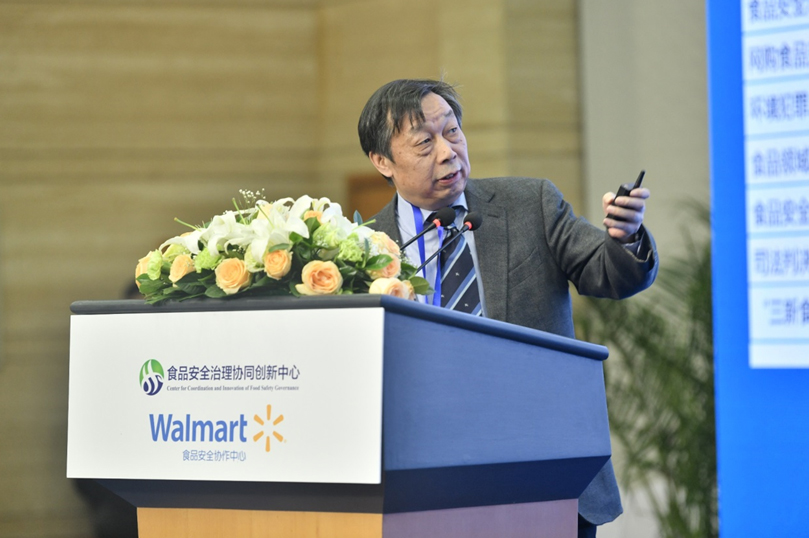 Professor Jinguang Hu, director of the Managing Committee of the Center for Coordination and Innovation of Food Safety Governance at Renmin University of China and the Sam Walton Food Safety Law Chair Professor, said he appreciated the role of socially shared governance to enhance food safety supervision in his remarks.
He stated, "China still has severe food safety issues. Most food producers and operators are small and scattered, which are not easy to supervise. The long food industry chain also makes food safety risks more cumulative, extensive, invasive and fluid. Therefore, the management of food safety is highly integrated, requiring joint efforts by different entities, including the government, enterprises, consumers, media, research institutes, and industry associations. These entities need to work together to conduct interdisciplinary research on food safety governance, and to apply theory into practice to achieve socially shared governance. The Sam Walton Food Safety Law Chair team adheres to such an idea, bringing interdisciplinary talents to conduct key research projects and participate in the drafting of the national food safety law, to provide strong academic support to the decision-making of China's food safety governance."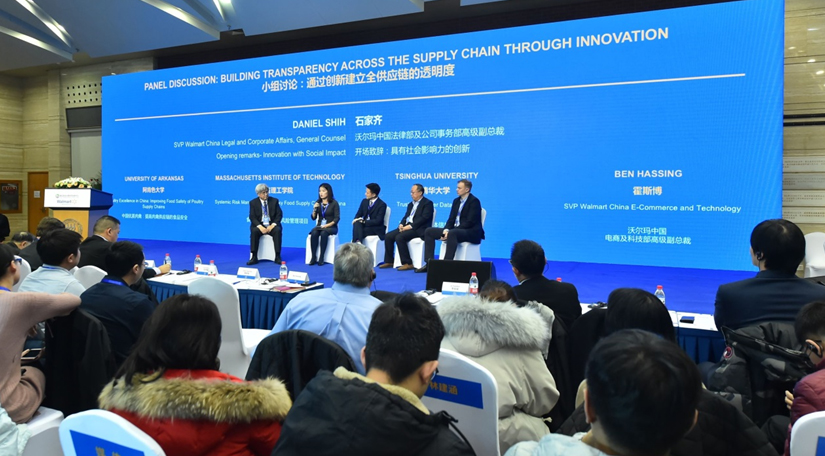 Following the keynote session, Daniel Shih, senior vice president of Walmart China Legal and Corporate Affairs, led the first panel discussion on using innovation to build transparency across the supply chain. The first group of three project leaders shared the outcomes achieved over the past two years and future plans for their projects. These projects included two funded by the Walmart Foundation, "Poultry Excellence in China: Improving Food Safety of Poultry Supply Chains" by the University of Arkansas, and "Systemic Risk Management of Risky Food Supply Chains in China" by the Massachusetts Institute of Technology. Also included was one supported by the Walmart Food Safety Collaboration Center, "Trusted Supplier Data Platform" by Tsinghua University.
During the panel discussion, Shih praised the technological innovation and the diversity of international cooperation demonstrated in the projects. He stated that consumers' increasing demand for an endless assortment of products year round and efficiently delivered however the consumer chooses to shop has brought fresh challenges to the food and retail industries. By working collaboratively across disciplines, universities, industry sectors, and national borders, the projects aim to advance a more predictive and less reactionary food safety system through cutting-edge technology.