Washington bids farewell to Bush
Updated: 2018-12-04 23:06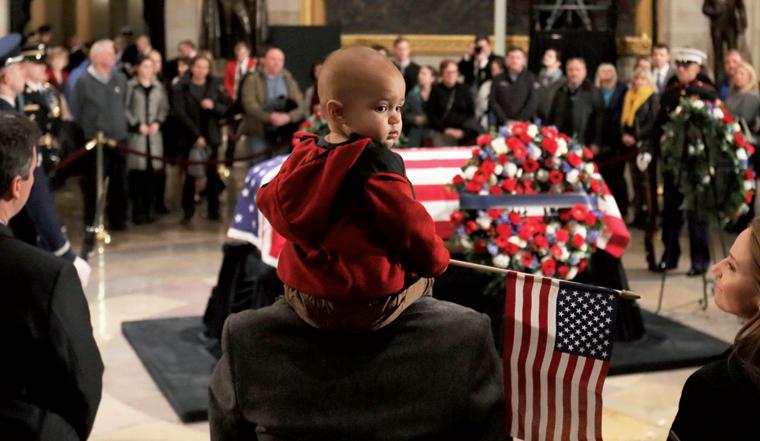 The body of former US President George H.W. Bush arrived on Monday in Washington, on a final trip to the US Capitol where mourners will pay tribute to the man who led the nation as the Cold War ended.
The 41st president's flag-draped casket was unloaded from Air Force One at Joint Base Andrews outside Washington, and honored with a 21-gun salute and the solemn notes of "My Country, 'Tis of Thee."
The Bush family, led by son and former President George W. Bush, accompanied the patriarch's body on the flight from Texas and on its trip down Pennsylvania Avenue to the Capitol.
The body of the Republican former president will lie in state at the Capitol Rotunda from Monday through Wednesday, when a state funeral is scheduled at the National Cathedral.
Mourners began lining up at the Capitol to pay respects to Bush, who died at his Houston home on Friday night at the age of 94, seven months after his wife Barbara passed away.
Many spoke of Bush's role in a bygone era of bipartisan civility in Washington.
"It really is about the character, and how they (Bush and others in his Cabinet) ran our government. That's why I'm here," said Sheila Murray, 58, from Stevensville, Maryland, who came with her 14-year-old son Thomas.
Republican Senate Majority Leader Mitch McConnell recalled Bush's understated style of governing.
"He wasn't a dramatic or revolutionary leader," McConnell said in a statement. "Instead, he offered humility and a servant's heart."
After services in Washington, there will be another funeral in Houston on Thursday followed by burial at the Bush Presidential Library in College Station, Texas.
His final resting place will be alongside Barbara Bush, his wife of 73 years who died in April, and Robin Bush, the daughter they lost to leukemia in 1953 at age 3.
Trump has ordered the federal government to close on Wednesday and both the New York Stock Exchange and Nasdaq will be closed on Wednesday in observance.
REUTERS — AP