AMLO sets out Mexico's 'transformation'
China Daily | Updated: 2018-12-05 09:31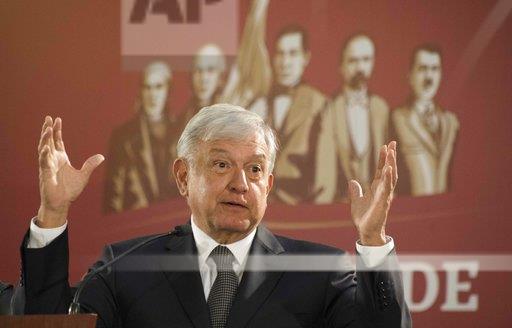 MEXICO CITY - Newly installed Mexican President Andres Manuel Lopez Obrador launched his "transformation" of the country on Monday with a return to presidential news conferences and a new commission to investigate the internationally condemned disappearance of 43 students in 2014.
The new leader, known as AMLO, who assumed the presidency on Saturday, got down to business with a 6 am meeting with his public security team, followed by a 7 am news conference - something his predecessor, Enrique Pena Nieto, habitually avoided.
He then signed a decree creating an investigative commission to unravel the unsolved case of the missing students, a stain on Pena Nieto's legacy.
"I promise you there will be no impunity, not in this terribly sad and painful case, and not in any other," Lopez Obrador said at a ceremony where the students' parents were present.
Mexico is still haunted by the disappearance of the 43 student protesters from the Ayotzinapa teachers college in the southern state of Guerrero.
They were attacked and then detained by municipal police in the city of Iguala on Sept 26, 2014.
According to the official investigation, corrupt police then handed them over to hit men from the Guerreros Unidos drug cartel, who killed them and burned their bodies at a garbage dump.
However, independent investigators found numerous holes in the official story - including a lack of forensic evidence at the supposed crime scene and indications that many of the suspects were tortured into confessing.
Trump's 'respect'
Lopez Obrador's nearly hourlong news conference touched on a wide range of issues. But the biggest news may have been the event itself.
It was a dramatic departure from the style of Pena Nieto, who read out scripted statements to the press on a semiregular basis but seldom took questions from journalists.
"We are going to guarantee the right to information," Lopez Obrador, 65, told a room packed with reporters.
"We're at your disposal to answer your questions. There are no limits, no censorship … The media are instruments to keep the people informed."
The Mexico City mayor said both the early-morning news conference and meeting with his public security team would be daily rituals, calling the record-breaking violence fueled by Mexico's drug cartels "the issue that most worries Mexicans".
He also repeated his statement that he has a "respectful" relationship with US President Donald Trump, and called for a deal in which the United States would invest in economic development in Mexico and Central America to stop the flow of migrants across the US-Mexican border.
Trump for his part is pressuring Mexico for a deal to keep asylum-seeking migrants on its side of the border while their claims are processed, a possible source of tension between the two leaders.
But they have gotten off to a warm start so far - and Trump again tweeted his congratulations.
Lopez Obrador "had a tremendous political victory with the great support of the Mexican People. We will work well together for many years to come!" he wrote.
AGENCE FRANCE-PRESSE