Prosecutors: Students stalked before killing
By ZHOU WENTING | China Daily | Updated: 2018-12-07 11:10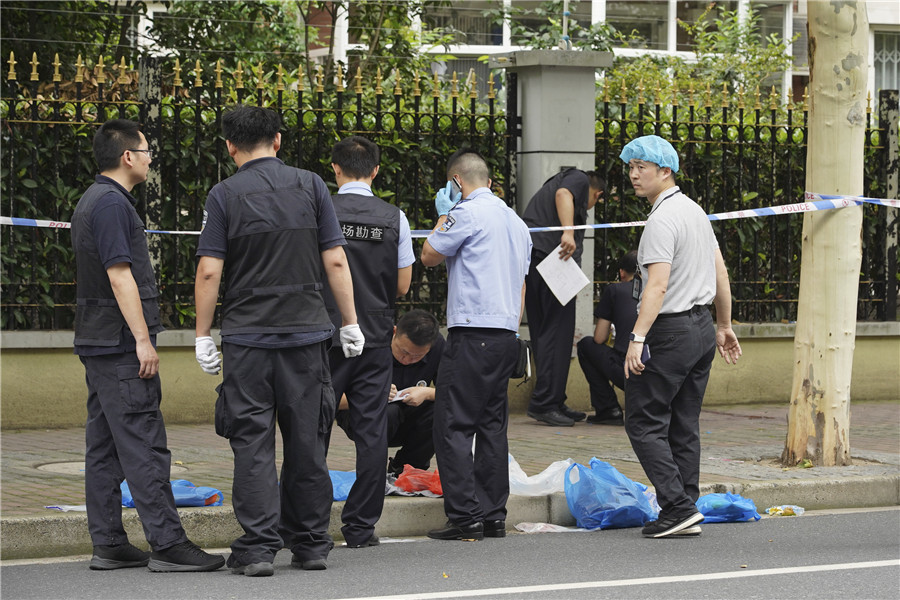 A man accused of hacking two schoolboys to death in Shanghai in June appeared in court on Thursday on charges of intentional killing.
Two 10-year-olds were killed, and another boy and a victim's mother were injured, after the 29-year-old man attacked them to vent personal spite owing to work troubles, the Shanghai No 1 Intermediate Court heard.
The prosecutors said that the man, surnamed Huang, from Shaoyang, Hunan province, came to Shanghai on June 6 and bought a stainless steel kitchen knife from a supermarket on June 12.
After going to several primary schools and kindergartens in the city, the college graduate decided to commit the crime at the Shanghai World Foreign Language Primary School on Pubei Road in Xuhui district.
On the morning of June 28, Huang arrived in the vicinity of the school by bus at around 8 am, carrying the kitchen knife in a plastic bag. After looking for opportunities to commit the crime, at around 11:30 am he stalked three boy students walking out of the school before stabbing them and a mother walking in front of them, prosecutors said.
Two boys, surnamed Tan and Fei, died and the third, surnamed Jin, as well as Tan's mother, were injured. All the boys were fourth-graders.
Huang was quickly subdued by security guards and passers-by, prosecutors said at the hearing.
A forensic appraisal arranged by the municipal police showed that Huang suffers from schizophrenia and bears limited criminal responsibility.
The prosecuting agency said Huang's behavior constituted intentional killing, and despite limited criminal responsibility can still receive criminal penalties.
No details were released about his problems with work.
"Huang's motive for killing was extremely malicious as he targeted vulnerable primary school students," the prosecutor said. "He had been planning the crime carefully for a long time. He bought the kitchen knife purposefully and had been to the school and its vicinity multiple times.
"He committed the killing in an extremely brutal manner and the consequence of the crime is extremely serious. The social impact of the case is extremely bad and Huang should be severely punished."
The court will announce a verdict later.