US farmers look for full trade deal
By ZHANG RUINAN in New York | China Daily USA | Updated: 2018-12-07 23:08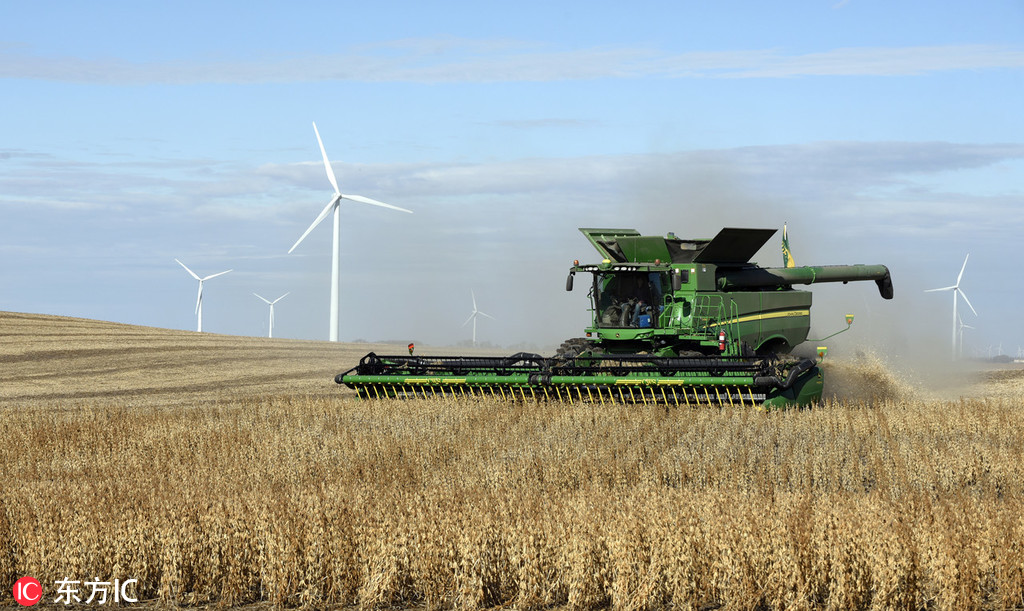 US soybean farmers and industry groups say they welcome the trade truce reached by Chinese President Xi Jinping and US President Donald Trump and are looking forward to seeing specific actions to be carried out by the two countries to reach a mutually beneficial trade deal.
At a dinner on Dec 1 in Buenos Aires, Argentina, after the G20 summit, Xi and Trump reached an agreement for a 90-day truce in any new tariffs.
"I think that was very positive that they had a meeting and they got together. I think it's important when they had a face to face meeting like this," said Grant Kimberley, the director of market development at the Iowa Soybean Association, and the son of Rick and Martha Kimberley, whose 4,000-acre soybean and corn farm near Maxwell was visited by President Xi in 2012.
"China will start from agricultural products, autos and energy to immediately implement specific items that China and the US have agreed upon," Ministry of Commerce spokesman Gao Feng said at a regular press briefing on Thursday.
He said China will "work in accordance with the clear timetable and road map" to negotiate in areas where both sides have an interest and there are mutual benefits in the next 90 days.
"It sounds like the Chinese side would be willing to make very significant, sizable purchases of agriculture and energy products, I think it's a very good gesture to kick off the negotiations and discussions," said Kimberley. "We would hope that very soon here in the next week or so, we would start to see some major announcements on some of these things – we need to get some more specifics on the announcements."
Doug Schroeder, the owner of a 4,000-acre soybean and corn farm near Mahomet, Illinois, about 140 miles south of Chicago told China Daily on Tuesday that farmers in Illinois are encouraged that a discussion occurred and has resulted in a period of a truce in raising tariffs.
"We hope this is a step to restoring the soybean trade relationship between the US and China," Schroeder said. "Free trade and market access directly impact farmers like me, and our soybean prices have improved with the announcement of this deal."
Lindsay Greiner, Iowa Soybean Association president, said in a statement sent to China Daily on Tuesday that the trade truce "is a sign of progress at a critical time for US soybean farmers."
"I urge both presidents to use this pause in trade tensions to focus on a resolution. I encourage both leaders to identify solutions and announce a path forward securing long-term trade that's fair, equitable and reciprocal," he said.
"It's a positive step toward resolving the trade dispute that has dogged the economies of both countries since tariffs were enacted earlier this year," Steve Koenig, vice-president of research at Consumer Technology Association (CTA), told China Daily on Tuesday. "The deal agreed at the G20 meeting gives both sides more time to resolve differences and rebalance trade."
Koenig said he remains hopeful a lasting accord can be reached that repeals tariffs, which are tantamount to a tax.
"We expect both sides to approach this opportunity seriously and transact meaningful dialogue to agree credible trade terms. Since tariffs against China first came into effect in July 2018, the US tech industry has paid $349 million more on imported goods from China," Koenig added.
Matthew Shay, the president and CEO of the National Retail Federation, said in a statement on Sunday that "retailers are pleased by this progress".
"It is clear the administration has heard the voices of those negatively impacted by existing tariffs. We hope this 90-day tariff pause will lead to a positive resolution that removes tariffs altogether and improves US-China trade relations," he said.
Nick Giordano, vice-president of global government affairs for the National Pork Producers Council, said in an interview with AgriTalk that the US pork industry has been very negatively impacted by the trade dispute with China to the tune of $8 per animal, that's a billion dollars collectively this year.