Medvedev: Moscow not interested in standoff with Kiev
China Daily | Updated: 2018-12-08 09:35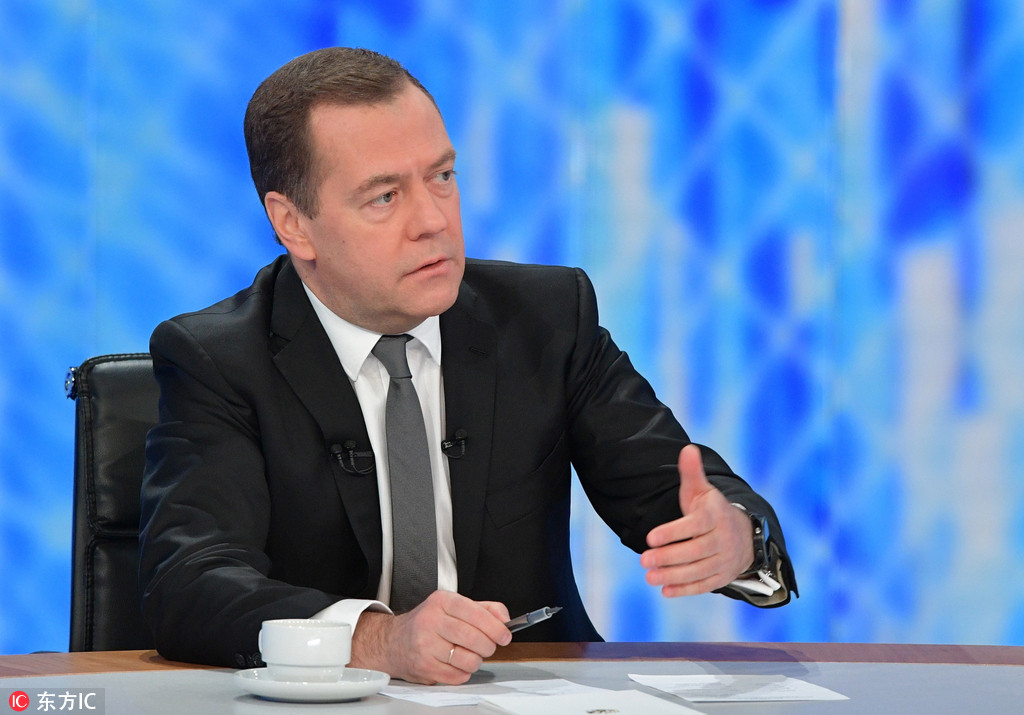 Russia is not interested in indefinitely maintaining reciprocal sanctions with Ukraine, Russian Prime Minister Dmitry Medvedev said on Thursday, as Ukraine urged a gathering of dozens of foreign ministers to increase sanctions against Moscow.
"We do not want any sanctions confrontations, but it was not us who started this sanctions story," Medvedev said in an interview with Russian television channels.
"But if their restrictions remain, we will naturally keep our limitations," he added.
Medvedev said Russia imposed sanctions not against the Ukrainian people or the Ukrainian economy, but against "those who have compromised themselves and those who harm our country".
Ukraine has imposed a series of economic sanctions on Russian banks, enterprises and individuals.
Relations between Russia and Ukraine have been deteriorating since Crimea was incorporated into Russia in March 2014 following a local referendum.
Medvedev signed a decree on Nov 1 imposing sanctions on 68 Ukrainian enterprises and 322 individuals.
According to him, even after the introduction of the counter-sanctions, Russia remains Ukraine's largest trading partner, accounting for 15 percent of its total exports and 9 percent of imports.
On Nov 25, three Ukrainian ships attempting to sail through the Kerch Strait from the Black Sea to the Sea of Azov were seized by Russian forces for allegedly violating the Russian border.
The Ukrainian Navy said that it had informed Russia in advance of the passage, while Russia said it had received no such report and the ships ignored multiple warnings from Russian border guards.
Also on Thursday, the US military said it carried out an "extraordinary" flight over Ukraine under the Open Skies Treaty to reaffirm its commitment to the country.
"Russia's unprovoked attack on Ukrainian naval vessels in the Black Sea near the Kerch Strait is a dangerous escalation in a pattern of increasingly provocative and threatening activity," the Pentagon said in a statement.
Meanwhile, the Ukrainian parliament approved a bill on ending the Treaty on Friendship, Cooperation and Partnership between Ukraine and Russia on April 1, the parliament said.
Russian authorities have yet to comment on this development.
In September, Ukranian President Petro Poroshenko signed a decree to enforce a decision of the National Security and Defense Council to terminate the treaty with Russia signed in 1997.
Under the treaty, Kiev and Moscow pledged to respect each other's borders and peacefully settle disputes.
Xinhua, Reuters and AP contributed to this story.