Public image of fur farms is a little fuzzy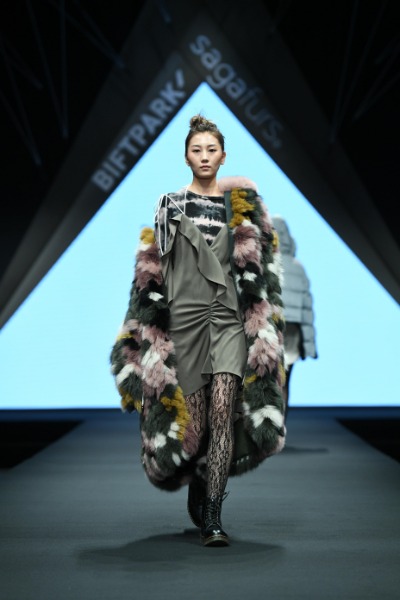 Animals walk down the runway draped in human body parts, such as ears, hands and hair, wearing them like clothes; more human bodies hang on a wooden stand backstage, while people crouch in cages, half dead and hopeless.
This bizarre, ghoulish imagery comes from an award-wining video entitled Feel How the Animals in the Fur Farms Feel which was made by the animal rights organization, People for the Ethical Treatment of Animals (PETA) early in 2013.
The final frame zooms in on a little girl huddled in the corner with disheveled hair and a dirty face, holding tight to the bars of the cage while unconsciously shaking. Tears glisten in her big round eyes and above her lip.
The video switches the roles of humans and animals, two kinds of species that don't speak a common language. It aims to trigger the transpositional consideration of humans, which believe themselves superior and who seek to control the destiny of lesser species.
The protection of animals is always a hot-button issue, particularly when it comes to animal products like fur. Questions of sustainability and ethics always arise.
Last October, one of the most famous international luxury fashion brands, Gucci, announced its decision to join the Fur-Free Alliance beginning with its spring/summer 2018 collections.
Marco Bizzarri, the CEO of the brand, claimed that the decision to remove fur from all of its collections was the result of long consideration and a series of discussions with the company's top designer, Alessandro Michele - whose debut collection included Gucci's best selling fur - and hide-covered Princetown slippers.
"Technology is now available that means you don't need to use fur. The alternatives are just as luxurious. There is just no need," said Bizzarri, referring, of course, to faux fur.
Joh Vinding, chairman of Fur Free Alliance, said, "For decades animals in the fur industry have been subjected to immense cruelty, living their entire lives in miserable, filthy cages. Gucci's new fur-free policy is a game-changer and an example for the whole luxury fashion industry to follow."
Gucci's announcement certainly brought the war between the fur industry and animal protection movements to the fore, but the Italian fashion giant is not the first big name that has chosen to turn its back on the fur trade.
Among others, Giorgio Armani, Hugo Boss, Vivien Westwood, Kate Spade, Zara and Calvin Klein have all taken a stand with a "no fur" policy.
Stella McCartney, whose late mother, Linda, was a staunch vegan and animal welfare activist, never allowed fur or any animal product in the designs of her eponymous brand. In fact, in its autumn/winter 2015 collection, the brand won at the British Fashion Awards with a fur-free fur coat.
However, faux fur may not be the perfect answer, raising a number of questions about sustainability.
While it takes around half a year for real fur to fully biodegrade, the faux fur is usually made with nonbiodegradable plastic.
According to MadeHow, a website that explains and details the manufacturing process of a wide variety of products, faux furs are typically made from synthetic polymeric fibers such as acrylic, modacrylic, and/or polyester, all of which are essentially forms of plastic; these fibers are made from chemicals derived from air, water, coal, petroleum and limestone.
Plastic can be very harmful for the environment when it's improperly discarded, especially when the faux fur sheds just like it's organic counterpart.
As pointed out by The Ocean Conservancy, plastic has been discovered inside the bodies of more than 60 percent of seabirds and 10 percent of sea turtle species, which they consume during the process of looking for food. According to Forbes, plastics might be one of the reasons the rising extinction rates of numerous animal species.
Samantha Vesala, who works at a fur auction house expressed worry that the tiny hairlike plastic fibers might affect water sources and landfills, as well as accidentally entering the human body through contaminated fish or other kinds of meat.
Vesala explains that a farming circular economy in the fur industry, which is widely applied in Northern Europe, including Finland, ensures that nothing is wasted during the fur production process.
Fur animal carcasses and by-products from the food and fishing industries are collected to produce feed. Animal fat can be used as a raw material in the manufacture of biodiesel. The feces of the fur animal is rich in phosphor and nitrogen, and it can be transformed into fertilizer after composting, as well as being a potential energy source for industries such as metal refining.
An article on the PETA website, without a stated publishing date, claims that 85 percent of the fur industry's skins come from animals that live their entire lives in crowded, filthy wire cages.
However, these days, the industry is heavily regulated, with animal welfare and sustainability at the core of its operations in many countries.
In early 1999, a set of rules was drawn up to protect animals bred for their fur in Europe, but even before that - since the late 1980s - there was Danish research into the welfare of such animals underway, with some of the most comprehensive documentation in livestock research in Denmark. Scientists from the University of Copenhagen and Aarhus University performed research into the welfare of mink with consistent funding and support from the local government. The research results have been incorporated into the Danish rules on protection of animals bred for their fur since 2007.
All Danish mink farms receive regular statutory veterinarian visits each year, which involve a routine inspection to identify any health or welfare issues on the farm. The Danish Veterinary and Food Administration also makes regular inspections.
At the same time, with the breakthrough in gene studies by Aarhus University, fur animals are now being fed individually. Because each animal digests and absorbs food differently, such a setup guarantees the effectiveness of feeding, optimizes food consumption and reduces related costs. A similar farm management system also runs in Finland. It's stated on Sagafurs' website that quality is about the well-being and health of the animal.
The Saga Certification by Finnish Standards, launched in 2005, has established a close cooperation with the country's authorities, the EU, and veterinarians who specialize in servicing the fur farms.
On certified fur farms, which accounts for up to 93 percent of mink farms in Finland by the end of last November, animal welfare is ensured by controlling any infectious diseases, compliance with FFBA vaccination recommendations, daily monitoring, documentation of animal health and euthanizing animals within the boundaries of the farm.
This strict and inclusive approach puts fur farming well ahead of the meat industry in terms of animal welfare standards.
Boycotting real fur out of love and respect for animals is brave, but faux fur is not a better choice, and the breeding and handling of animals for their fur is not always as cruel as many imagine or as it is sometimes portrayed.
The debate is not going to be settled overnight, and will continue to be an emotive one, but while it is said that you should never judge a book by its cover, perhaps the same could be applied the next time a person draped in fur passes by.
(China Daily 12/08/2018 page14)