ECUST provides a rich example of Sino-German educational cooperation
By Yuan Shenggao | China Daily | Updated: 2018-12-10 09:51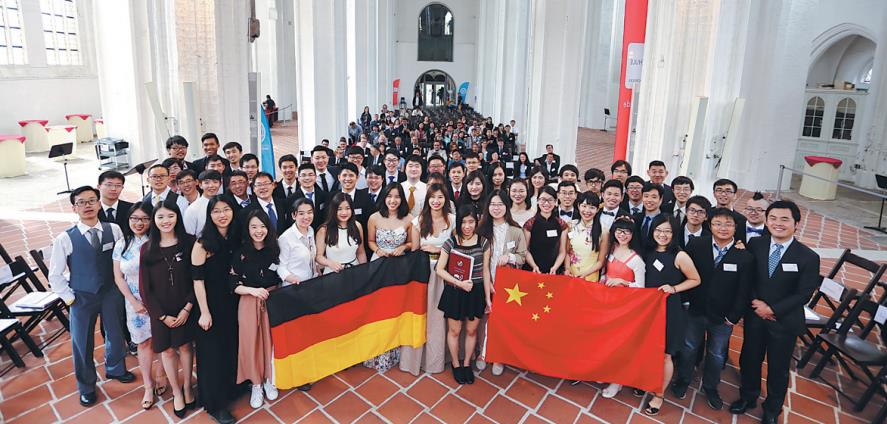 As an active response to a national appeal to promote educational cooperation and resource exchanges between China and other countries, the Sino-German College of Technology was set up by Shanghai's East China University of Science and Technology in November 2003.
"Our college is a comprehensive college of engineering devoted to developing frontier science based on multi-subject penetration and intersections, as well as international cooperation," according to a college official.
After years of development and improvement, the college has to date worked closely with about 20 German universities to provide students with world-leading research methods and advanced facilities for pioneer frontiers.
The college has signed mutual exchange agreements with many noted universities in German-speaking countries including Technische Universitaet Berlin and RWTH Aachen University in Germany and Vienna University of Technology in Austria. It has forged bonds with academic institutions including Humboldt Foundation in Germany and DAAD, known in English as the German Academic Exchange Service. These have been longtime scholarship sponsors to support potential Chinese researchers.
The Sino-German College of Technology offers five undergraduate programs and confers on students various bachelor's degrees in science approved by China's Ministry of Education.
There are two programs - namely "Environmental Engineering" and "Information Technology" - cooperatively run with the University of Applied Science Luebeck. There is one program in "Chemistry and Chemical Engineering" jointly offered by Clausthal University of Technology; one program in "Polymer Material and Engineering" provided by the University of Leoben; and most recently, one program in "Biological Engineering" working with Technical University of Brandenburg.
The past 10-plus years have seen significant achievements. The programs with the University of Applied Science Luebeck twice passed DAAD's evaluation. In DAAD's review of the program in 2006, it had high praise for on the mode, management, actualization and effects of the program, and the German experts deemed the cooperation to be a model of a Sino-German cooperatively-run project.
This flagship program also obtained qualifications with ACQUIN, a German-based school accreditation system, in 2009 and 2015 and won awards from the Shanghai Municipal Commission of Education in 2012 and 2017.
Through the efforts of China and Germany, graduates of this cooperative education project are welcomed and recognized at home and abroad. Their admission rate to postgraduate schools in worldwide renowned universities has maintained a high rate of 70 percent, showcasing the very solid progress made by the college in training professionals.
The university has equipped itself with leading staff and an effective mechanism to coordinate programs and staff. To date it has 70 projects covering undergraduate, postgraduate and doctoral programs.
In the future, the university pledges to create more opportunities in crossborder academic exchange, making a greater contribution to education and communications on both sides.