Tencent awards UK universities for China engagement
By Angus McNeice in London | China Daily UK | Updated: 2018-12-13 01:01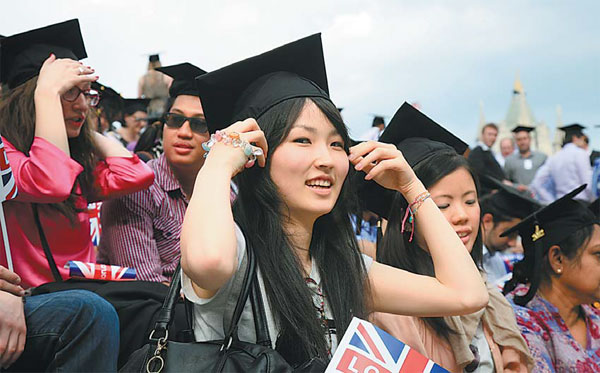 Chinese tech giant Tencent has given awards to a group of British universities in recognition of their high levels of engagement with Chinese students and families.
At an education event hosted by Tencent in Beijing, seven universities were given the "Favored UK University Among Chinese Families" accolade, including: the University of Birmingham, the University of Sussex, the University of Liverpool, Loughborough University, Queen Mary University of London and Queen's University Belfast.
The universities were selected from a shortlist of 28 British institutions. Tencent looked at a range of factors to arrive at the eventual winners, including: surveys of Chinese student families; analysis of web traffic and the universities' Chinese social media pages; and surveys of current and prospective Chinese students.
Tencent is one of the world's largest internet companies by revenue. The company runs several major social and communication platforms in China including WeChat, QQ.com and Tencent Net.
Each year the company holds the "China Echo" Tencent Net Annual Education Ceremony in Beijing to commemorate notable individuals and companies from across China's education sector. This is the first year that awards have been given to British universities.
The number of Chinese students in the UK far exceeds any other nationality from outside the European Union; almost one third of non-EU students in the UK are from China. Last year there were 170,000 Chinese students studying in Britain, according to the Chinese embassy in the UK.
Jon Frampton, director of the University of Birmingham's China Institute, said the university has a long history of educating students from China.
"Chinese students form an integral part of our education and research community," he said. "I am delighted that our popularity among Chinese students and their families has been recognized with this prestigious award."
Birmingham recently became the first out of the 24 Russell Group research universities in the UK to accept China's National Higher Education Entrance Examination, commonly known as gaokao, from students applying for undergraduate courses in 2019.
Xi Li, senior international officer at Sussex University, said she was glad the judges had recognized the university's recent efforts to build up its presence in China. Sussex now has a dedicated WeChat account and has set up chat groups for current students, prospective students, alumni and agents.
"The winning of this award recognizes the popularity of the University of Sussex and the successful marketing and branding as well as the market positioning of the university in China," Xi said.
Simon Foster, deputy director for the international office at Loughborough University, said that his team has made regular visits to China to find out what Chinese students look for in a university.
"I think that's played a big part in being recognized for this award," said Foster. "We have been looking closely at our curriculum to see if it is relevant to international students, specifically those from China. We also have a very safe campus and are ranked top in the country in terms of student experience, which has been appreciated by Chinese students."