Huawei CFO released on bail in Vancouver
By WILLIAM HENNELLY,CUI JIA | China Daily | Updated: 2018-12-13 03:19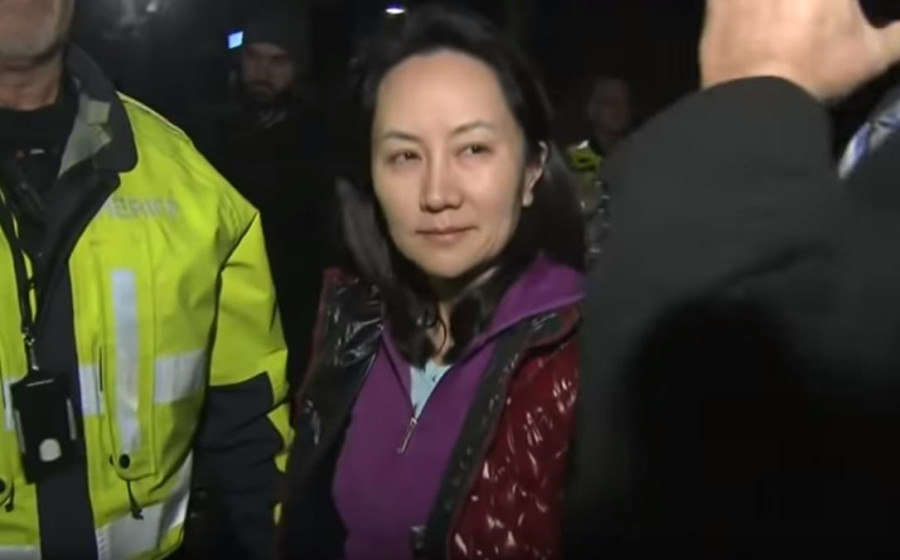 Meng Wanzhou, Huawei's chief financial officer, has been released on bail in Canada, but her extradition to the United States for alleged Iran sanctions-breaking dealings remains a possibility.
"The development of the case is very likely to be influenced by political pressure, and the arrest and possible trial may raise China-US tensions in trade negotiations," said Huang Feng, an international criminal law professor at Beijing Normal University and an expert on extradition law, on Wednesday.
Meng, 46, the daughter of Huawei founder Ren Zhengfei, was detained on Dec 1 at Vancouver International Airport following an arrest warrant issued by the US government concerning fraud allegations.
A Canadian prosecutor argued on Friday during Meng's bail hearing that she committed fraud in 2013 by telling financial institutions that Huawei Technologies Co Ltd had no connection to Skycom, a company that reportedly was selling US goods to Iran in violation of US sanctions. Meng's lawyers denied the charges, saying Huawei sold Skycom in 2009, according to The Washington Post.
Justice William Ehrcke, at a court hearing in Vancouver on Tuesday, granted bail to Meng, subject to a guarantee of C$10 million ($7.5 million) and other conditions.
"I'm satisfied that on the particular facts of this case, including the fact that Ms. Meng is a well-educated businesswoman who has no criminal record and of whom several people have attested to her good character, the risk of her nonattendance in court can be reduced to an acceptable level," Ehrcke said.
Meng, who owns two homes in Vancouver, will be subject to surveillance at one of them and must surrender her Chinese and Hong Kong passports to authorities. The judge also ordered Meng, a mother of four, not to approach the regional airport, to wear a GPS tracker, pay for security surveillance and agree to unannounced police visits.
On Wednesday, Foreign Ministry spokesman Lu Kang expressed disapproval of Meng's detention. "We've clearly stated our position on this issue to the Canadian and US governments, asking them to correct the mistake immediately and release Meng," Lu said at a regular news briefing in Beijing.
When asked whether China welcomed US President Donald Trump's possible intervention in the case, Lu said if anyone from the US side, especially leaders and high-level government officials, is willing to make positive efforts to resolve the issue, is of course welcome.
Reuters reported on Tuesday that Trump said he would intervene with the US Justice Department in the case against Meng if it would help secure a trade deal with Beijing.
"If I think it's good for the country, if I think it's good for what will be certainly the largest trade deal ever made — which is a very important thing — what's good for national security — I would certainly intervene if I thought it was necessary," Trump was quoted as saying.
On Wednesday afternoon, Huawei released a screenshot of Meng's latest entry on her WeChat account, a popular Chinese social media platform.
"I'm in Vancouver and back with my family. I'm proud of Huawei and my country!" the entry reads. She also posted a Huawei advertisement featuring French writer Romain Rolland's quote: "Suffering is behind great things".
Huawei also issued a statement on Wednesday, saying the company has "every confidence" that the Canadian and US legal systems will reach a just conclusion in the proceedings. The company added that it complies with all applicable laws and regulations in the countries it operates in, including export control and sanction laws of the United Nations, the US and the European Union.
Lengthy process may follow
The US has 60 days from the arrest date to turn over its full extradition case with supporting evidence. Huang, the Chinese professor, said the US government will take full advantage of the 60 days and try to extract evidence from Meng's personal belongings obtained during her arrest to build its case, which is "pretty shaky at the moment, based on the information on the arrest warrant".
If Washington's request to have Meng extradited to the US succeeds, it could be a "very lengthy" period before any verdict can be reached, which may take years considering the time for trials and appeals, Huang said. "At this stage, being released on bail is an ideal outcome, but the real legal battle hasn't started yet."
Jeffrey Sachs, a professor of health policy and management at Columbia University, said in an opinion website Project Syndicate on Tuesday that Meng's arrest may have commercial motives. "The US is trying to target Huawei, especially because of the company's success in marketing cutting-edge 5G technologies globally," wrote Sachs, who is also the director of Columbia's Center for Sustainable Development and of the UN's Sustainable Development Solutions Network.
Shenzhen-based Huawei is the world's largest supplier of telecommunications network equipment and the second-biggest maker of smartphones, with revenue of about $92 billion last year.
"The US claims the company poses a specific security risk through hidden surveillance capabilities in its hardware and software. Yet the US government has provided no evidence for this claim," he wrote.
Sachs compared Huawei's case to those of a large number of companies that have violated US sanctions against Iran and other countries. "In 2011, for example, JPMorgan Chase paid $88.3 million in fines for violating US sanctions against Cuba, Iran and Sudan. Yet (CEO) Jamie Dimon wasn't whisked into custody."
In an opinion piece in The Washington Post, financial affairs author Zachary Karabell wrote, "The quest against Huawei is a ridiculous overreach — predicated on an assumption that the US can dictate how foreign competitors conduct business."
More important, he wrote, global supply chains are now deeply interconnected and touch multiple countries and numerous companies. Samsung, for instance, is the second largest cellphone provider in Iran, behind Huawei, while Sweden's Ericsson has been selling equipment to Iran, even under sanctions.
Ma Si and Mo Jingxi contributed to this story.
Contact the writers at cuijia@chinadaily.com.cn