May survives bid to oust her as prime minister
By Julian Shea in London | China Daily Europe | Updated: 2018-12-13 05:06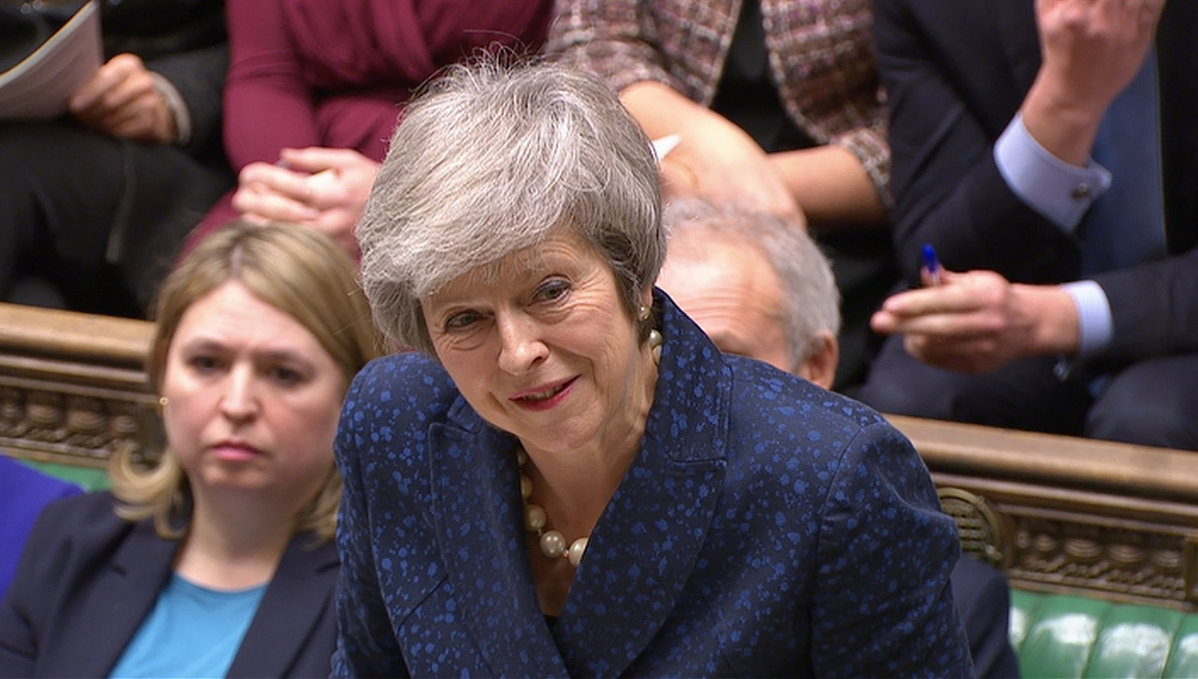 Vote called by rebel Conservative MPs defeated
Theresa May is to continue as British prime minister after surviving a vote of no confidence in her leadership from members of her own Conservative Party.
The vote, which was defeated by 200 votes to 117, was brought about by her own MPs, unhappy at her handling of the latest developments in Britain's attempt to extricate itself from the European Union, the process known as Brexit.
It came after a long period of increasingly public and vocal tension within the party about the issue of Brexit, but having finally lost patience and played their trump card, Conservative Party rules mean that May's opponents cannot challenge her leadership again for another 12 months.
On Monday a parliamentary vote on her proposals for Brexit – which she was widely expected to lose emphatically - was postponed at short notice. The following day May went to visit European leaders in an effort to get further reassurances over the details of future plans for the status of the border between Northern Ireland, part of the United Kingdom, and EU member state the Republic of Ireland.
But even before she had arrived, EU leaders made it clear that they were unwilling to make any significant amendments to her proposals which they had already approved last month, so her trip seemed destined to end in disappointment. Labour warned that if she did not come back with significant concessions, they would call for a vote of no confidence in the government, and many Conservatives also reacted angrily to her decision, with influential backbencher Jacob Rees-Mogg calling it "a rotten and humiliating day for the government".
On Wednesday morning, it was announced by Sir Graham Brady MP, the chairman of the influential backbench MPs group the 1922 Committee, that he had received sufficient letters from members of the parliamentary Conservative Party to pass the 15 percent threshold to trigger the vote of confidence in the leader.
May was defiant at the news, saying she "stood ready to finish the job" of Brexit and that "weeks spent tearing ourselves apart will only create more divisions", and also warning that any change of leadership would inevitably lead to a postponement of Britain's departure from the EU, currently scheduled for the end of March 2019.
The day saw party tensions played out in an increasingly public way, with one MP, Andrew Bridgen, walking out of a live BBC television interview when a fellow Conservative MP, James Cleverly, was introduced.
When the vital moment came, however, the feeling of resentment necessary to unseat May was not present. Faced with a ballot paper containing the simple choice 'I have confidence in Theresa May as leader of the Conservative party / I do not have confidence in Theresa May as leader of the Conservative party,' MPs voted to stick with their leader, who took over the party in July 2016 following David Cameron's resignation in the aftermath of the Brexit referendum.
By grim irony, at the same time as the voting session at Westminster began, across London at Conservative Party head office, the Christmas party was taking place.
Despite May having survived the vote, her troubles are by no means at an end. She still needs to secure parliamentary backing for her Brexit proposals, which have proved so unpalatable to many members of the party, and having seen the extent of hostility that she faces from her own side, the opposition Labour Party could still align themselves with other parties including the Scottish National Party and call a vote of no confidence in the government, potentially triggering a general election. And that eventually might prove to be the end of the line for May instead.
In that scenario, whoever became the new head of government – and indeed for whichever party – would find themselves taking charge at a time of political turmoil unparalleled in modern British history, just weeks away from Britain's scheduled departure from the EU after more than 40 years of membership.
With the potential for even greater economic and political turbulence than has already been seen, there would then be an increased likelihood that the scheduled exit date at the end of March 2019 would be delayed for more negotiations.
The two-and-a-half years since the Brexit referendum in June 2016 have seen twists and turns beyond the imagining of any observer of British politics. Bearing that in mind, and with some of the potential scenarios that could still play out after this latest dramatic episode, the Brexit saga is unlikely to be going away quietly any time soon. The story continues.
Contact the writer at julian@mail.chinadailyuk.com