Documentary calls on our better selves
By Dong Leshuo In Washington | China Daily USA | Updated: 2018-12-14 01:39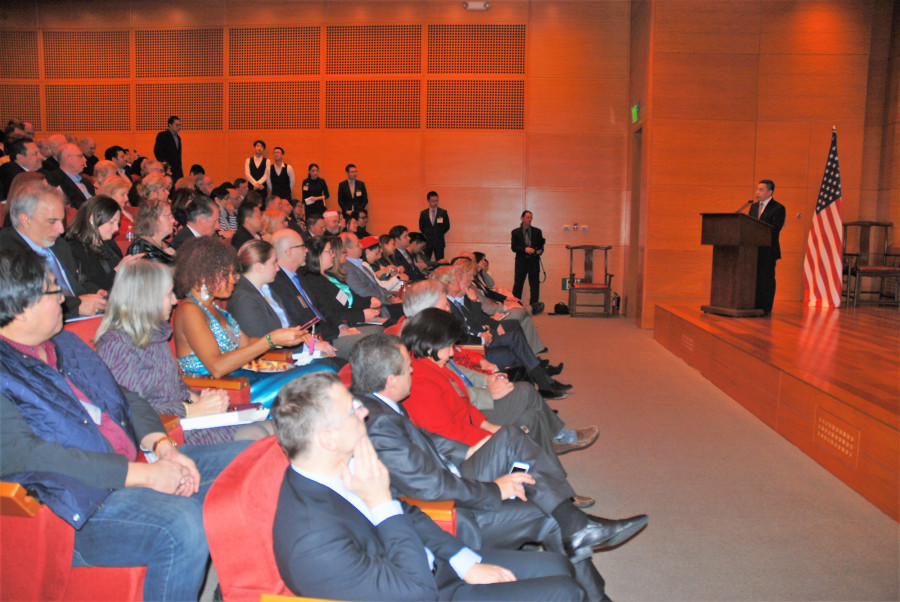 Better Angels, a documentary featuring ordinary people who act as "ambassadors" between China and US, was screened for about 200 people at the Chinese Embassy in Washington on Tuesday.
The film, by award-winning director Malcolm Clarke and produced by American William Mundell and award-winning Chinese producer Han Yi, features stories of how ordinary Chinese and Americans benefit from a close China-US relationship.
"It is the story that the mainstream media has for the most part neglected," said Mundell.
Li Kexin, deputy chief of mission and minister at the Chinese Embassy in Washington, said, "The current media culture is keen to discuss China-US trade frictions or political topics, but this documentary is different — it takes a more optimistic point of view, it tells us that China-US relations should be defined by the two peoples, their common interests and aspirations.
"The people of both countries pursue better-off lives, a safer and more stable environment, and more decent education for their children," Li added.
"It's about the wider benefits of US-China cooperation, it's about the dark side of globalization for the Chinese people, and it's about the common humanity that binds us together," he explained.
The fundamental question posed in the film is: How should the US react to a newly ascendant China? And Alfred Jordan, CEO of Akacia Digital, found it eye-opening.
"I was shocked at the end of the film. My entire view was changed, completely," Jordan said, adding that one of the things he learned from the movie that he didn't know before was how much spirit there was between the two countries.
Jordan said he was speaking with a friend in Canada on Tuesday morning, saying, "Maybe the Chinese are our enemies."
"Now I walk away from this film finding that they are not our enemies," Jordan said.
"China has rebuilt itself from the ground-up, and they built our rail systems. We need to rebuild America. We would be interested if you show us how to rebuild our cities," Jordan said. "I think that will bring us much closer."
"Our leaders are not doing us a favor by talking about the deficit and those kinds of things. We've done that to ourselves. You didn't do it. You just continue to manufacture and we continue to buy what you sell," Jordan said.
Jordan called on everyone to stop thinking negative thoughts about China and do something positive and begin to understand what the Chinese culture is all about.
"China is doing wonderful things right now," said Sandy Vasan, an independent consultant.
Vasan listened to Kaifu Lee's recent talk about China's innovation and 5G development and was quite impressed.
"It's brilliant. If only the US could be moderate and meet half way, I think we would be having a wonderful long partnership," Vasan said.
Vasan called the current China-US relationship "a bit strange."
"I think there are certain opportunities to be on the right track," said Vasan.
"Just as the documentary calls for better angels, we too call for better angels to continue to strengthen our existing ties, develop new friendships, achieve greater mutual understanding, and jointly blow away the smog surrounding China-US relations," said Li.
"We hope these efforts will guide this relationship to a better future, to the benefit of both our peoples and the international community," Li said.
The film will hit big screens in China and the US next month.
Contact the writer at leshuodong@chinadailyusa.com