China Ready Initiative lets Scotland woo tourists
By Wang Mingjie in Edinburgh, Scotland | China Daily UK | Updated: 2018-12-17 19:39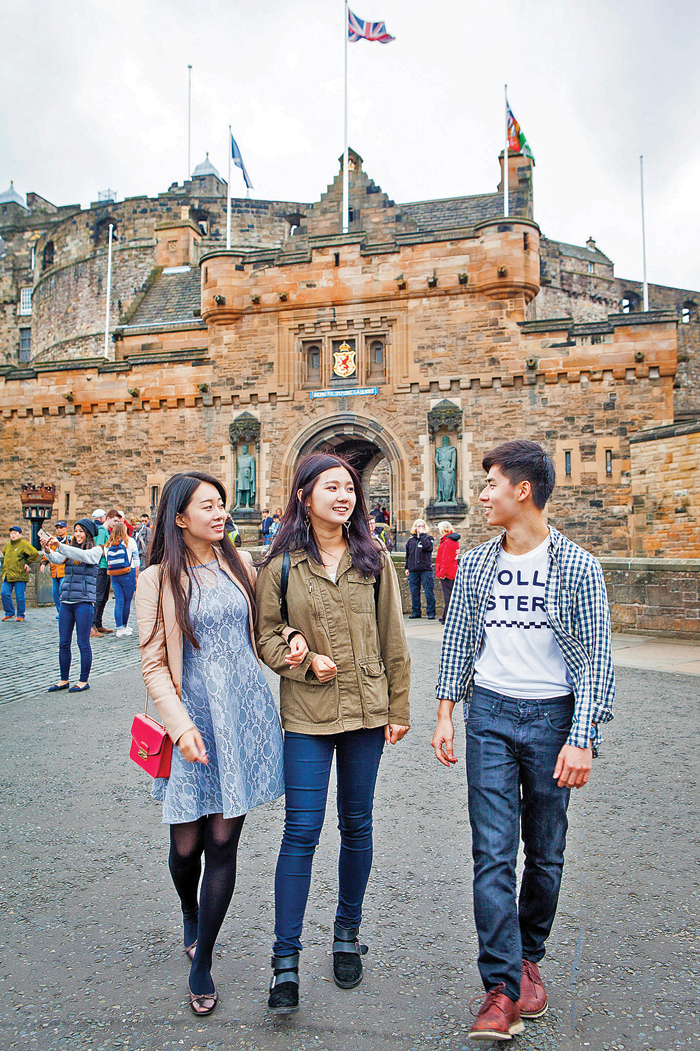 On a brisk autumn morning, a young Chinese couple ramble through Edinburgh Castle, taking in the history that the iconic Scottish attraction emanates.
Xie Zhuoqun and Meng Hongfei, are two of a growing number of Chinese nationals who are visiting the landmark attraction as awareness across the market grows.
Xie, 32, from the East Coast city of Hangzhou, said her attention was drawn to Edinburgh when she came across a random Weibo social media post about 'Hogmanay' — the Scottish New Year celebration.
"I was mesmerized by the city's atmosphere, lit up by the fireworks over the castle, the torch processions on the Royal Mile, and the street parties everywhere. From that point onwards, I knew I wanted to see the place in person, and here we are," she said.
Chinese visitors spent more than 44 million pounds ($55.7 million) in 2017 and Chinese tourist revenue in Scotland has risen by almost 350 percent in a decade, according to tourism agency VisitScotland.
To help reap the benefits from the increase in visitor numbers from the Far East, destinations across the whole of Scotland are upping efforts to welcome Chinese tourists.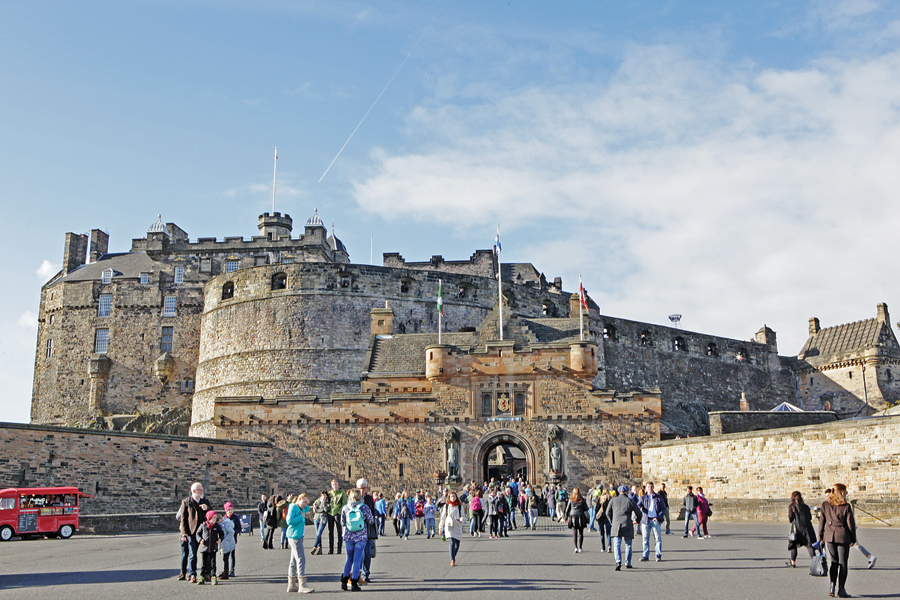 Mandarin signage and Chinese-language posters are dotted around popular tourist spots in Edinburgh, where busloads of Chinese visitors explore and enjoy the sights.
Scottish businesses, such as jewelry brand Hamilton and Inches, and Edinburgh-based luxury label Strathberry, have stepped up to hire Mandarin-speaking personnel and social media savvy talent, to serve the growing interests of Chinese visitors.
Daniel Turner, senior lecturer on marketing, events and tourism at the University of West Scotland, said there is a natural synergy between traditional Scottish tourism offerings and the Chinese market.
Turner attributed the rise of Chinese visitors to Scotland's rich tourism resources that cater to the taste of the growing Chinese middle-class.
"Scotland, I believe, identified the emergence of a Chinese market very early and realized that our natural, indigenous tourism resources — whisky, golf, our cultural heritage — would be very attractive to the emerging middle class and 'lifestyle' tourist market from China as it grew in wealth and size," he said.
Beyond that, says Turner, there's a strong relationship between the two countries evidenced by China loaning two pandas to Edinburgh zoo a number of years ago — creating a cultural link between the two countries which helps promote Scotland as a destination.
Malcom Roughead, chief executive of VisitScotland, said Scotland has been on the radar for Chinese visitors for a long time, but pointed out it is the growth in air connectivity through new routes, including the direct route between Beijing and Edinburgh launched this June, that has helped boost the market, making it easier for Chinese visitors to travel to Scotland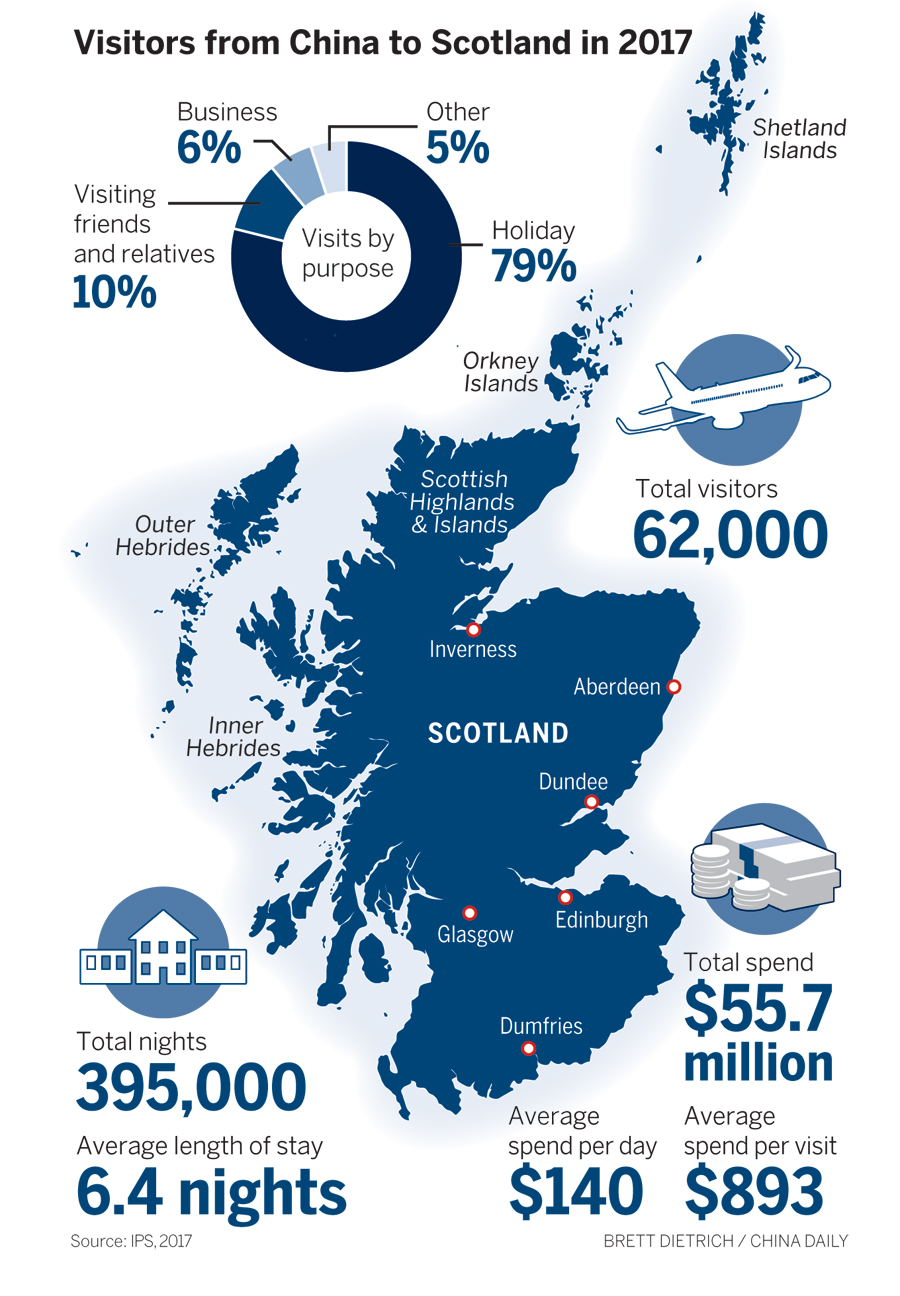 "We have recognized for some time the potential of China as a market for Scotland and it is now considered a priority market for VisitScotland," he said: "Scotland currently accounts for almost a fifth of all Chinese visitors to the UK and with enhanced connectivity there is a real opportunity to grow that market further."
Chinese travel agencies in Scotland noted the number of Chinese visiting Scotland has doubled in recent years.
Li Wei, founder of travel agency Go2Scotland, said he is receiving around 100 groups of independent Chinese travelers per year, while this figure was almost zero a couple of years ago.
"That was mainly because a great number of Chinese have visited the UK more than two or three times, and would want to explore new areas. Hence Scotland has become an interest," Li said.
Li explained how the 2014 Scottish Independence Referendum, when 55 percent voted "No", raised the profile of Scotland worldwide including in China.
"Chinese became curious about the place and wanted to visit," he said.
Another key element that helps boost tourist numbers is a digital campaign aimed at luring more Chinese tourists to Scotland.
The Edinburgh Chinese Social Media Campaign, launched in 2016 by the Edinburgh Tourism Action Group, which is known as ETAG, was initially created to promote Edinburgh. It was later extended to the whole of Scotland and promotes it as a must-visit place by posting strategic destination content and launching thematic online campaigns.
The campaign uses influential Chinese social media platforms Weibo and WeChat to serve up tips, itineraries and promotions in Mandarin from the city's most popular tourism businesses, recommending key points of interest for Chinese travelers, such as history, architecture, film locations and shopping.
While Scotland is actively promoting itself as an attractive destination for Chinese visitors, it is also making increasing efforts to ensure tourism businesses within the sector understand the needs and wants of Chinese visitors

The China Ready Initiative, launched by ETAG in 2015, has seen more than 300 businesses including key attractions, hotels, festivals and retailers around the city and across the country, engage with cultural awareness workshops, toolkits, guides and meetings aimed at increasing Chinese visitor numbers and developing Scotland's position as a China-friendly destination.
Rob Lang, chair of ETAG's China Ready Initiative, said the initiative has helped put local businesses in a much stronger position to understand and benefit from the growing inbound Chinese market and as a result there is an increasing number of Scottish businesses willing to tap into the market.
One Scottish business that has been benefitting from the initiative is renowned Edinburgh landmark, The Balmoral Hotel.
Melissa Raffaelli, the hotel's director of sales, went to China for the first time in March, realizing the importance of knowing the needs of Chinese customers first-hand.
"From being out in China myself and asking people what is important to the customer … what is a minimum requirement and one of the key things they kept saying is you need staff," Raffaelli said. She also noted a real thirst for knowledge and history from Chinese customers who visit Scotland.
Raffaelli has visited China three times since March and as a result the hotel implemented a series of initiatives aimed at welcoming Chinese guests, including offering a toothbrush and toothpaste in the room, Chinese congee and fried noodles on the menu, as well as the Balmoral's Afternoon Tea Masterclass with a Mandarin translator explaining to Chinese guests about the finer points of this very British tradition.
"Our business from China has increased by 17 percent versus the same time last year, from May to September," said Raffaelli, who is confident the revenue will continue to grow.
Another Scottish event well on its way to reaping the rewards of courting China is The Royal Edinburgh Military Tattoo, an annual series of military and artistic performance on the esplanade of Edinburgh Castle.
Tattoo Chief Executive and Producer, Brigadier David Allfrey, said: "In 2016, ticket sales to Chinese visitors to the Tattoo in Edinburgh increased by over 600 percent, so we know there is a real appetite for our show amongst the Chinese public."
In answer to this ongoing demand, the Tattoo in 2017 launched WeChat Pay facilities, the first Scottish Tourism business to roll out such a system, allowing easier ticket purchases from the Chinese market, and is now building its presence on WeChat and Weibo."
With the increase in Chinese nationals visiting the Tattoo each year, Allfrey said the company plans to take the military showcase to China in 2020.