Chinese ambassador lauds China-UK cooperation on innovation
By Bo Leung in London | China Daily UK | Updated: 2018-12-21 00:56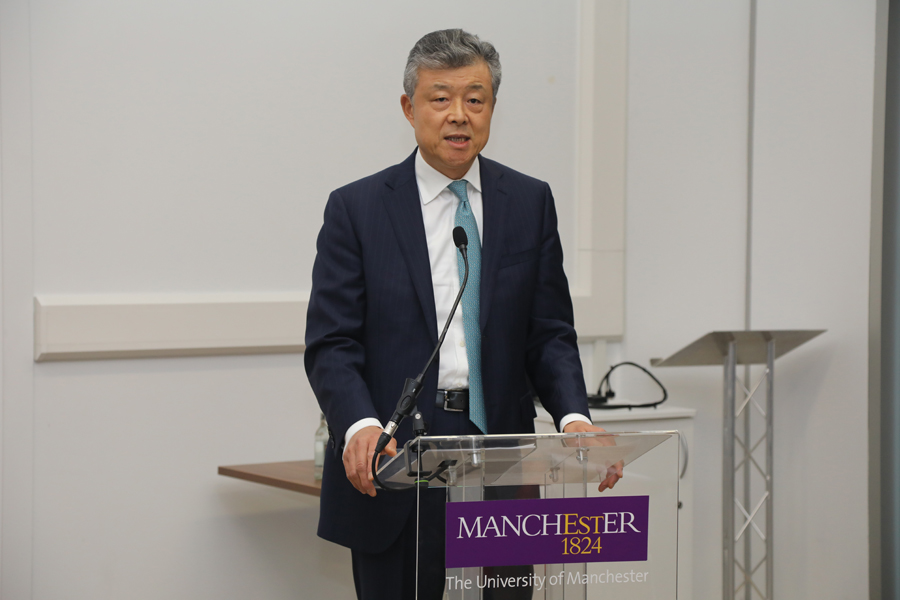 Liu Xiaoming, China's ambassador to the United Kingdom, has described the University of Manchester as a "pioneer in China-UK cooperation on innovation" during his visit to the higher education institution.
During his speech on Tuesday at the National Graphene Institute, Liu stressed the importance of a strong bond between the University and China, and the benefits of partnerships.
Liu said: "The University of Manchester has worked with Chinese companies on graphene research and product development. It has also carried out productive cooperation with China's Peking University and Tsinghua University in the areas of advanced materials and bio-science. I must say that the University of Manchester is indeed a pioneer in China-UK cooperation on innovation."
He pointed out it was his third visit to the campus since 2015, the last time was during President Xi Jinping's state visit to the UK.
Liu's visit also coincides with the 40th anniversary of the reform and opening-up of the Chinese economy to international markets.
"An important lesson we have learned from these 40 years is that openness stimulates innovation, and innovation in turn leads to greater openness," Liu said.
The ambassador stated he was impressed by the university's discipline and innovative spirit, which complemented the UK's research strengths in science, artificial intelligence, healthcare, ageing and green growth.
There is also a link between the university and China's expertise in urban transformation, engineering, technology, aerospace and nuclear energy.
Liu said: "I sincerely hope that the University of Manchester will continue to leverage its strengths, deepen cooperation with China on innovation in the spirit of "knowledge, wisdom and humanity", and enhance exchanges in personnel training and technology. I am sure you will become a leading brand of China-UK cooperation on innovation."
Graphene is hailed as the strongest and most conductive material in the world, with a huge range of electronic, material and even medical applications.
In September, Andy Burnham, the mayor of Greater Manchester, had discussed a potential graphene partnership with the Chinese city of Tianjin during a trade visit.
Burnham met with the Tianjin mayor and the two sides talked specifically about graphene and the possibility of the two cities working closely together in the future.
The Greater Manchester mayor said: "Manchester is internationally recognized as the home of graphene and by working with international partners, including in China, we can realize the substance's incredible potential."