Future generations deserve more than just empty talk
By OP Rana | China Daily | Updated: 2018-12-21 07:05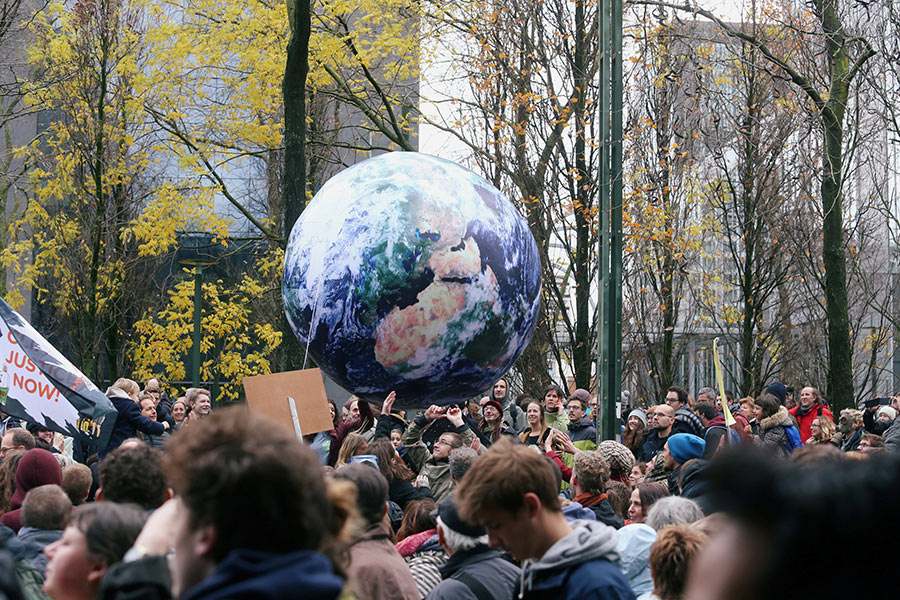 It takes a child to tell an emperor he has no clothes and it took Greta Thurnberg to tell climate negotiators in Poland they "have to speak clearly, no matter how uncomfortable that may be".
Thurnberg, just 15 years old, became a symbol for youth climate activism in September when she skipped school to protest against climate change outside the Swedish parliament, inspiring thousands of children to rally for climate justice.
Addressing the attendees to the recently concluded UN Climate Change Conference in Katowice, Poland, on Dec 12, Thurnberg said: "You only speak of green eternal economic growth because you are too scared of being unpopular. You only talk about moving forward with the same bad ideas that got us into this mess, even when the only sensible thing to do is pull the emergency brake."
That Thurnberg could guess the final deal the climate negotiators reached late on Saturday night would fall way short of expectations speaks volumes of the way UN climate conferences have progressed since the landmark Bali conference in 2007.
In Katowice, while welcoming the finalization of the rulebook to implement the 2015 Paris Agreement, many developing countries said the "balance" they expected to see in the agreement was missing. The Paris Agreement is supposed to be implemented from 2020, replacing the existing Kyoto Protocol in order to keep the increase in average global temperatures to below 2 Celsius from pre-industrial levels.
No wonder Thurnberg told the climate negotiators, "Our civilization is being sacrificed for the opportunity of a very small number of people to continue making enormous amounts of money. Our biosphere is being sacrificed so that rich people in countries like mine can live in luxury. It is the sufferings of the many which pay for the luxuries of the few."
The finalization of the main agenda for the rulebook came after discussions over one of its key elements-governance of a new market mechanism for trading of carbon emissions-was postponed to next year as the disagreements on some provisions between Brazil and the developed world could not be reconciled.
Egypt put it bluntly in a statement on behalf of the G77(a coalition of 134 developing nations) and China :"...we are seeing a mitigation-centric regime in the making with the urgent adaptation needs of the developing countries relegated to a second-class status...(a regime) which ignores, to some extent, the principle of common but differentiated responsibilities... (And while recognizing) the real differences between the developed and developing countries, both in responsibility and capability ... (we) still have a great chance to shift course."
It is this shift that Thurnberg referred to when she told the negotiators: "You say you love your children above all else, and yet you are stealing their future in front of their very eyes. Until you start focusing on what needs to be done rather than what is politically possible, there is no hope. We cannot solve a crisis without treating it as a crisis."
She ended on a sad but defiant note: "You have ignored us in the past and you will ignore us again. We have run out of excuses and we are running out of time."
Why? Because about 80 percent of all energy traded is still oil, coal or gas. The global economy runs on the very fossil fuels that are destroying our planet. Creating and using zero-carbon technologies is a formidable and costly challenge. But some countries, China in particular, have boldly taken up that challenge because threats to future lives, as Thurnberg said, are as morally reprehensible as threats to our own. And we owe it to the future to do more than we are doing now.
The author is a senior editor at China Daily. oprana@hotmail.com