The free skating program for life
By ALYWIN CHEW in Shanghai | China Daily | Updated: 2018-12-21 23:40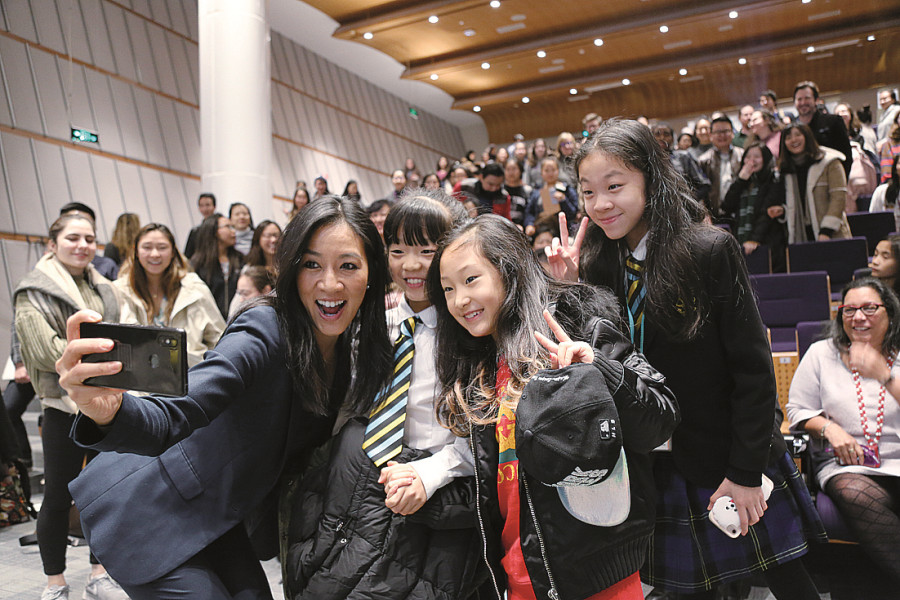 For the most part of her professional figure skating career, Michelle Kwan was known for her change of edge spiral, a move where she bends over forward, stretching one leg backward and above hip level while gliding through the ice using the inside edge of the blade beneath the skates on the other foot before transitioning to the outside edge.
Changing edges during a spiral requires immense guile and focus. Of course, all professional skaters perform this move. But many would point out that no one makes this transition as gracefully as Kwan.
However, her switch from a professional sporting career to the working world, as she readily admitted during her recent trip to Shanghai, has not been as effortless.
Seated in front of a packed auditorium at New York University Shanghai, the five-time world champion figure skater fielded questions about her stellar career and the challenges she faced. But though all the undergraduates present were much younger than Kwan, they nevertheless had something in common — they had all entered, or at least were about to, a new phase in life.
It could be said that life only really begun for the legendary figure skater not too long ago. Between the ages of five and 26, Kwan's life was, like most professional athletes, isolated to school and a gruelling training regime.
Unlike her peers who got to wake only when the sun rose, a bleary-eyed Kwan had to be at the training rink by five o'clock in the morning. Unlike her peers who got to play after school, she had to strap on her ice skates for even more training.
She even left public school in eighth grade to be home-schooled so that she could better focus on her training. Skating was everything.
"When you are an athlete for 20 years, you know exactly what you want to do. For me, it was to be the best skater that I could be, and to win medals and have fun," said the 38-year-old.
"But when you retire, you go through this identity crisis. I don't think athletes are honest enough about this, but I've been through it and I know exactly what it feels like because it wasn't that long ago. I really needed to do some digging to find out what my passions are."
Her soul-searching led her back to school. In 2006, the year she stopped competitive skating because of injuries, she took international studies and minored in political science at the University of Denver. That same year, Kwan was offered a role by the then US Secretary of State Condoleezza Rice that perfectly complemented her academic interests — a public diplomacy envoy. In 2012, Kwan was appointed as a senior adviser in the State Department. Three years later, she found herself working on Hillary Clinton's presidential campaign.
But despite this track record, Kwan claimed that her stint in politics was not meticulously choreographed like a short skate program. It was simply a case of "one thing just led to another".
"I've looked back at those times and realized that sometimes in life you really don't know where you're headed," she quipped.
Kwan still doesn't know where exactly she's headed these days, but she isn't fretting over it. In fact, she appears to be wholeheartedly embracing this absence of a single-minded focus that defined the first part of her life.
Presently, everything is on the cards, from politics to coaching to a blend of the both, she said.
"I don't have any political ambitions. But that's not to say I haven't considered it. Then again, I've also considered becoming Superwoman," she laughed.
"I'm considering everything. I think I'll just keep things fluid."
The day before she spoke at NYU Shanghai, she visited a training facility in the city where she met with hundreds of kindergartners on ice skates and learned about the programs that are designed to prepare athletes for the 2022 Winter Olympics in Beijing. When asked if she would consider helping with China's development of the next generation of Winter Olympians, Kwan made no effort to dismiss such a possibility.
"I'm definitely open to it. I'm always up for helping young, aspiring athletes. I also think there's a lot to learn from China in terms of sports development. For example, we don't have such programs for kindergartners back in the US," she said.
It's no secret that the postmillennial generation has gotten much flak in recent years for their supposed indecisiveness in life. But Kwan offered a refreshing piece of advice to the NYU Shanghai students, the majority of whom weren't even born when she won her first world championship in 1996 — take time to "parachute out" of the current state of life and view matters from a wider perspective.
In other words, don't be overly fixated on anything in life, because being in this position, which she knows all too well, comes with its own pitfalls, such as losing sight of the other things in life that also matter.
"Be a sponge that soaks up all the lessons life has to throw at you. Just be yourself," she said.
"Don't let others define you. Don't define yourself. Just let life lead you to wherever it leads to you."
Some might think that Kwan is, like the postmillennials, just plain indecisive. But there is a fine line between being aimless and being open to everything, and it's evident that she has found a way to balance on this line immaculately.
After all, balance is what she has been supremely proficient in for 20 years of her life.
Contact the writer at alywin@chinadaily.com.cn