Global green growth engine in the making
By JORGEN M. CLAUSEN | China Daily | Updated: 2018-12-22 09:15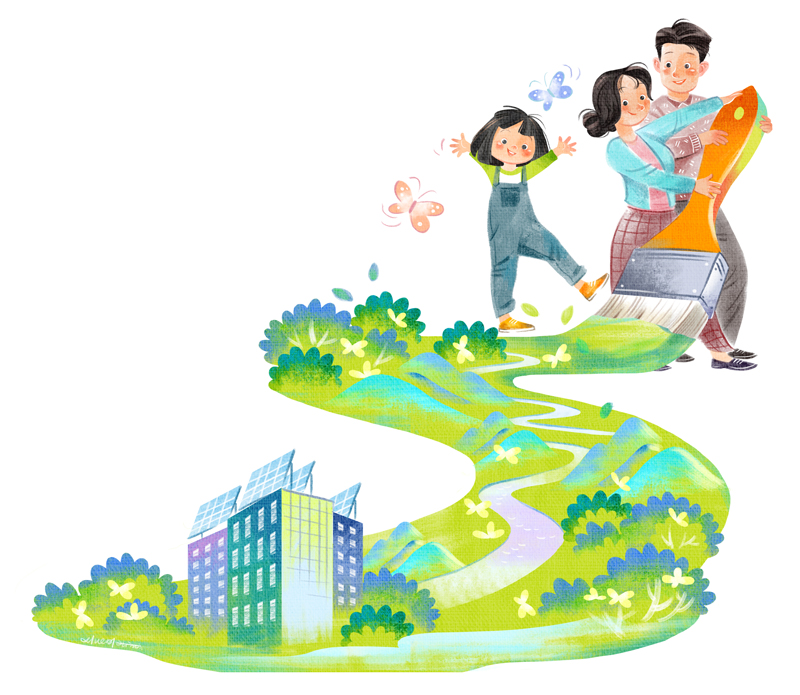 China has the unique opportunity to lead global efforts for sustainable development through the 'energy revolution' path it has embarked on
This year marks the 40th anniversary of China's reform and opening-up. It also marks the 22nd year of Danfoss' investment and operations in China. Since laying the ground for our first manufacturing base in 1996, I have been visiting China every year. Every time I have seen a different country, witnessing the dramatic changes from an "outside in" perspective.
Indeed, Danfoss has been experiencing, and benefiting from, China's fast growth. And we are proud to be part of this exciting process unprecedented in history.
On a trip to western China when I took office as president& CEO of Danfoss A/S in 1996, I was astonished to see incredibly rapid growth and burgeoning opportunities even in the remotest corner of the country. After the trip, I had an in-depth discussion with our management team. We decided to speed up investment in China by making the country not only one of our strategic markets, but our "second home market" as well. The double-digit growth we have enjoyed over the years through our continued steady investment has proven our strategy right.
China helps make vision come true
Our vision has come true: China is now our second-largest market. China's ongoing reform and growth trends are in strong alignment with Danfoss' four business themes-climate, infrastructure, energy and food. Our significant growth in the past 22 years simply could not have happened without the successful reform and opening-up policies, which have created comprehensive and far-reaching values for the world. I read in an article that during the 12th Five-Year Plan (2011-15) period, China's economic growth contributed over 25 percent of global growth.
As China continues to push for economic reform, it has started to focus more on sustainable and quality development, and an increasing amount of investment is being made to promote innovation in environment-related industries. Driven by the Chinese government's massive investments in the field of green energies and energy efficiency to tackle climate change and energy challenges, China's market has been unleashing significant business opportunities for companies such as Danfoss with a full range of offerings meeting the growing needs of China's sustainable growth, contributing to a third of the group's overall growth in 2017.
We are confident that China's economic growth will continue to be an engine for global green growth and create opportunities for businesses regardless of their national origin.
In the global arena, China is playing an increasingly proactive and responsible leadership role. Green growth is the global trend, and China is now the "trendsetter". Over the past decades, China has been increasing investment in renewable energies and promoting the development of a green and circular economy. Its wind and solar energy industries have grown to be dominant global leaders, not only in installed capacities, but also in terms of innovation and technology. China is now the world's biggest investor and innovator in renewable industries.
The country is also playing a more and more important role in global governance, especially in the fight against climate change. China was among the first countries to sign the Paris Agreement in 2016, taking leadership in the fight against global warming.
Domestically, to fulfill its commitment to the climate pact, it pledged to cut its carbon emissions per unit of GDP by 60-65 percent by 2030 compared with the 2005 levels, increase nonfossil fuel sources in primary energy consumption up to 20 percent, and peak its carbon emissions by 2030.
Greenest five-year development plan
These targets are reflected in China's policies, most recently in the 13th Five-Year Plan (2016-20), which we believe is the greenest five-year plan ever. China now is determined to have GDP growth decoupled from energy and water consumptions as well as carbon dioxide (CO2) emissions. However, these ambitious goals come at a price-more investments by government and business and more time before quality solutions are applied and new infrastructure is built.
In 2016, China issued 255 billion yuan ($36.9 billion) worth of green bonds, dominating the global market in climate-friendly infrastructure investment. By the end of 2017, it had led global issuance of "green" bonds for two consecutive years. The continuing top-level sustainable financing push supported by encouraging domestic policy developments will allow China to continue to be a global green growth leader, and also manifest its commitment to implement the Paris climate accord.
Internationally, energy efficiency is considered key to ensuring a safe, reliable, cost-effective way for a sustainable future. The International Energy Agency believes that "it is the one energy resource that every country possesses in abundance and is the quickest and least costly way of addressing energy security, environmental and economic challenges". As the IEA estimates, energy efficiency needs to reach 38 percent of total energy demand to keep global temperature rise to within 2 C.
We are pleased to see that as China shoulders increasing responsibility to lead the fight against climate change, it has made reducing energy intensity one of the top priorities and embarked on one of the most aggressive energy conservation campaigns in the world. It has pledged to launch an "energy revolution" to make radical changes in the traditional ways of energy production, supply, distribution and consumption.
Nonfossil fuels get due importance
Under the 13th Five-Year Plan, China plans to reduce energy intensity by 15 percent, and make nonfossil energy sources a more important part of its economy. The carbon target will be mostly achieved by improving energy efficiency and shifting from heavy industry to less energy-intensive sectors. This is a significant increase in the importance of nonfossil fuel from previous five-year plan targets.
Recently, China enacted a series of policies to promote energy efficiency, for which effective policies have been implemented, such as mandatory building energy codes for residential and commercial buildings in urban areas, voluntary energy code for rural residential buildings, policies and incentives based on green building ratings, and building retrofit programs.
These policies have been contributing significantly to energy saving and reduction of greenhouse gas emissions. The policies have also created a burgeoning market for energy-efficient materials and products such as wall and roof insulation, doors and windows, heating, ventilation and air conditioning.
Apparently, China has chosen the right track for sustainable growth. In practice, however, there is still much room for improving energy efficiency while striking the right balance between investment in energy efficiency and renewable energy.
Statistics show that China's economic growth over the past decades has resulted in surging demand for all energy sources, leaving significant potential for improving efficiency. China consumes almost 23 percent of the world's energy to produce around 15 percent of global GDP. The average consumption of energy per unit of GDP in China is many times that in developed nations such as the United States and Japan. The building sector alone takes up one-third of total energy consumption where we see huge potential for savings.
Making buildings energy efficient
The development of modern and affordable district energy systems in cities is one of the least costly and most efficient ways of improving building energy efficiency. International experience shows that a heat metering policy is essential to ensure the efficiency of a district heating system. In a modern and sustainable heating system, heat is "pulled" to users according to their actual demand through metering and control products, assuring rational consumer behavior in using water and electricity.
In China, a "push" system still prevails with heating reform still on a bumpy road. Heat continues to be "pushed" to the users' end by charging for heating areas regardless of their actual demand, resulting in huge waste of energy, and creating pollution. Therefore, China should make sure that an effective heat metering policy is in place so that efficiency solutions for district heating, such as metering, can be fully implemented, ultimately to improve energy efficiency in all buildings, and reduce cost and pollution while optimizing the comfort level for users.
The benefits of such heating reform can be well illustrated by calculating the saving in heating against government subsidies for renewable energy. The government earmarks 13 billion yuan to subsidize new energy per annum while the heating area in China totals roughly 13 billion square meters. In terms of heating costs, each square meter accounts for 15 yuan. If, say, we used our energy efficiency technology in all heating systems across the country, we can save up to 1 yuan for each square meter. It will be a total of 13 billion yuan, which is the equivalent to the annual government subsidy for new energy.
In other words, the saving for each square meter will be about 7.5 percent, which can be easily achieved. Our solutions for metering and control system for buildings alone can conservatively save up to 20 percent of the total heating fuel given the current operational level of China's heating systems. Therefore, sufficient investment in improving China's heat metering systems alone would facilitate efforts to install metering systems in buildings across the country as well as create resources to subsidize new energy.
How to build smart energy systems
The solutions applied in the system have been tested again and again, and implemented in many cities including New York City, and Benxi in northeastern China's Liaoning province.
To facilitate the development of district energy systems in the context of achieving global sustainable goals, the United Nations Environment Program and a group of partners, including Danfoss, have launched an initiative on District Energy System in Cities, or DES, as an accelerator of Sustainable Energy for All, or SEforALL. The Benxi project is one of the model cases that the initiative has been promoting globally. We are already working with governments at all levels and local partners to implement DES across China.
Therefore, we suggest that China make better use of the technologies and solutions that are ready on the shelf, especially the ones that have been successfully tested and proven. We believe that with proper macro policy design and micro regulations equipped with proven solutions, China will continue to be a dynamic engine for global green growth.
In view of China's successful economic reform in the past four decades and great prospects for future growth in the new century, I would like to conclude by saying: If Great Britain led the world in the 19th century through the Industrial Revolution and the US became a global leader in the 20th century by teaching the world how to consume, I am confident China has a unique opportunity to lead global efforts for sustainable growth in the 21st century through further reform and the "energy revolution" path the country has embarked on.
The author is chairman, Danfoss Group. This article is from the upcoming book The Sleeping Giant Awakes, edited by China Watch, a think tank powered by China Daily.