GAC unveils auto plant using intelligent design
By Zhang Dandan | China Daily | Updated: 2018-12-24 10:52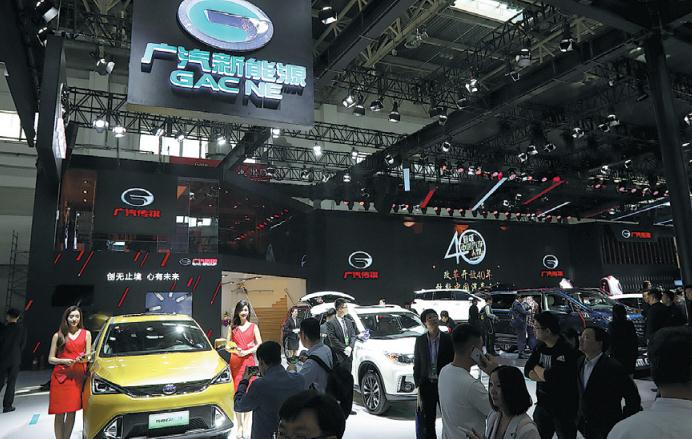 GAC New Energy Automobile Co unveiled its new intelligent and ecological plant on Sunday, in Guangzhou, South China's Guangdong province, demonstrating the automaker's efforts and ambitions to take the lead in manufacturing new energy vehicles.
"We have introduced our 'Five New era', which refers to new technology, new intelligent manufacturing, new product, new ecology and new system, at the 2018 Guangzhou auto show. And this new intelligent and ecological plant elaborates what our new intelligent manufacturing is," said Gu Huinan, general manager of GAC New Energy Automobile Co at a news conference on Friday in Guangzhou.
Located in the Panyu district of Guangzhou city, the plant is designed to solely produce full-electric vehicles, with a total production capacity of 400,000 units per year.
The completed part is the first phase of the plant, which has an annual production capacity of 200,000 units, with a total investment of 4.7 billion yuan ($681.4 million), and covering 470,000 square meters, according to the automaker.
The new plant adopts a raft of cutting-edge technologies and equipment to achieve intelligent and environmentally friendly manufacturing.
"This plant has China's first flexible production line for assembling both steel bodywork and aluminum bodywork. Equipped with a precise positioning system and quick switching technology, the production line can switch between the steel body assembly process and the aluminum body assembly process in just one minute," said Xi Zhongmin, deputy general manager at GAC New Energy Automobile on Friday in the new plant.
Taking full use of GAC New Energy's cloud platform, the new plant can analyze and integrate global cloud data and relevant historical data to make independent decisions and come up with preventive maintenance measures, aiming to improve production efficiency and enhance quality control, according to the carmaker.
In addition, the new plant offers interactive customization services. Through the GAC New Energy application, customers can make orders, choose wheel hubs, colors and devices, inspect all the producing processes and even follow up the delivery information.
While taking full advantage of green power-solar and wind energy-the new plant has the capability of storing surplus power, which will alleviate the pressure of using electricity at times of maximum demand, according to Gu.
The new plant is scheduled to produce new models, some of which will be introduced at Shanghai Auto Show held next April, Gu noted.
Among the new models is the Aion S-the first model produced in the new plant-which will be the first all-electric sedan offering from Aion, a new product system exclusive to GAC New Energy. GAC New Energy Automobile Co was founded in July 2017, as part of its parent company-GAC Group's efforts to offer world-class intelligent mobility services.
By the end of this year, the sales volume of GAC New Energy will have exceeded 20,000 units, according to the automaker.