Cold air will linger to year's end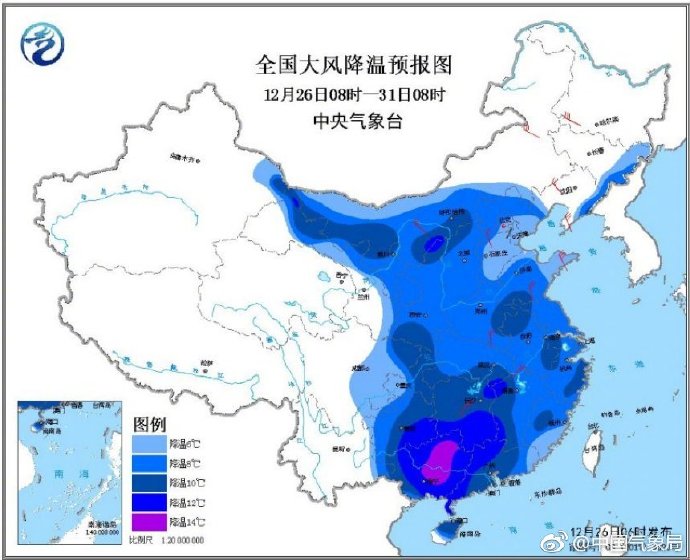 Chilly weather expected to affect areas in normally mild regions of South China
The national observatory renewed a blue alert-the least severe level-for cold weather lingering in central and eastern parts of the country until the end of the year.
Some areas are expected to experience a temperature decrease of up to 14 C. While high winds are expected in northern parts of the country, the cold air will bring precipitation to many areas in the south, the National Meteorological Center said in a media release on Wednesday.
The cold air, which penetrated into the country on Tuesday, had affected southern parts of the country by Wednesday. More cold air, however, will arrive on Thursday and Friday, worsening the situation, it said.
"The cold air this time will bring widespread effects that will last for a long time," said Chen Tao, chief forecaster with the national observatory, adding that temperature decreases of 10 to 12 C are expected in the eastern part of the Inner Mongolia autonomous region and many areas in South China.
While Northeast China will experience daily lows of -25 C, the daily low temperature in the Beijing-Tianjin-Hebei province cluster will reach -10 C, according to forecasts.
The daily high in Beijing will stay below 0 C for the rest of this month, the Beijing observatory said.
From Thursday to Saturday, most areas south of the Yangtze River, except for Yunnan province and the southern parts of Guangdong province, will be enveloped by rain or sleet. But in most areas precipitation will be less than 10 millimeters, the national observatory said.
It reminded people in southern parts of the country to take precautions, as the moisture brought by precipitation will make people feel even colder.
It also said the cold will begin to affect Guangdong, one of the southernmost provinces of the country, on Thursday, bringing temperatures down to their lowest this year.
On average, the province can expect a temperature decrease of 8 to 12 C. The decrease will be greater in mountainous areas in the northern parts of the province, said Cheng Zhengquan, chief forecaster at the Guangdong Meteorological Center.
The center said cold temperatures will linger in the province for about five days.
Peng Jingbei, an engineer at the Chinese Academy of Sciences' Institute of Atmospheric Physics, said due to the effect of El Nino-a periodic event that warms the Pacific Ocean, meteorological conditions in the country will be unfavorable for frequent cold air.
Most international meteorological institutes have predicted that El Nino will occur this winter.