Overcoming peak obstacles
By Erik Nilsson | China Daily | Updated: 2018-12-28 07:00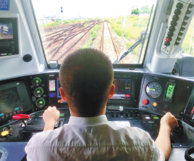 The ride reminded me of friends from Chongqing, who have told me they never learned to ride bicycles because of the precipitous landscape.
That makes sense-unless you have a motor and good roads.
Getting around the city can prove a unique experience. I first hopped on one of downtown Chongqing's two cross-river cableways that were built in 1986.
Soon after, I took a light-rail train that emerges from subterranean tunnels to grace mountaintops before blasting through a building, whooshing in one side and out the other.
The area beneath where the train pierces the high rise is a tourist attraction, replete with hillside tile mosaics. Visitors congregate below to shoot photos and videos.
Even on foot, the undulating terrain sometimes means walking straight from a building's first floor to the adjacent building's seventh floor without going up or down any stairs.
I also rode the 112-meter, underground Lianglukou Huangguan Escalator, which is said to be Asia's longest.
However, transportation within Chongqing has improved in pace with its connectivity to the outside. A ring road links downtown to the suburbs, while a highway connects the municipality with Shanghai.
I also visited the Yangtze's largest inland port, which handled 13 million tons of cargo last year. It's linked to a new trans-Eurasian railway, creating an "intersection of the Belt and Road and the Yangtze". I hopped aboard and rode along with the conductors for a few stops.
The Yangtze itself is now more easily traversed, thanks to the Three Gorges Dam in Hubei province's Yichang, from where I traveled to Chongqing.
"Before, there were rocks near the water's surface," a cargo-ship captain told me as we prepared to pass through the locks, rising 40 stories aboard his boat.
"It was dangerous. Now, the water flows high above the boulders. So, we don't have to worry about hitting them."