Overcoming peak obstacles
By Erik Nilsson | China Daily | Updated: 2018-12-28 07:00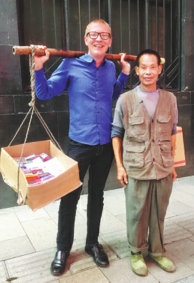 The pulleys groaned and echoed loudly. The dam is a place of haunting beauty, not only visually but also acoustically.
Its massiveness makes it an amphitheater that endows every sound with an enhanced decibel count and hyperactive reverb.
The slaps of a net hitting the water as a man scooped litter from the surface dozens of meters below me sounded like fireworks.
The dam's gray, artificial geometry stood in stark and splendid contrast to the naturally rendered, pastel squiggles of the mountain ranges' pinnacles that painted the horizons.
The peaks peeked faintly above the mist like periscopes.
Yichang's man-made marvel and natural splendor lure tourists from every corner of the planet.
I spent the night before aboard a Yangtze cruise ship in the city. The mirror images of skyscrapers sparkled like glittering ghosts on the ripples of the river as the boat slipped beneath vibrantly colored, illuminated bridges that also cast multihued, inverse shadows on its surface.
Indeed, the journey showed me how China is overcoming transportation roadblocks posed by mountains that jut into the sky and boulders hiding just beneath the water.
It has enabled and enhanced travel on wheels and waves, train tracks and ship locks-and, sometimes, even by foot.