Blending style with service in the air
A look at the evolution of the uniforms at one of China's biggest airlines, China Eastern
Pan Jianfen may now be part of the management team at China Eastern Airlines, but she still relishes serving passengers from time to time because it gives her a chance to don her uniform.
"The uniform seems to have a magical power, because I feel energetic the moment I wear it, regardless of how exhausted I was before," said Pan, a deputy general manager of the light catering department.
"A foreign passenger once asked why I was always looking so happy. I told him that I'm happy whenever I can bring happiness to my passengers through my work.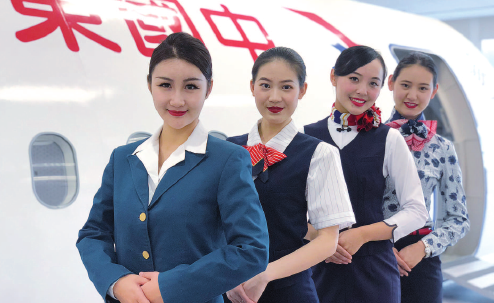 In fact, Pan still has the three generations of uniforms that she wore throughout her 30-year career. She occasionally takes them out from the drawer under her bed to reminisce about the good times.
China Eastern Airlines, one of China's three major airline companies that has been ranked seventh in the world since 2016, has had five generations of uniforms since the first one was introduced in 1957.
The first iteration of the uniform was a dark blue suit that looked similar to military uniforms. In 1979, just months after China opened up its doors to the world, the airline redesigned its uniform as the civil aviation sector was given more freedom to manage itself. This second generation uniform was sky blue and was worn with a white shirt featuring large lapels, trousers and a lat top cap.
In 1986, the airlines launched its third generation uniform, comprising a navy blue overcoat, jacket, white shirt, and a stylish knee-length skirt.