Chilly northeast a hot destination
By ZHOU HUIYING/HAN JUNHONG | China Daily | Updated: 2019-01-01 08:23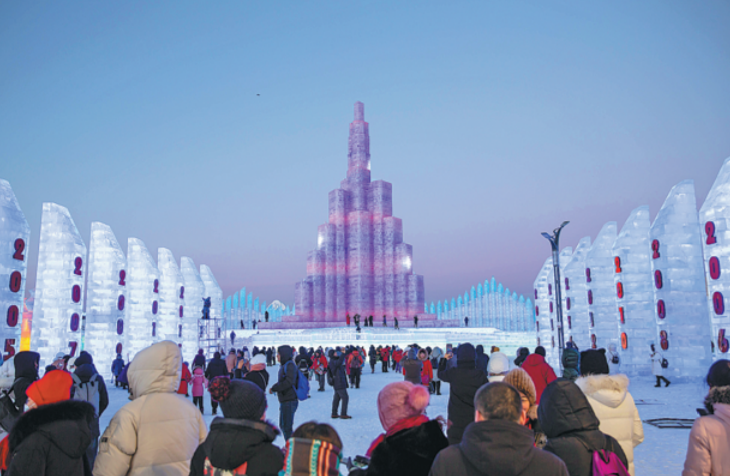 The New Year sees northeastern China welcome the depths of winter and the peak season for tourists.
Tourist interest in the region has been increasing, with Heilongjiang, China's northernmost province, leading the way.
According to a report jointly released by the China Tourism Academy and Chinese travel website Mafengwo on Dec 13, the number of travel notes about Heilongjiang posted on websites by tourists rose by 152 percent last year.
Harbin, the provincial capital, Mohe, China's northernmost city, and Yichun have become Heilongjiang's most popular tourist destinations.
Millions of tourists head north to see the country's most spectacular ice and snow shows in Harbin every year.
The annual Harbin International Ice and Snow Festival starts on Jan 5 and ends at the beginning of March, overlapping with some of China's most important traditional holidays.
Last winter, more than 1.4 million tourists visited the 19th Harbin Ice and Snow World, one of the most important parts of the festival, with ticket sales exceeding 360 million yuan (52.22 million), 10 percent more than the previous year.
This winter, a 600,000-square-meter park that started trial operations on Dec 23 includes famous traditional Chinese architecture, Gothic architecture and a 45-meter-high tower, all built with ice.
When night falls, various crystal-clear buildings never fail to amaze, breaking records with their scale and lending themselves to ever more spectacular illuminations.
"Although we have been blessed to see snow in our city Hangzhou this winter, I'm still amazed by huge ice buildings here," said Liu Yuanqi, a 34-year-old visitor from Hangzhou, capital of eastern China's Zhejiang province.
Liu visited the park in Harbin after a trip to Mohe.
"It is really an unforgettable travel experience, especially when the tour guide told me that the ice was collected from the frozen Songhua River," she said. "I was absolutely stunned when I saw the great ice sculptures."