Word champions
By Shen Wendi | China Daily | Updated: 2019-01-02 07:50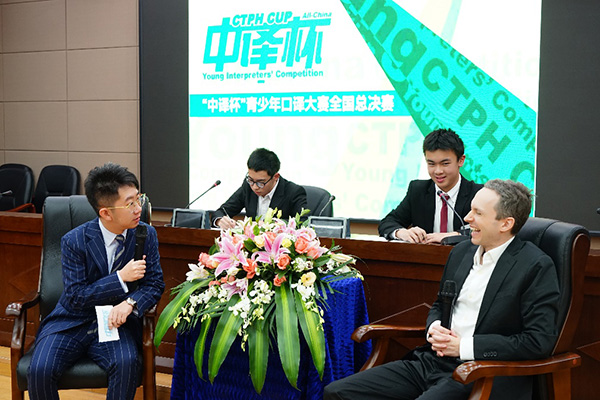 The final of the Young Interpreters' Competition took place in Beijing last month, with contestants as young as 12 showing how articulate and coolheaded they can be under pressure, Shen Wendi reports.
Interpreting can be a lucrative career, but it's also a skill that can bring out the purest of competitive instincts, as was illustrated by the finals of the fourth annual "CTPH Cup" All-China Young Interpreters' Competition in Beijing in December, sponsored by China Translation & Publishing House.
Some 20,000 teenagers from all across China had battled for glory for months. Twenty entered the finals, the youngest of whom was just 12 years old.
Six were then singled out for their more mature linguistic skills, stronger psychological qualities and sharper minds to compete for the top three accolades in a test of interpreting dialogue.
For this challenge, three special guests were asked to discuss a topic with the host in both English and Chinese. Two contestants, sitting behind the host and the guest, were required to simultaneously interpret as they took notes.
Li Yichen of Chengdu, Zhong Zijia of Shanghai and Wang Congwen of Nanjing won the three top awards.
Although Li seems to have all the makings of a highly competent professional interpreter, she made it clear that it is not a career path she aspires to. Rather, she is keen to do research in biochemical engineering.
"I don't think being a contestant necessarily means being a professional interpreter," Li says. "This platform offers us more possibilities, instead of putting limitations on us."
The 17-year-old high school sophomore from Chengdu Foreign Languages School, the first school in Sichuan province with foreign-language studies as its primary focus, says: "Training in translation and interpreting has really improved my linguistic skills and the ability to understand different cultures. More importantly, it makes me articulate, coolheaded and quick-minded. This will be a valuable asset for whatever career I choose to pursue."
The runner-up, Zhong Zijia, a second-year student from Shanghai Shibei Junior Middle School who is passionate about English, and who was competing for the second year in a row, says: "I think I have made great progress compared with last year. I really enjoyed it, and it's a dream come true to be among the top three."
Zijia was thrilled when, in the final test, he interpreted for the host, Zhang Bo, a news presenter on CCTV's Arabic channel, whom he admires. "That was the most exciting," he says.
Three guests who acted out the scenarios for contestants in the final test were Liao Wang, director of the Award Scheme Development and Accreditation Network's China office, Jason Rosenberg of Harvard University and Lu Bo, co-founder of the Education Forum for Asia.
Zijia says he is keen to promote Chinese and Western cultural exchanges, and has set up an English-language study platform on WeChat to exchange information about translation and English studies.
The third-place winner, 12-year-old Wang Congwen, says he's happy to get the award in the contest. This was the first time he took part in it and, moreover, he made many friends.
Wang's mother, Bao Yeye, says translation and interpreting offer another way of thinking and have broadened Congwen's knowledge.
Topics covered in the finals include the debate over exam-oriented education, studying abroad and the difference between philanthropy and public service.
"This segment is designed to create a real scenario for interpreting," says Yong Ho, coordinator of the United Nations China Study Program, who has helped supervise the event since it was first held three years ago. "The topics this year were of educational significance and more relevant to the contestants."
Ho says that these contestants may not necessarily be the future talent for the translating and interpreting professions.
"But they have laid a good foundation if they want to work for the United Nations in the future," he says.
The contest was co-hosted by China Foreign Affairs University in 2018.
Xu Lin, secretary-general of the organizing committee, hails the significance the school has brought to the event.
"From 2019, our contestants will have the privilege of being coached by the university's best teachers," Xu says.
"We have been devoted to building a pioneering platform to provide the best resources and opportunities to benefit young people."
Since the competition's inception, it has drawn more than 100,000 entrants from ages 12 to 18. The National Association of Foreign Language Education of the Chinese Society of Education has been its chief adviser.
In 2018, for the first time, students in Northwest China's Gansu province took part. Foreign-language resources are scarce in the region compared with many other areas, including cities such as Shanghai and Nanjing.
Jiang Linjia, a senior from a high school in Gansu who made it to the final six, says: "I think it's such a great arena. I got no second chance, but I encourage younger people to take the opportunity to take part."
Zhang Gaoli, editor-in-chief of China Translation & Publishing House, says: "At present, the competition is inaccessible in some remote areas of China. And we have plans to include all the provinces within two or three years to ensure the resources are fairly distributed and enjoyed."
For the first time, a translation competition co-hosted by China Translation & Publishing House and the Encyclopedia of China Publishing House was held in conjunction with the interpreting event. It aimed to stress the comprehensive skills of interpreters and translators.
Also, UNESCO presented a Special Honor Award to encourage more young Chinese to become ambassadors for cultural exchange.
The 2019 competition will start in March.
Contact the writer at shenwendi@chinadaily.com.cn