China has achieved great things through hard work
chinaplus.cri.cn | Updated: 2019-01-02 08:56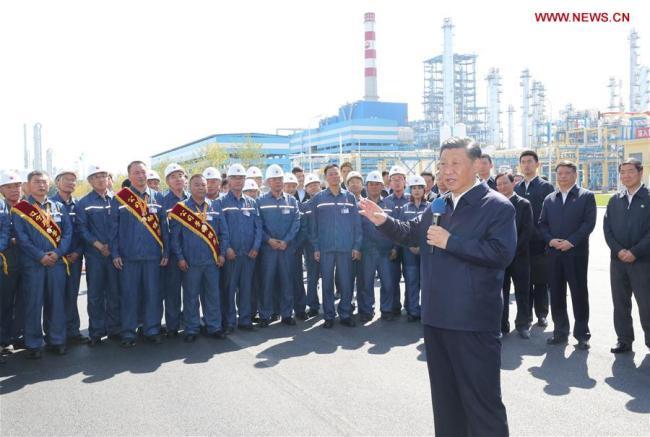 Note: The following is an edited translation of a commentary from the Chinese-language "Commentaries on International Affairs."
In his New Year speech on December 31, China's President Xi Jinping reviewed the country's achievements in 2018 and encouraged China's people to continue to work hard in 2019 to achieve their dreams. He also voiced China's readiness to safeguard world peace and promote common development.
The speech brimmed with a sense of accomplishment and pride that derives from the hard work of China's people. It also demonstrated President Xi's global perspective as the leader of a major country.
Many people at home and abroad have marveled at China's industrialization, which took place in the space of just a few decades. They attributed this success to the hard work of China's people above all else. At the 40th anniversary of the start of China's reform and opening up policy in December, President Xi said that the achievements made by China over the past four decades "comes from the hard work, wisdom, and courage of all members of the Party and people from all of China's ethnic groups." And in his 2019 New Year message, he summed up China's progress in developing its economy, protecting its natural environment, improving the people's livelihood, advancing innovation, and advancing reform and opening up, and stressed once again that China's successes were due to the hard work of people from all China's ethnic groups. "2018 has been a full year, and we approached it with steadfast determination," he said, and "the world has seen China's accelerating reform and opening up, and its determination to carry it forward."
The struggle of China's people is aimed at realizing their aspirations for a better life. In 2018, another 10 million rural residents were raised out of poverty. China reduced the prices of 17 cancer-fighting drugs, and included them on the country's medical insurance list. Thirteen million people found jobs. Construction began on 5.8 million new homes for people living in dilapidated houses. Many people from Hong Kong, Macao, and Taiwan have resident permits for the mainland, and Hong Kong has been integrated into China's high-speed railway network. All of these achievements that President Xi mentioned in his New Year message are vivid examples of the simple truth that "Happiness comes from hard work", and all are good reasons for China's people to be proud.
Thanking those who've made China the success it is today
China's achievements over the past four decades are the result of the diligence, wisdom, and courage of innumerable people. In his New Year speech, President Xi mentioned some leading lights, including Nan Rendong, the chief scientist of the FAST project, also known as the Sky Eye; and former servicemen Lin Junde and Zhang Chao, who he praised as being "the most admirable people in China's new era." "We should remember their names forever, and learn from their deeds," he said.
The president wished good health to the public servants working at the grassroots who have helped rural people out of poverty. He wished all those living in hardship "a prosperous and thriving New Year." President Xi hailed ordinary workers – the deliverymen, street cleaners, and taxi drivers – who contribute to "the creation of our beautiful society."
The achievements have been great, but there's still work to be done
The New Year will see the 70th birthday of the People's Republic of China. It is also a crucial year for the country as it strives to build a moderately prosperous society in all respects. The rising tide of protectionism and unilateralism has brought uncertainty to the world, making it all the more important for China's people to work hard to overcome the difficulties they face as citizens of the world's largest developing country.
China's government has stressed that reform and opening up will never stop, and that it will always adhere to a people-oriented approach to development that provides a better life for China's people. President Xi said in his New Year speech that "policies to cut taxes and fees must take root in order to ease the burden on enterprises," and that "we shall work hard to achieve our task of lifting another 10 million rural residents out of poverty as planned." He stressed that no matter what changes take place on the international stage, "China will remain resolute and confident in its defense of its national sovereignty and security. China's sincerity and goodwill to safeguard world peace and promote common development will remain unchanged."
Over the past 40 years, the policy of reform and opening up has combined with the spirit of self-reliance and hard work to achieve something extraordinary. Standing at the starting line of a new year, China is ready to run for another 40 years towards its dream of national rejuvenation, and the building of a community with a shared future for mankind.