Louisiana celebrates its prosperous trade with China
By HONG XIAO in New York | China Daily USA | Updated: 2019-01-08 23:17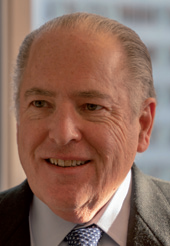 The state of Louisiana has had a lucrative trade relationship with China and wants to see it grow more, according to a state economic official.
Don Pierson, secretary of Louisiana Economic Development (LED), detailed his state's business with China on Monday at China Daily's US headquarters.
He said that in recent years, Chinese commerce has been "a transformative force" in Louisiana's economy. China is the top destination for the state's exports, according to LED.
The Southeastern US state with a strong agricultural base sells 57 percent of its soybean crop to China, and China recently resumed importing US soybeans.
As trade tensions de-escalate, Pierson said "it can be a great benefit on both sides for this to get resolved and bring back some normalcy to the relationships", adding that the bilateral relationship has been "great for more than 20 years, so let's hope this is a short period of discussion and debate".
"It will be resolved, and people will look back at this as a brief moment of discussion about commerce," he said.
Last year, China placed a 10 percent tariff on US liquefied natural gas (LNG) imports in response to US tariffs. Louisiana's natural gas reserves make up 5 percent of the US total.
"It's a challenging time for everyone in China and in the US," he said.
Pierson believes that today's environment with tariffs "is not helpful to the US; it's not helpful to China. It's a lose-lose," he said. "And I know that our leadership on both sides is working to change that equation and settle the differences in a manner that's fair to both countries so that we can move forward with economic decisions."
Pierson said that Louisiana takes in about $7 billion from China each year, largely in agricultural products, refined oil and gasoline, and advanced chemicals. That business gives Louisiana the largest trade surplus with China of any US state.
"We are also a state in the US that purchases a great deal from China, more than $1 billion annually," he added.
Notable Chinese companies investing in Louisiana include Shandong Yuhuang Chemical and Wanhua Chemical.
Methanol manufacturer Shandong Yuhuang has invested $1.85 billion in YCI Methanol One LLC, its US subsidiary.
Shandong Yuhuang and LED were presented with the Outstanding FDI Partnership Award by the Chinese General Chamber of Commerce on Monday in New York.
In 2018, Louisiana state received more than $10 billion in foreign direct investment overall.
"I think we are doing some things right, and it's being recognized," Pierson said.
Serving at LED since 2005, Pierson has been to China more than 20 times. In March, he will again lead a delegation to China for approximately two weeks.
"It's always one of my favorite destinations anywhere on the globe," he said.
According to Pierson, the state's future strategy is "to keep our fundamental industries very strong … but what's important is not to get left behind in terms of technology".
He said China, now with a rover on the far side of the moon, is making advances in aviation and aerospace.
"The US-based program's backbone is NASA, and NASA's production facility is in Louisiana," he said. "We are building the US Space Launch System by Boeing … as well as the capsule that sits on top for the astronauts called Orion, which is being put together by Lockheed Martin, and that too happens in Louisiana," he said.
The state is also focusing on water management, a vital concern around the world.
"We would love to take an opportunity to meet with some of your leading science and research universities that are focused on water management and begin a partnership of that intellectual capacity and an opportunity to benefit everyone," Pierson said.
"It's a win-win not only for China and the US, but better predictions about water, about flooding, about soil erosion … can benefit many nations around the globe," he said.