Owner cleared after 20 years, but he didn't live to hear ruling
By Cao Yin | China Daily | Updated: 2019-01-10 09:09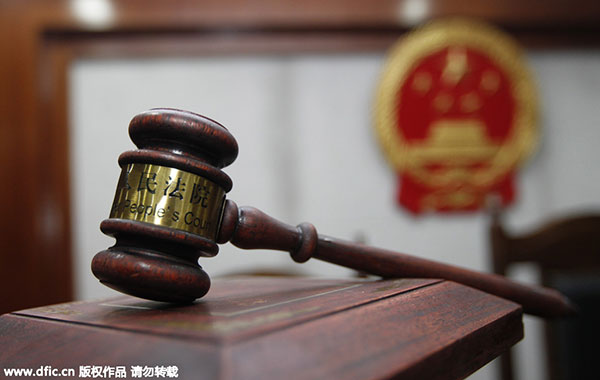 An entrepreneur from Northeast China's Liaoning province who had been convicted of fraud had his name cleared posthumously after a retrial, because of errors of fact and incorrect application of law.
The Supreme People's Court's Second Circuit Court pronounced Zhao Mingli, the former owner of a rivet and welding processing plant in Anshan, Liaoning, not guilty on Wednesday, about 20 years after his wrongful conviction and appeals.
The top court also said the money that Zhao was fined would be returned.
Ma Yingjie, Zhao's wife, appeared at the court in Shenyang, the provincial capital, to attend the announcement on behalf of her husband, who died of a disease in 2015.
"My husband was finally proved innocent, and I finally completed his will," Ma said. "We've lost much over the past decades."
She added that she would apply for State compensation for her husband's wrongful conviction.
Zhao was accused of fraud by prosecutors in the city's Qianshan district in 1998. The district's court later freed Zhao for insufficient evidence, but the prosecutors protested the result and appealed to a higher court.
In 1999, the city's Intermediate People's Court sentenced Zhao to five years in prison for fraud and fined him 200,000 yuan ($29,200). It said Zhao swindled another enterprise out of more than 134,000 yuan of cold-rolled sheet metal in 1992.
Zhao disputed the ruling. After he was released, he appealed to the intermediate court and the provincial high court, but was rejected.
After Zhao's death, Ma appealed on his behalf to the national top court in 2016. Two years later, the highest judicial body decided to rehear the case.
In the original ruling, Zhao was said to have illegally possessed the sheet metal, a material mainly used in automobile production, by failing to pay for it, but the top court found that he had only been late paying some bills and had not refused to pay.
Zhao was open about the facts in dealing with his partner, the top court said, adding that his behavior amounted neither to illegal possession nor fraud.
"It was a civil economic dispute between two enterprises," said He Xiaorong, chief judge of the circuit court.
"The lower court didn't distinguish the financial dispute from an economic crime. It wrongly identified the facts and mistakenly applied the law," he said.
"The correction is to implement the central leadership's requirement to improve the judicial protection of private enterprises and entrepreneurs, to offer a better business environment and to give them a greater sense of security."
Zhao was not the first entrepreneur whose conviction has been reversed since China has increased its efforts to safeguard the property and other assets of private enterprises.
In May, Zhang Wenzhong, former chairman of retail company Wumei Holdings, was acquitted of fraud, bribery and embezzlement. In July, Zhao Shoushuai, a farm machinery company operator in Gansu province, was pronounced not guilty after being jailed for about 10 years.