British fashion label Burberry derided for off key Chinese New Year campaign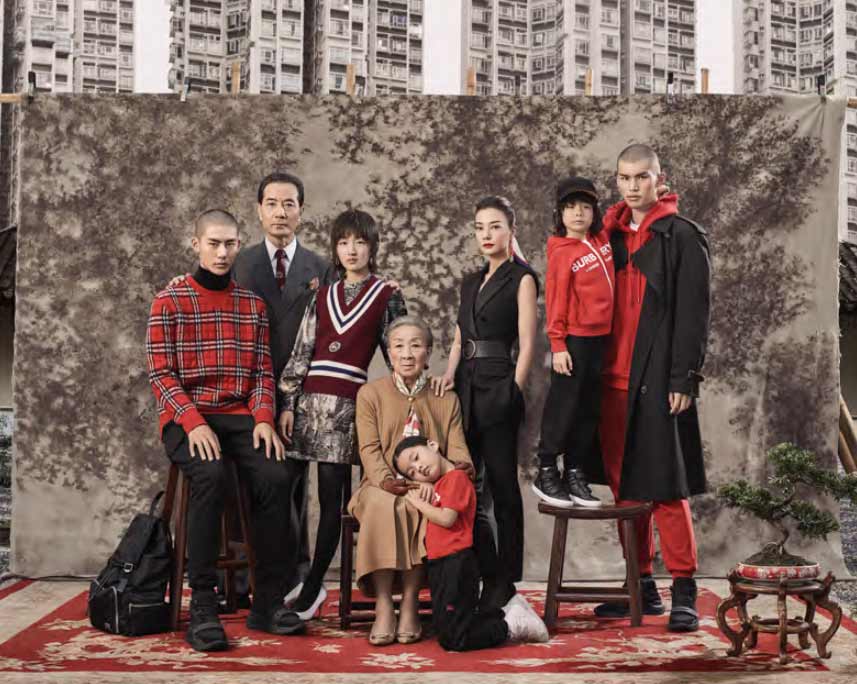 Burberry's recent advertising campaign is the latest in a series of efforts by Western luxury labels to reach out and connect with Chinese consumers on an emotional level that have backfired, with industry specialists now warning Western brands to infuse more local knowledge into their global strategies.
There was a blitz of criticism on Chinese social media over Burberry's "modern" Chinese Lunar New Year ad campaign, in which Chinese netizens likened its images to Asian horror films.
The campaign, shot and directed by photographer Ethan James Green, to celebrate family traditions and togetherness during the festival, was unveiled on Jan 3, starring Chinese actresses and Burberry brand ambassadors Zhao Wei and Zhou Dongyu.
Probably, Burberry was trying to combine the cool and detached look of a premium brand and the idea of a family get-together. But the lead photograph, depicting eight unsmiling models from four generations, appeared to lack the traditional Chinese New Year festive mood.
Felicia Schwartz, branding and cultural insight specialist and founder of London-based consultancy China Insight, believes "the campaign strikes a false note because it just scrapes the surface of the notions related to the Chinese New Year and it portrays a 'family' without capturing the emotional meaning and essence of family."
Her view was echoed by Wang Qing, co-founder of the Luxury&Innovation Hub at The University of Warwick.
"I think the campaign does not hit the right note, and it has missed the essence of Chinese New Year." Wang said, "The spirit of Chinese New Year is happy, but this family looks very distant and aloof, without any harmony among the family members. So the family theme is the right culture, but how they portrayed each of the individual members in that family is wrong."
Zhao Wei, who gained overnight popularity in the famous Chinese TV Show - My Fair Princess, said in a statement, "The campaign draws on the concept of families reuniting for the most important holiday of the year, and represents a sense of belonging, but in a very fresh way."
But some netizens on Chinese social media blogging website Weibo, which is similar to a hybrid of Twitter and Facebook, disagreed with the festive tone in the picture, mocking the photo as creepy and uncomfortable.
One Weibo user @Tianduyexijun, wrote:"Is this the New Year celebration or funeral commiseration? The picture looks eerie."
"The lead picture does not look like a traditional Chinese family photo, it's more like a cold and strange ghost film. Is this misinterpretation of the Chinese culture, or an indirect act of insulting China? Does Burberry want to become the second D&G? This shows Burberry's arrogant and lazy attitude in neglecting traditional Chinese culture," commented another user @Zhongerkushaonv.
One Weibo user "KebeibeiShell" was particularly upset as she noted that her original comment was deleted. In her new comment, she said, "Are you sure this is not a horror film? The creator must be short-circuited whilst coming up with the concept. The image is far from demonstrating family reunion and togetherness."
The Burberry incident came after Italian fashion brand Dolce and Gabbana, also known as D&G, published a post on Weibo last November to promote its runway show in Shanghai, showing a Chinese woman being told how to use chopsticks.
The post prompted a huge outcry on Chinese social media and subsequently the much-anticipated fashion show had to be cancelled, due to controversy over what many view as a racist ad campaign.
In recent years, Chinese shoppers have emerged as one of the biggest forces in global luxury spending. According to consulting firm McKinsey & Company, Chinese luxury consumers account for more than RMB 500 billion ($73.3 billion) in annual spending, representing almost a third of the global luxury market, and by 2025 it will account for 44 percent of the total global market.
Chinese Spring Festival, which usually falls between January 21 and February 20, is a special time of the year for brands to reach out and connect with Chinese shoppers on an emotional level, and in order to do that, avoiding cultural insensitivity is important for Western brands to bear in mind when making an ad campaign in China.
"I think Western brands are aware they need to connect with Chinese culture, but lack the in-depth knowledge to do so," said Schwartz, who contends that both the D&G and Burberry cases are examples of brands trying to reach out, but in an incredibly misguided way.
"Being culturally relevant is about keeping one's finger on the consumer pulse and understanding both traditions and 'deep culture' as well as how values and society are evolving in real time," she explained.
Experts point out that, with the saturation of Western markets, local markets around the world are becoming more important than ever. A ground-up approach is of great importance and the function of consumer insight should be given more weight in a global age.
Wang said she was slightly puzzled that with all the Burberry campaign models being Chinese – including Zhao, who is not only a well-known actress but also a billionaire business woman - "why these people have not been able to influence the producer of this campaign?"
Nevertheless, as Oscar Wilde once said "There is only one thing in life worse than being talked about, and that is not being talked about", some critics argue that no matter what, the campaign has provoked such a wide variety of discussion from so many people that it has become an advertising success.
Schwartz disputes that notion when it pertains to brands. "China is not just an ultra-competitive environment for foreign brands, both Western and Asian, but Chinese brands are coming up as well," she said,"in such an environment it pays off to be connected and on one page with the consumer rather than being seen as disrespectful or 'pandering to the Chinese consumer' without a real understanding for the market."
She added that countless examples show that it is the global brands which made efforts to localize that performed best in the Chinese context.