US shootings spur fresh push for universal gun background checks
By Lia Zhu in San Francisco | China Daily Global | Updated: 2019-01-28 23:05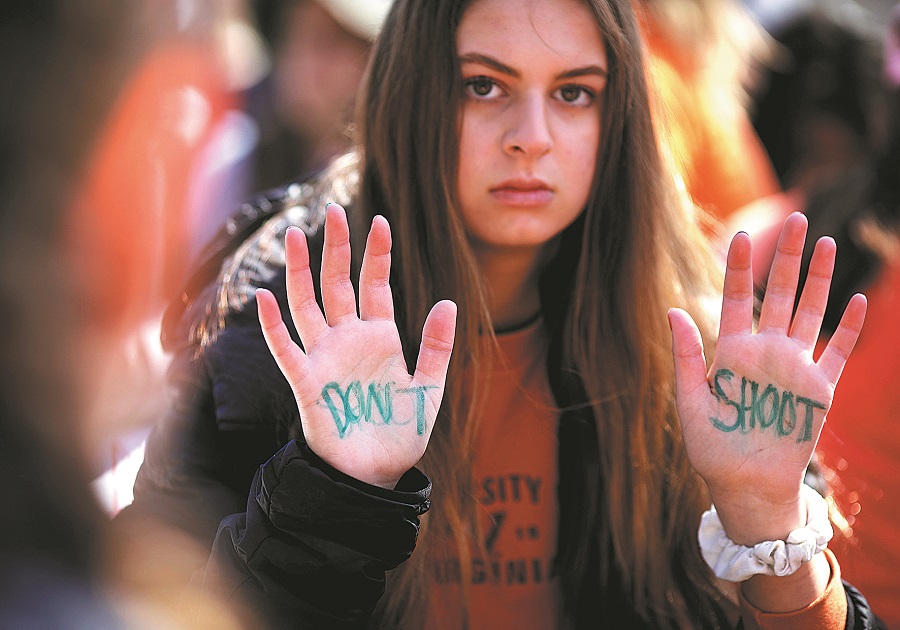 Nearly a year after a deadly Florida high school shooting, two survivors-turned-activists see a "glimmer of hope" in a new proposal in Congress to address the gun violence that has plagued US society for decades.
David Hogg and Jaclyn Corin were students at Marjory Stoneman Douglas High School in Parkland, where 14 students and three staff members were shot and killed on Feb 14, 2018.
Nikolas Cruz, 19, confessed to the attack at the school, from which he had been expelled for fighting. He has been charged with 17 counts of premeditated murder. Cruz had legally bought the .223-caliber rifle used in the shootings, authorities said. A motive in the shootings remains unclear.
The Parkland victims are a mere fraction of the nearly 40,000 people who died from gun violence in the United States last year, a record high in four decades, according to the Centers for Disease Control and Prevention.
In the latest shootings, police were looking for Dakota Theriot, 21, after two shootings left the suspect's parents and three others dead near Baton Rouge in the US state of Louisiana.
On Jan 23, five people were killed when a gunman opened fire in a bank in Sebring, Florida. The 21-year-old suspect is in police custody, and the motive was under investigation.
In 2018, there were 890 gun-related deaths, according to Gun Violence Archive, a not-for-profit corporation.
On Jan 8, congressional Democrats introduced legislation calling for a universal background check before firearms can be purchased. The bill would require background checks for all gun sales and most gun transfers. Currently, federally licensed gun sellers are required to conduct background checks on those who buy guns, but private sellers who aren't federally licensed are not required to do so.
"The background check requirement for firearms sales in current federal law is riddled with loopholes that make it far too easy for dangerous people to get guns," said Jerry Nadler, a New York Democrat and chairman of the House Judiciary Committee, which has jurisdiction over the issue. "It is time we expand these checks to include all gun sales."
A 2017 national survey conducted by researchers at Northeastern and Harvard universities found that one-fifth of the approximately 265 million privately owned guns in the US were obtained without background checks.
"There is no single law that can put an end to mass shootings or gun violence, but there are certainly proactive steps we can take to keep guns out of the hands of felons, domestic abusers and the dangerously mentally ill," said Congressman Pete King, a Republican from New York who is co-sponsor of the bill.
According to the San Francisco-based gun-control group Giffords Law Center to Prevent Gun Violence, more than 90 percent of the American public supports universal background checks.
Avery Kim, a resident in the San Francisco Bay Area who said he supports gun control, nonetheless feels it necessary to keep a gun in his closet.
"If I don't have a gun, I feel defenseless, because a lot of other people have guns," Kim said. "The key is you need to have a national standard (of background checks) for everyone."
Gun-rights groups argue that a universal background check wouldn't truly be universal because criminals would not comply with the law.
"Instead of looking for effective solutions that will deal with the root cause of violent crime and save lives, anti-gun politicians would rather score political points and push ineffective legislation that doesn't stop criminals from committing crimes," said Jennifer Baker, director of public affairs for the National Rifle Association.
The Second Amendment to the US Constitution stipulates the right of citizens to keep and bear arms.
Universal background checks are common features of gun regulation in other developed countries, including Germany, Finland, Italy and France, said John Donohue, a law professor at Stanford University in a 2017 article posted on the university's website.
The US has a far larger homicide rate than those countries, he said.
A recent study by the Stanford University School of Medicine found that a child in the US is 82 times more likely to die of a firearms injury than in any other developed country.
The researchers examined the firearm laws of all 50 US states and found the least strict state is Arizona, while the strictest is neighboring California. The firearm-mortality rate of young people in Arizona is nearly twice that of California, according to the study.
"If you put more regulations on firearms, it does make a difference," said Stephanie Chao, senior writer of the study.
While partisan gridlock blocks progress on gun control at the federal level, 67 bills designed to prevent dangerous people from owning guns were signed into law in 26 states and Washington, DC, last year.
Florida, a state with a history of lenient gun laws, passed a gun safety reform package after the Parkland shooting, including setting 21 as the minimum age to purchase firearms and requiring a mandatory three-day waiting period for all firearms purchases.
To Parkland survivors Hogg and Corin, who organized a pro-gun control march and mobilized young people to vote last year, that's far from enough.
In an article published on the news and opinion website The Daily Beast on Jan 8, they wrote: "It's been a year since the shooting at our school and nothing has happened."