Government wins key Brexit amendment vote
By Wang Mingjie in London | chinadaily.com.cn | Updated: 2019-01-30 07:25
But Europe in no mood to reopen talks over withdrawal process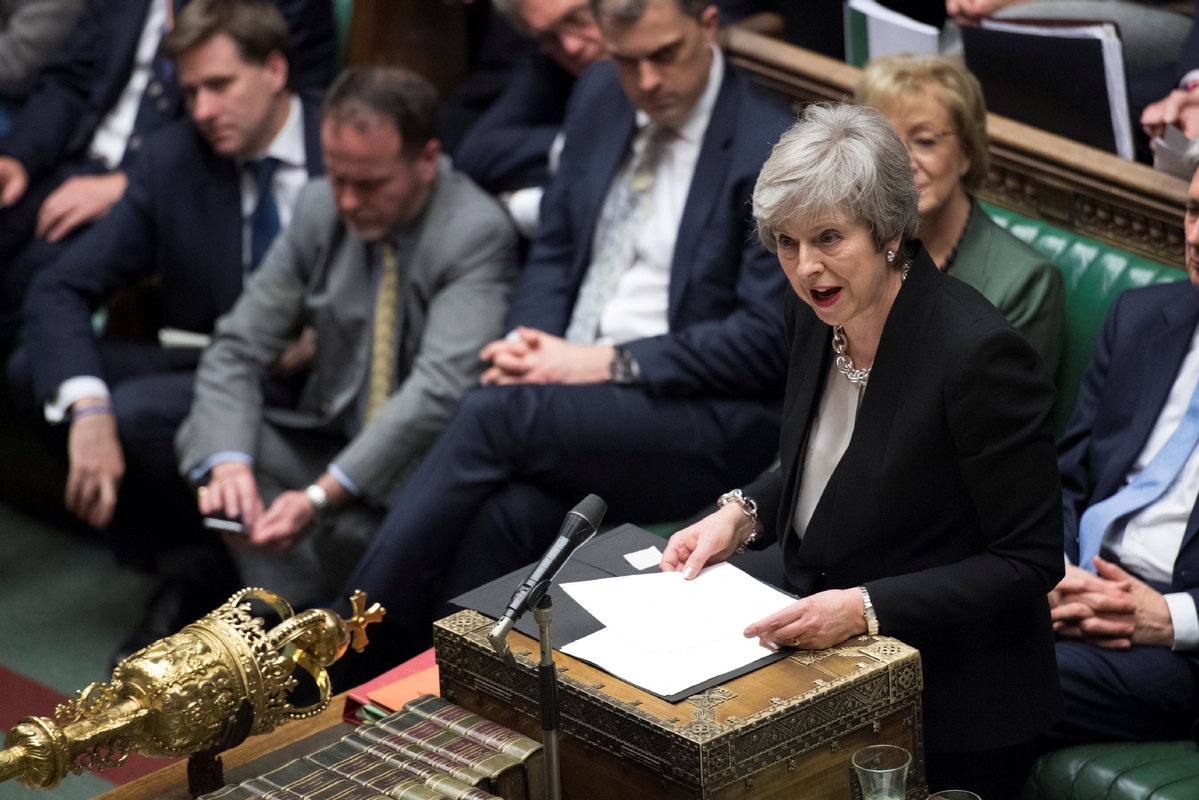 Members of the British Parliament have voted in favour of an amendment to the status of the so-called Irish backstop in Prime Minister Theresa May's proposed terms for Britain's exit from the European Union, scheduled to take place at the end of March.
The proposal, put forward by Tory MP Graham Brady, chairman of the Conservative Party's backbench MP group the 1922 Committee, was carried by 317 to 301, a margin of 16 votes.
Last year May agreed terms for Britain's withdrawal from the EU with the leaders of the other 27 EU member states, but earlier this month that proposal was heavily rejected by MPs, so she is now in the process of trying to come up with a new proposal to put to Parliament.
The backstop is the insurance plan that prevents checks on goods and people crossing the border between Northern Ireland and the Republic post Brexit, but some MPs fear its lack of clarity could see the UK having to observe EU rules indefinitely, despite having supposedly left the bloc.
But the EU has already poured cold water on the suggestion of new negotiations and reiterated that the backstop is not open for renegotiation.
A spokesman for European Council President Donald Tusk, said in a statement "The backstop is part of the withdrawal agreement and the withdrawal agreement is not open for re-negotiation."
Opposition leader Jeremy Corbyn of the Labour Party, who has previously refused to meet May to try and find a cross-party solution to the problems of Brexit, now said he would talk to her to discuss the next steps after MPs voted against the possibility of a no-deal Brexit.
That vote was won by 318 votes to 310, a majority of eight, but is not legally binding on the government.
Labour MP Yvette Cooper's proposal to impose a nine-month delay on Brexit if May cannot get her Brexit deal through Parliament was also defeated.
European commission president Jean Claude Juncker has called the agreement that May secured with the EU last year "the best deal possible for Britain" and there appears to be no desire to reopen talks. May admitted there was a "limited appetite" in the EU, but she believed she could "secure" concessions.
Some of the most vehement Brexit supporters who voted against May last time have suggested they may back her in the future if she can get the backstop agreement changed.