US slaps sanctions on Venezuelan oil
By Zhou Jin | China Daily | Updated: 2019-01-30 08:08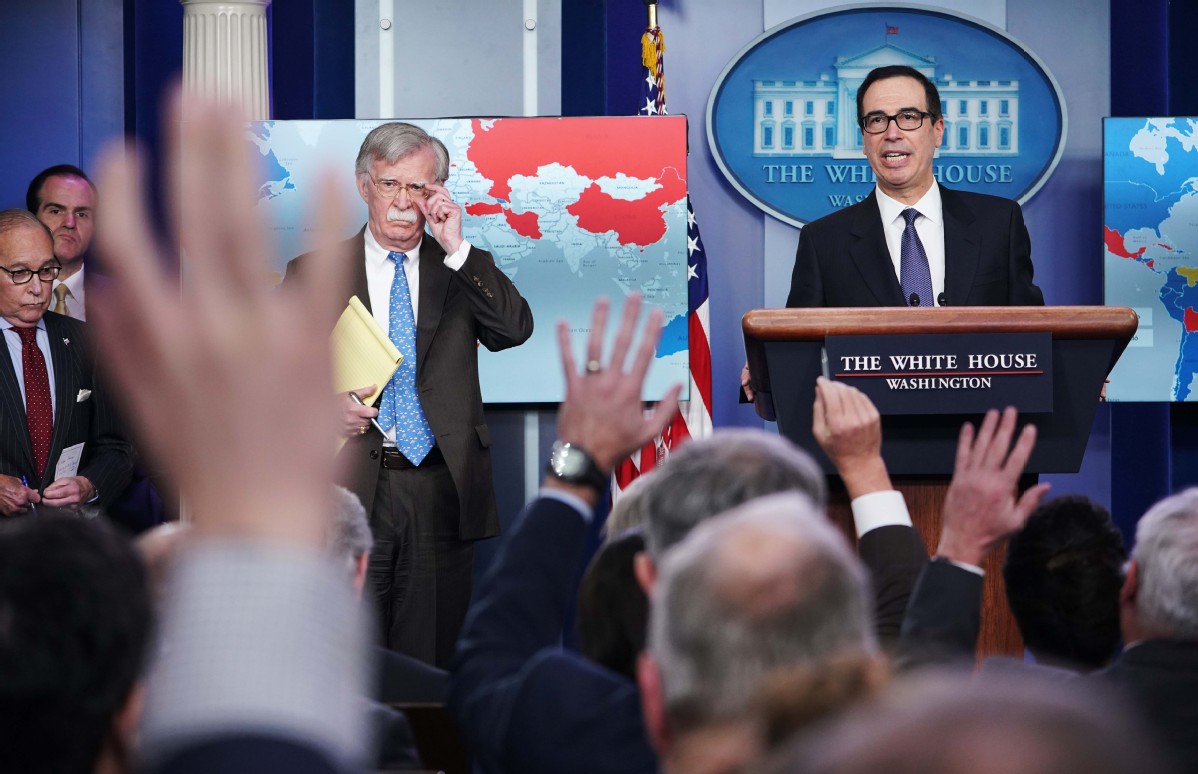 Venezuelans braced for the deepening of an economic crisis on Tuesday after the United States imposed sanctions sharply curbing the South American country's vital oil exports, while President Nicolas Maduro's government responded by refusing to load crude cargoes without payment.
The US government hopes the sanctions, which bar state-owned oil company Petroleos de Venezuela from collecting proceeds from crude sales to US refineries, will pressure Maduro to step down and allow opposition leader and self-proclaimed president Juan Guaido to call elections.
In a national broadcast on Monday night, Maduro said he would take legal action to challenge the sanctions and defend Citgo Petroleum Corp, PDVSA's US refining subsidiary, which he accused the United States of trying to steal. He also pledged to retaliate, but did not announce any specific measures.
"We will provide the reciprocal and convincing response needed to defend Venezuela's interests in due time," Maduro said.
China opposes unilateral sanctions to Venezuela, Foreign Ministry spokesman Geng Shuang said on Tuesday, adding that relevant countries imposing sanctions to Venezuela will deteriorate people's livelihood in Venezuela, and they should be responsible for the serious consequence.
Outside intervention and sanctions will only complicate the situation and is not helpful to resolve practical problems, Geng said.
China is an important trade partner of Venezuela, he said, adding that bilateral cooperation has brought concrete benefits to the people of the two countries.
China will continue advancing cooperation with Venezuela in various fields based on the principles of equality, mutual benefits and common development, he added.
PDVSA responded to the sanctions by ordering customers with tankers waiting to load crude destined for the United States to prepay, according to three sources with knowledge of the decision. Such prepayment could be in violation of the sanctions, setting the stage for a standoff at the ports.
The loss of revenue from the US, the top buyer of Venezuelan crude, was sure to further hamper the government's ability to import basic goods like food and medicine, exacerbating a humanitarian crisis that has prompted more than 3 million people to flee the hyperinflation-stricken country in recent years.
Washington's tough sanctions against Venezuela came days after it recognized the opposition leader, Guaido, as "interim president" of the South American country.
Maduro was elected in May with 67.84 percent of the vote and he was sworn in as president on Jan 10 for another six-year term.
The US, Brazil and some other countries have recognized Guaido's presidency, with US President Donald Trump warning that "all options are on the table".
Maduro, in response, announced the severing of "diplomatic and political" ties with the US. Washington later said that it would conduct diplomatic relations through the government of the "interim president".
On Sunday Maduro visited a military base in the northern state of Carabobo, exhorting the audience to be, "traitors never, loyal always", televised images showed.
The military is planning more and larger exercises from Feb 10-15, which Maduro said would be the "most important in the history of Venezuela".
Guaido said he expects to receive $20 million in humanitarian aid pledged by the US.