Five-nation pact signers uphold treaty
By Mo Jingxi | China Daily | Updated: 2019-02-01 09:25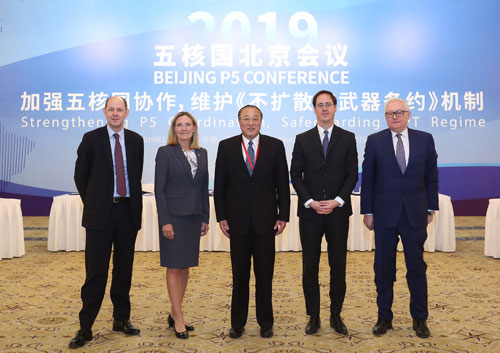 Countries to work toward inherent goals of nuclear nonproliferation agreement
Diplomats from the five major nuclear-weapon states wrapped up a two-day conference in Beijing on Thursday, vowing to jointly uphold the Treaty on the Non-Proliferation of Nuclear Weapons amid challenges to international security.
Stressing that the treaty is the cornerstone of global nuclear nonproliferation, China, France, Russia, the United Kingdom and the United States promised to comprehensively implement the treaty and promote its universality to gradually realize the goal of a world free of nuclear weapons, according to a Foreign Ministry news release.
The five countries agreed to strive for greater progress in nuclear disarmament, make all-out efforts to resolve the nuclear non-proliferation issue through political and diplomatic measures, and enhance international cooperation in the peaceful use of nuclear power, it said.
"The relations and responsibilities of major countries are attracting much attention as unstable and uncertain factors in international security are increasing," said the head of the Chinese delegation, Assistant Foreign Minister Zhang Jun.
The five powers reached consensuses at the in-depth discussions that will help to boost the international community's confidence in enhancing global security, he said.
The five countries, which are permanent members of the United Nations Security Council, also agreed to treat each other's strategic intentions with objectivity, promote communication on nuclear policies and strategies, and prevent nuclear risks caused by misunderstandings and misjudgments, it said.
The treaty, which took effect in 1970, aims to eventually achieve total nuclear disarmament while promoting the peaceful use of nuclear energy.
The five nuclear-weapon states have maintained regular communication concerning nuclear strategy and security since 2009.
Their latest meeting was held in 2016 in Washington.
China is currently the rotating coordinator of the treaty's cooperation mechanism.
China will remain committed to building consensus and managing differences among the five major nuclear-weapon states in terms of strategic security, replacing a zero-sum game stance with win-win cooperation, and contributing to world peace and stability, Zhang said.
Foreign Ministry spokesman Geng Shuang said at a regular news conference on Wednesday that the fact that the five major nuclear-weapon states are sitting down for face-to-face talks and in-depth discussions on urgent strategic security issues sends an important and positive signal to the world despite the current global situation with increasing uncertainties.