Talks can produce fresh progress toward a deal: China Daily editorial
chinadaily.com.cn | Updated: 2019-02-14 20:25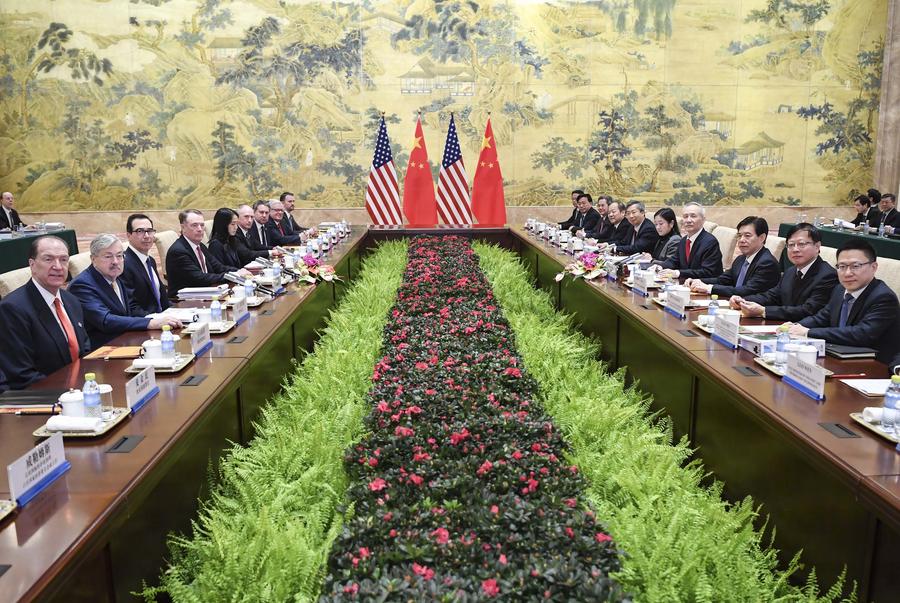 Amid a good fall of snow, which Chinese traditionally believe promises a year of harvest and prosperity, Chinese and United States top officials started two days of talks in Beijing on Thursday.
It is encouraging that after the deputy-level meetings on Monday and Tuesday to work out the technical details for an agreement — including a mechanism for enforcing any deal — the face-to-face discussions being conducted between decision-makers from both countries are being held amid a general air of optimism.
The negotiations are being led by Chinese Vice-Premier Liu He and US Trade Representative Robert Lighthizer and US Treasury Secretary Steven Mnuchin, whose cordial discussions in Washington on Jan 30 and 31 raised hopes that the two sides are genuinely doing their utmost to reach an agreement ahead of the March 1 deadline when US tariffs on $200 billion worth of imports from China are set to rise to 25 percent from 10 percent.
But there are still obstacles to be overcome, and no one should underestimate how daunting a task the two sides face trying to resolve all the differences that have long existed between them in one clean sweep.
Which is why US President Donald Trump's latest remarks — that the negotiations have been progressing "very well" and he might reportedly even let the March 1 deadline "slide for a little while" — have been taken as portents that progress is being made and a positive result may well be on the way.
Especially as White House Press Secretary Sarah Sanders has raised the possibility of Trump meeting with President Xi Jinping at the US president's personal retreat at Mar-a-Lago in Florida, sometime in March — The White House has previously said the two leaders would have to meet to strike the final bargain.
The market never lies, as the saying goes. Let's hope that's true, because the stock market has already cast a vote of confidence in China and the US being able to reach a deal. The bench mark Shanghai Composite Index has rebounded more than 10 percent, and the Dow Jones industrial average, more than 15 percent, from their lows in December when Sino-US trade tensions were running high.
It is apt that melting snow symbolizes a new beginning, as positive progress in the talks would mean a convergence of expectations for bilateral relations and help ensure the Sino-US relationship has a solid foundation of mutual trust and good momentum for positive interaction at the start of its fifth decade.