Brexit uncertainty stifles UK housing market
By Jonathan Powell in London | chinadaily.com.cn | Updated: 2019-02-15 02:11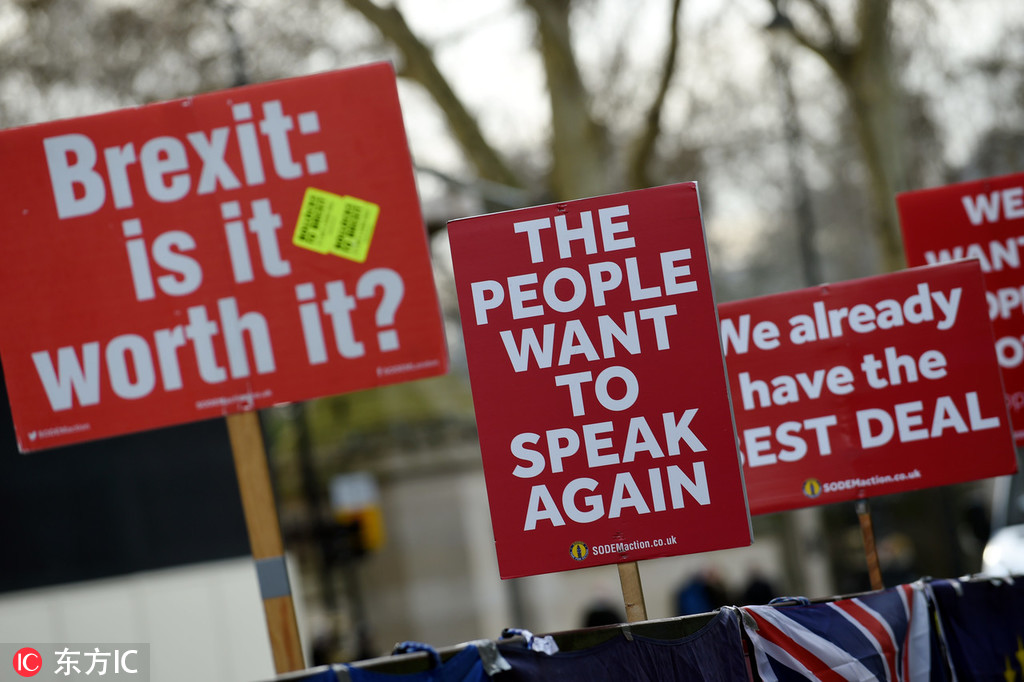 The United Kingdom housing market remains in a slump with Brexit uncertainty causing both buyers and sellers to hesitate on deals.
The latest monthly snapshot from the Royal Institution of Chartered Surveyors, or Rics, shows a further weakening of the market, with demand, prices and sales expectations all down. Sellers are shying away from putting homes on the market in the run-up to Brexit, its survey showed.
Rics said its headline price index fell for a fourth month in January, reaching the lowest since 2012.
The country is due to leave the European Union in less than two months and it's still possible that it will do so without a transition in place, which is expected to hurt the pound and cause widespread economic damage.
Rapid price growth in the past few years has made homes unaffordable for many, especially in London and the southeast.
On Tuesday, the Office for National Statistics and the Land Registry reported that annual house price growth was at its weakest level in more than five years in December.
That report said that across the UK, property values increased by 2.5 percent in the year to December – the lowest annual rate since July 2013.
Simon Rubinsohn, Rics chief economist, said: "Resolution of the Brexit negotiations is widely seen as critical to encouraging potential buyers back into the market, although whether that will be sufficient in London and parts of the South East, where affordability remains stretched and the tax changes are most penal, remains to be seen.
"Meanwhile, the lettings market is continuing to see instructions fall away as investors respond to the emerging fiscal and regulatory landscape.
"This is resulting in feedback consistent with further increases in rents across the country, to a greater or lesser degree, over the next 12 months."
During January, new buyer enquiries fell again at the headline level marking the sixth successive monthly decline, the survey said. Demand declined to some degree across virtually all parts of the UK. Scotland was a slight exception, but even there the trend was only flat.
Alongside weakening demand, the number of new properties being listed on the sales market also deteriorated, with the net balance reading of -25 percent, the weakest since July 2016.
Rounding off a subdued month for market activity, agreed sales also fell further, with the pace of decline seemingly gathering momentum compared to December.