Formula 1 team recruits Chinese teenager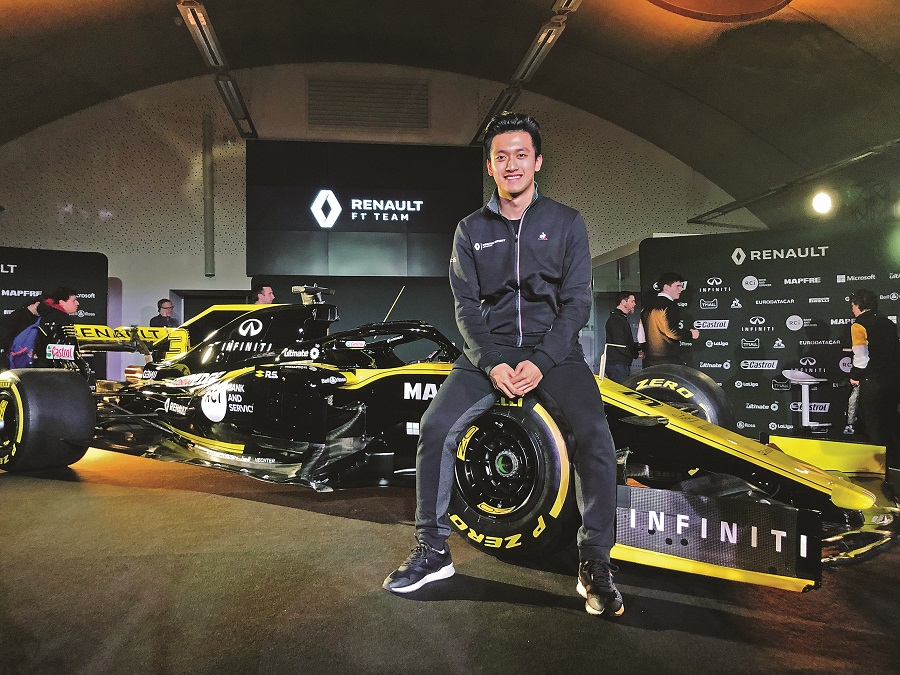 The Renault Sport Academy becomes the first manufacturer to take on a development driver from the Chinese mainland
The prospect of Formula 1 auto racing one day having its first driver from the Chinese mainland came a step closer when the Renault manufacturing team last week unveiled teenager Zhou Guanyu as its latest development driver.
Zhou, who has joined the Renault Sport Academy, was presented to media and partners, along with the Renault F1 team's star driver line-up of Nico Hulkenberg and Daniel Ricciardo, at its base in Enstone, Oxfordshire, on Tuesday.
The 19-year-old's role will include driving the team's simulator and participating in engineering briefings, making him the first driver from the Chinese mainland to occupy an F1 role with a manufacturer team.
Speaking at the launch event, Zhou said: "When I was really young, I really loved cars and the sound of fast cars. One day, my dad took me to the indoor car track and I absolutely enjoyed the sport and wanted to go there every time when I finished my school.
"Then one time, I tried outdoor karting, which was a bit more professional — you buy your own cars and you race in Shanghai, that's where I started my karting journey."
Zhou moved to London in 2012 to further his education and racing career. A year later, Zhou won the European Junior Rotax and ABKC S1 Rotax Junior Series. A move into single-seaters followed and he finished runner-up in Italian Formula 4 before moving to the FIA Formula 3 European Championship in 2016, finishing 13th in his first year and eighth in 2017 and 2018.
Along with his duties at the Renault Sport Academy, Zhou will start racing in the FIA Formula 2 Championship this year with the newly-formed UNI-Virtuosi team.
Zhou is confident that being part of the Renault team will not hinder his F2 performance in the new season, but will instead support his ultimate goal.
"[Being named a] Renault Formula One development driver is definitely a huge motivation for me," he said. "I know myself what I need, exactly, to do to reach my goal, which is Formula 1.
"My plan is to make it into F1 in two to three years' time. But before that I need to gain 40 Super License points, so I think I will try to get all the points in F2 as soon as possible, and once that is done, there will be a chance for me to step up into F1," Zhou said.
Renault's Australian star driver Ricciardo, who joined the team from Red Bull Racing this season, entered Formula 1 as a test driver for Scuderia Toro Rosso and made his debut at the 2011 British Grand Prix with the HRT team as part of a deal with Red Bull.
Ricciardo has competed for Red Bull since 2014 when Mark Webber announced his retirement. In his first season with Red Bull, Ricciardo finished third in the championship with his first three F1 wins. Last year, he won the Chinese Grand Prix and Monaco Grand Prix.
On advice for young Chinese drivers keen on pursuing their F1 dreams, he said the key is to be in Europe where there is a platform for the sport and then be disciplined.
"I was in a similar position coming from Australia. It is very isolated to the world of F1 and I imagine China is the same," he said. "Really, it's about making that step. I think, to Europe, that was a big thing for me. Putting yourself in the spotlight, putting yourself against the best upcoming kids, a lot of them, and try to see how they go.
"And then, as a young kid, so it is very easy to get distracted and, especially when you are living away from home. It's tempting to go out to start living a life before you really made it, so just be disciplined. I always know if you put the work in today, tomorrow the reward will come," said Ricciardo.
China's growing interest in F1 motor racing has seen Shanghai being included as a round for the Formula 1 World Championships since 2004, but there isn't yet a single Chinese national who has competed in an F1 race.
But Cyril Abiteboul, Renault Sport Racing managing director, said: "There is absolutely no reason that China, as a country, is not capable of doing in motorsports what has been done in most other sports. If you look at gymnastics, or other collective sports, like NBA, you have a number of Chinese citizens, who have been able to break into those major sports properties.
"There is no reason that the same does not apply and happen with motorsports."
In recent years, there have been a few Chinese names emerging in the F1 ecosystem. Chinese driver Ma Qinghua's appearance for HRT F1 team, on a practice run at the Italian Grand Prix in 2012, is one, and in 2015, Hong Kong racing driver Adderly Fong Cheun-yue was appointed as a test driver on the Lotus F1 Team.
David Menochet, marketing director at Renault Sport Racing, said: "It takes time to become a competitive Formula 1 team. Similarly, for drivers, you need a whole ecosystem to develop a world champion or even a Formula 1 driver. This ecosystem had been in place for a long time in the Western world.
"In China, there is a burgeoning market for motorsports, and it is developing. We see this whole new generation of kids getting interested in motorsports and F1, and I am sure within five to 10 years, we will have a great Chinese F1 champion."