Japan set to host Trump a second time
By Wang Xu in Tokyo | China Daily | Updated: 2019-02-20 08:07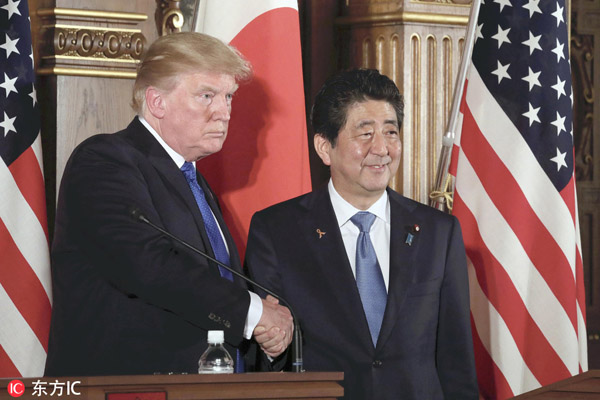 Japan is set to host US President Donald Trump for a second time, an approach an analyst said makes Japanese Prime Minster Shinzo Abe appear to be fawning over Washington to achieve bigger ambitions.
Tokyo and Washington are arranging a three-day visit to Japan by the US president from May 26. That means Trump may be the first foreign state guest to meet Japan's Crown Prince Naruhito after his planned accession to the throne on May 1, Kyodo said on Tuesday citing unidentified government sources.
"The United States is the most important country for Japan. Mr Trump is the most suitable (foreign guest) to meet the new emperor first," one source was quoted by Kyodo as saying.
As Trump is also expected to attend the Group of 20 summit in Osaka in late June. May's visit would be an unusual diplomatic event with Trump visiting Japan twice in less than two months.
Trump's predecessor, Barack Obama, visited Japan four times in his eight years in office but never more than once a year.
"Abe is playing every card he has to honor Trump and fawn over the US to achieve bigger political and diplomatic advantages," said Chu Yin, a professor at the Center for China and Globalization, a think tank based in Beijing.
In 2017, Trump visited Japan as an official guest and met with Japanese Emperor Akihito. The 85-year-old emperor will abdicate on April 30, becoming the first Japanese monarch to do so in about two centuries.
This time, Trump will be treated with utmost courtesy including a rare banquet at Japan's Imperial Palace. The emperor usually visits state guests at their lodgings before they leave Tokyo.
According to Chu, Abe is a hardliner nationalist pursuing greater arming of the country. He has to deal with the dilemma that he needs US support on the way to achieving greater militarization, which means eventually Japan can get rid of US control.
"Thus, hiding his ambition by pretending to be a tractable proxy for US offshore balance in Asia is Abe's best shot," Chu said, adding that Japan's military buildup is inevitable if one day the US decides to engage in "offshore balance" and leaves the tasks to Japan.
"Frankly speaking, Abe is not as obedient as he appears to be," he said.