China, Iran vow to boost relationship
By Cao Desheng | China Daily | Updated: 2019-02-20 09:26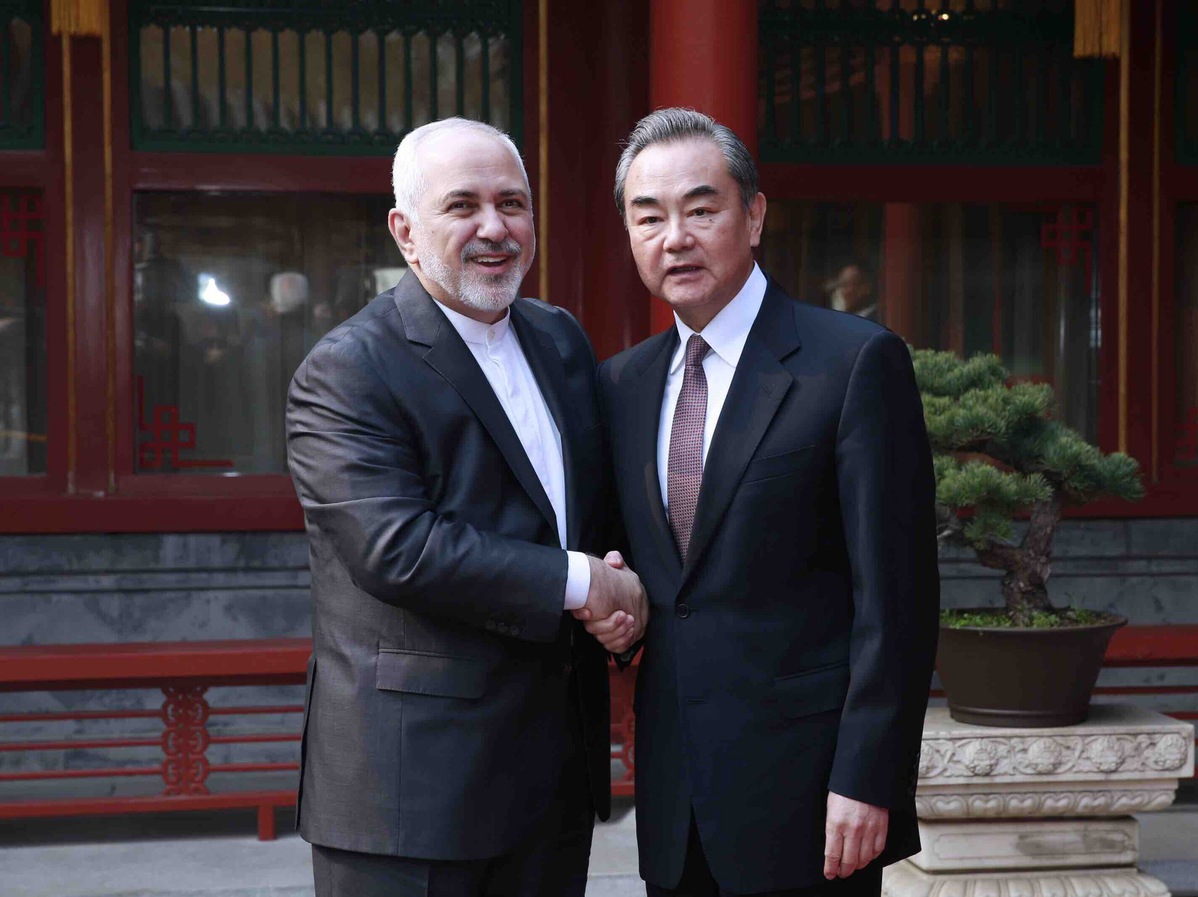 Two countries agree to strengthen dialogue, coordination on nuclear issue
Beijing and Teheran agreed on Tuesday to continue to strengthen communication and coordination on the Iran nuclear issue.
The two nations also pledged to safeguard their respective legitimate rights and interests, implement the nuclear agreement and defend multilateral rules when State Councilor and Foreign Minister Wang Yi and Iranian Foreign Minister Mohammad Javad Zarif met in Beijing.
Zarif was on a visit in Beijing as a member of an Iranian delegation led by Parliamentary Speaker Ali Larijani. His China trip came shortly after he attended the Munich Security Conference, which concluded on Sunday in Germany.
The meeting between Wang and Zarif took place amid efforts to preserve the Iran nuclear deal, formally known as the Joint Comprehensive Plan of Action, which was endorsed by the United Nations in Security Council Resolution 2231.
Iran signed the agreement in 2015 with the five permanent members of the UN Security Council - the United States, Russia, France, China and the United Kingdom - as well as Germany and the European Union. But the US unilaterally quit the deal in May 2018 and imposed sanctions on Iran. The other parties remain steadfast in upholding the deal.
Wang said in his opening remarks that he was "really delighted" to meet with Zarif "given the major changes in the Middle East and the international landscape". He added China-Iran relations are facing a new situation.
"I would like to take this opportunity to have this in-depth strategic communication with my old friend to deepen the strategic trust between our two countries and to ensure fresh progress of the comprehensive strategic partnership," Wang said.
He told Zarif that China attaches importance to and also looks forward to Iran's playing a more significant role in regional affairs.
China and Iran have histories going back thousands of years, Wang said. The two countries should maintain strategic focus on and preserve and develop bilateral cooperation from a long-term perspective despite external changes, he added.
Zarif said Iran considers China an important and all-around cooperation partner. "Our relationship with China is valuable to us. We consider the comprehensive strategic partnership between Iran and China as one of our most important relations."
He commended the China-proposed Belt and Road Initiative, and said the initiative is especially important to Iran and China. His country stands ready to actively participate in the cooperation on the initiative, Zarif said.
Teheran welcomes China playing a more important role in the Middle East and nearby regions, such as in the Syria issue, the rebuilding of Iraq and the peace process in Afghanistan, he added.
Also on Tuesday, Foreign Ministry spokesman Geng Shuang defended energy cooperation between China and Iran at a regular news conference.
Geng said the energy collaboration between the two nations is legitimate, lawful and governed by the framework of international law, and should be respected and safeguarded.