Three Tory MPs join new political group in UK Parliament
By Earle Gale in London | China Daily Global | Updated: 2019-02-21 02:27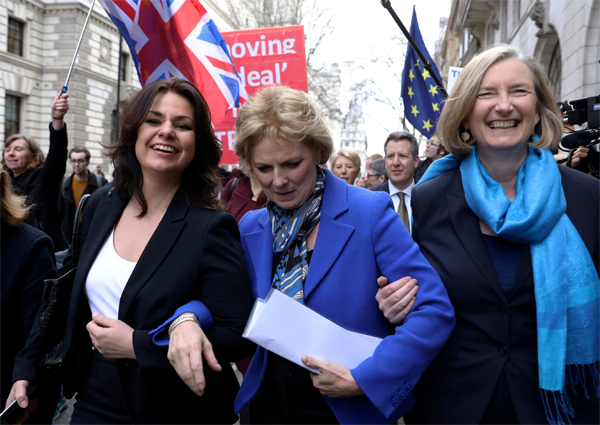 Three Conservative Party members of Parliament have defected and joined the Independent Group that was founded this week by seven disaffected Labour Party MPs.
The three new recruits to the pro-European Union faction – Anna Soubry, Sarah Wollaston, and Heidi Allen – said in an open letter to the prime minister on Wednesday that they jumped ship because the ruling Conservative Party had drifted too far to the right, and that it had become dominated by anti-EU sentiment.
"We no longer feel we can remain in the party of a government whose policies and priorities are so firmly in the grip of the ERG and DUP," the trio wrote, in reference to the hardline anti-EU component of the Conservative Party known as the European Research Group, or ERG, and the Democratic Unionist Party, a small political party that has formed a loose coalition with the Conservatives and that holds great sway over the government.
"Brexit has re-defined the Conservative Party – undoing all the efforts to modernize it," they wrote. "There has been a dismal failure to stand up to the hardline ERG, which operates openly as a party within a party."
The BBC reported that Theresa May said she was "saddened" by the departures. The prime minister insisted the Conservatives would "always offer ... decent, moderate and patriotic politics" and said withdrawing from the EU had been "a source of disagreement both in our party and our country for a long time". She said "ending that membership after four decades was never going to be easy".
On Tuesday evening, Labour Party MP Joan Ryan also defected to the Independent Group, saying she was disillusioned with Labour's inability to oppose Brexit and its failure to tackle anti-Semitism in the party.
The three former Conservative Party MPs said they will sit in Parliament as independents, like the eight MPs who have quit Labour. The Independent Group is not yet an official political party but Chuka Umunna, one of its de facto leaders, told the Guardian newspaper he hopes the grouping will become a party by the end of the year.
Members of the Independent Group have expressed support for the United Kingdom remaining a member of the EU, and would like a second referendum on the issue.
The departure of the three MPs from the Conservative Party leaves May with an even slimmer Commons majority than she had before and means she will find it harder to win support for her much-criticized Brexit divorce deal.
Contact the writer at earle@mail.chinadailyuk.com