Pioneering conductor to make Hong Kong debut
By ZHANG KUN | China Daily | Updated: 2019-02-21 08:01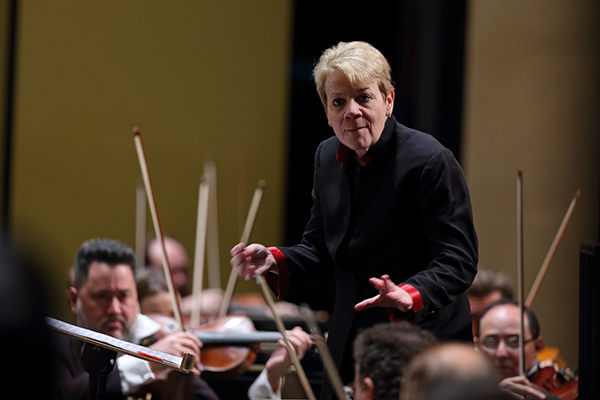 The Hong Kong Arts Festival, which is taking place through March 23, will introduce Marin Alsop, the artistic director of the Sao Paulo Symphony Orchestra, as a person who has been "breaking the glass ceiling with her baton". It's a fitting description, considering how her illustrious career has been defined by a series of "firsts".
Alsop made the headlines in 2007 for becoming the first female music director of a major US orchestra-the Baltimore Symphony. In 2013, she became the first woman to conduct the BBC's Last Night of the Proms and in September she will become the first female chief conductor of the ORF Vienna Radio Symphony Orchestra.
The Sao Paulo Symphony Orchestra, which is the first from South America to perform in China, will take the stage for the opening concert of the festival on Thursday. On Friday, it will perform another concert that will feature Chinese violinist, Ning Feng. The orchestra will also hold a series of workshops with local public school students.
In an interview with China Daily during the orchestra's stop in Shanghai on Feb 14, the US conductor made light of her achievements. After its performance in Shanghai, the orchestra visited Jinan, Shandong province and Beijing.
"There were so few women conductors in the past that I was able to take advantage being a novelty," Alsop says, "but I would rather be known for my music sense and programming. It was just a roll of the dice that I was born a woman."
The concert in Shanghai started with Leonard Bernstein's Overture to Candide, followed by works from two South American composers, Brazilian Heitor Villa-Lobos and Argentine Alberto Ginastera. The second part featured Scheherazade by Russian artist Nikolai Rimsky-Korsakov.
Alsop, who became the principal conductor and musical director of the Sao Paulo Symphony Orchestra in 2012, says the orchestra's music was "accessible with folk elements" and highly rhythmic, which is a "hallmark of Brazilian music".
Born in New York City to parents who were both musicians, Alsop holds a master's degree in violin and is the founder of the musical groups String Fever and Concordia. She was one of the late Leonard Bernstein's proteges, studying under him, Gustav Meier and Seiji Ozawa at Bernstein's Tanglewood Music Center, where she was awarded the prestigious Koussevitzky Prize in 1989.
Alsop recalls that when she started out 30 years ago, many people mistook her for a man because of her first name. Although more women have emerged on the scene in the years since, female conductors are still few and far between. In 2002, Alsop started a fellowship for women conductors to help address this issue and create "a safe environment for talented women to make mistakes". This initiative is still active and, each year, the most outstanding member of the fellowship is awarded $15,000 and the opportunity to conduct the Sao Paulo and Baltimore symphonies.
According to Alsop, the fellowship receives up to 100 applicants every year, and interest has been steadily growing. To date, the fellowship has selected 20 winners, including two Chinese conductors from Taiwan.
With regard to leading an orchestra, Alsop says that the skills needed are not limited to gender.
"You just need to inspire confidence in people and enable them to be the best they can be," she says.
"More importantly, you need to have resilience, because it is hard to be the focal point of criticism, as well as being the leader of 100 people with strong egos."