Flexible display firms eye foldable bonanza
By Fan Feifei | China Daily | Updated: 2019-02-22 10:14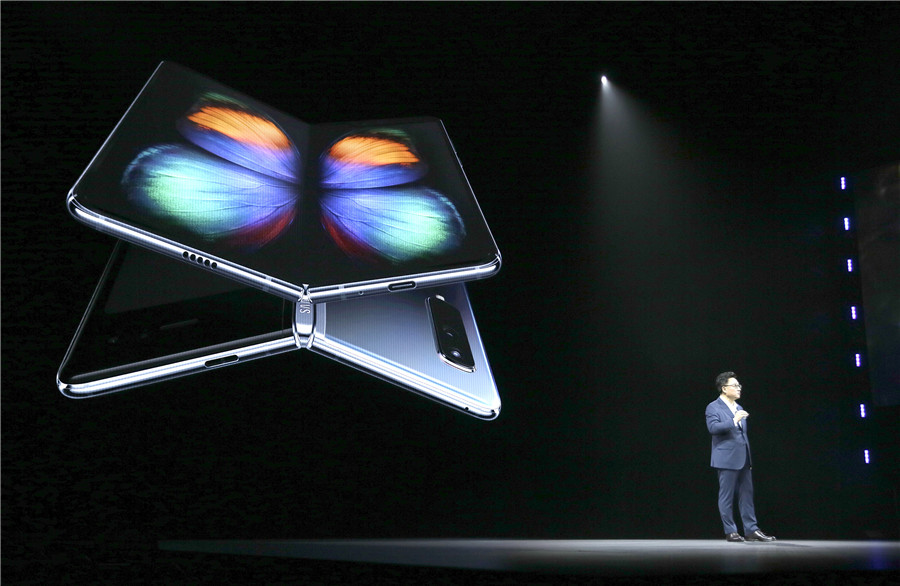 Domestic demand set to surge as more users shift to portable, bigger devices
Domestic flexible display panel makers are set to witness explosive growth in the next few years as leading smartphone vendors ramp up efforts to roll out new products like foldable phones to bolster sagging fortunes.
Buoyed by the prospects, companies are already scaling up capacities in segments like flexible screens used for mobile devices and smart wearables, according to industry sources. These include active matrix/organic light-emitting diodes or AMOLEDs and organic light-emitting diodes used for displays.
BOE Technology Group Co Ltd, a Beijing-based supplier of display products and solutions, said in December that it is planning to build a new sixth-generation flexible AMOLED production line in Fuzhou, Fujian province, with a total investment of 46.5 billion yuan ($6.9 billion).
"The flexible AMOLED display brings more possibilities to a phone's appearance," said Zhang Yu, senior vice-president of BOE.
AMOLEDs are more flexible with faster responses, high contrast and wide visual angles, compared to traditional liquid crystal display, or LCD, panels. But they are in short supply and hence have huge market potential, due to the absence of competition.
BOE has three sixth-generation flexible AMOLED production lines at present. It started mass production of the panels from its facility in Chengdu, Sichuan province, in October 2017. The panels have already been used by more than 10 smartphone manufacturers including Huawei Technologies Co Ltd, Oppo Electronics Corp, Vivo Mobile Communication Technology Co, Xiaomi Corp, ZTE Corp and Nubia Technology Co Ltd.
The company's second line in Mianyang, Sichuan province, is set to start mass production this year, while work on the third facility commenced in Chongqing last year.
While companies are bullish about market prospects, industry analysts remained guarded on the prospects for foldable products.
According to CITIC Securities, 2019 will be the first year of application for foldable and flexible screens and OLED panel shipments will cross 1 million units. However, companies may still face considerable challenges as steep prices could affect popularity.
IHS Markit, another market research firm, expects BOE to be the world's largest supplier of AMOLED display panels this year, with shipments of foldable panels set to reach 50 million by 2025.
The optimism has already led to a surge in the prices of OLED-related stocks, such as BOE, Visionox Co Ltd, Lingyi iTech, Triumph Science and Technology, with most of the shares hitting the daily price limits.
South Korean tech giant Samsung Electronics Co Ltd currently dominates the global AMOLED sector, with a 90 percent market share.
However, experts say LCD screens would still be the main revenue driver for companies. Although OLED products will see rapid growth, around 60 to 70 percent of the existing mobile phones still use LCD screens. It will still take some time for foldable devices to gain traction, they said.
Wu Shuyuan, an analyst at Beijing-based market research firm Sigmaintell Consulting, said: "Shipments of domestically-made flexible AMOLED screens are still in the initial stages. Companies need to improve their yield rate capacities and reduce production costs."
Wu said sales of foldable devices would be hampered by the supply chain, costs and other factors, thereby restricting them to a niche market.
Visionox, another OLED-focused company, has two sixth-generation flexible AMOLED display screen production lines in Gu'an, Hebei province, and Hefei in Anhui province.
The company, which provides flexible screens for smartphone maker Xiaomi Corp's new foldable phone, was carved out of the OLED research team at Tsinghua University and has been engaged in the sector for more than two decades. Its AMOLED display screen production line in Gu'an, which involved an investment of nearly 30 billion yuan, went into operation last year. It can turn out 30,000 glass substrates (1,500 mm by 1,850 mm) every month, and meet the highend, foldable screen demand for 90 million smartphones.
Visionox started building its second production line in Hefei in December. "The new line, with an investment of 44 billion yuan, will have a monthly capacity of 30,000 substrates, similar to our first line in Hebei," said Yang Shujuan, general manager at Visionox's brand center.
Yang said with the development of 5G, the internet of things and artificial intelligence, the flexible AMOLEDs will have wider application, such as in smartphones, computers, smart wearables, vehicles, smart homes, virtual reality and augmented reality.
"Flexible AMOLED screens will be everywhere in the future." Demand for foldable phones is huge as they have large screens and are portable, she said.
"Visionox will focus on independent innovation and team with other companies in the industrial chain to produce flexible products, which include but are not limited to curved surfaces, and folding devices," Yang said.
Samsung unveiled its foldable display phones on Wednesday, four days earlier than its rival Huawei Technologies Co Ltd.
Ha Jiqing, a senior analyst from Beijing-based consultancy All View Cloud, said: "Sales of foldable phones will not be very high this year as companies are just testing the product. We will have to wait and see if consumers adapt to such phones."
Higher power consumption by the large screen will affect the battery life. Moreover, the hinge, a mechanical design that allows the flexible panel to fold and unfold is expensive, said Ha.