Hopes high for history boy Hou
Share - WeChat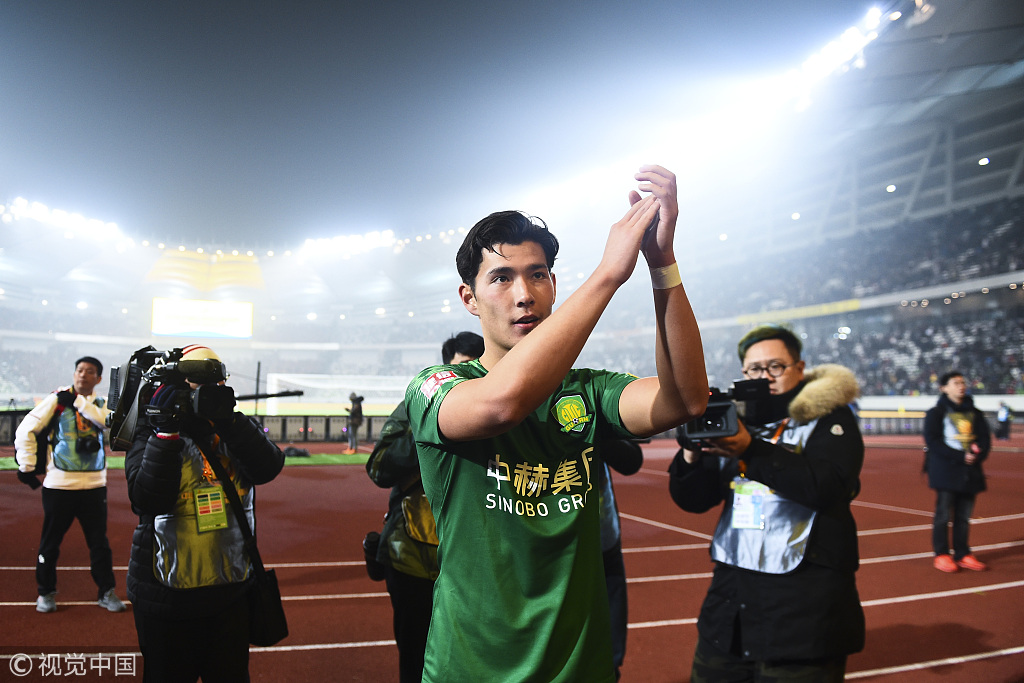 Chinese game's first naturalized player debuts for Beijing Guo'an amid much fanfare
As China's first naturalized player, Hou Yongyong's anticipated success could open a new window for China's soccer development.
Earlier this month, Chinese Super League side Beijing Guo'an announced the signings of Hou and Li Ke, who is known as Nico Yennaris in his native England.
Hou made his debut as a 72nd-minute substitute in the CFA Super Cup on Saturday night in Suzhou, Jiangsu province, losing to defending CSL season champion Shanghai SIPG 2-0.
Hou's debut marked the first time a naturalized player appeared in a professional Chinese match.
"I'm very proud to change my nationality to become a Chinese citizen," said Hou.
"I think this season will be tough. We want to do well in every competition. We want to be on top of the CSL, win the cup and as well the AFC Champions League."
Hou sang the Chinese national anthem proficiently before kick-off, and said after game that his mother, who hails from Henan province, taught him the song years ago.
Before coming to China, the 21-year-old played for Rosenborg, where he became the Norwegian top-flight club's youngest-ever player at the age of 16.
The news of Hou becoming a Chinese citizen and joining Guo'an, which won the CFA Cup last year, ignited a fierce debate online. While many netizens believe Hou will be a game-changer, some think importing naturalized players is an unnecessary shortcut that will compromise the development of homegrown talent.
"In Chinese soccer history, this night will for sure be remembered," said China Central Television soccer commentator He Wei. "No one knows if this way will work, but we will try more options instead of just standing still and do nothing."
Despite the debate, China has always been a part of the life of the talented young midfielder.
Although Hou grew up in Europe, his mother Hou Yurong not only gave him a Chinese name, but encouraged him to embrace his ancestral roots.
Hou said that his mom was one of the major reasons he made the decision to be naturalized.
"My mother did not only give me Chinese blood," he said. "She took me to China several times to visit the family when I was a small boy. She also cooked me Chinese food and let me to get used to the Chinese style of living.
"I come from Norway, but my mom is Chinese. I learned to speak some Chinese, so I can understand a bit, but it's difficult to communicate with people.
"My plan is to learn the language in the first half-year. In six months, I'm pretty sure I will be able to speak better Mandarin. I will find a Chinese teacher.
"My mom will also be at my side, along with my teammates. I believe I can achieve that."
Learning the language is not Hou's only off-field ambition, as he has also demonstrated talent for playing the piano. But soccer is his top priority.
His career has been bumpy because of nagging injuries, but he is determined to persevere.
"I think I need to improve all aspects of my game because growth is needed for every soccer player," he said.
"I'm a midfielder and I can play most of the roles in midfield, but probably I will be the number eight or ten man. Those are my best roles.
"In Norway, it's more physical and the players are bigger. But here in China, it's a more technical focus. It goes quicker, more like a passing game."
Guo'an's German head coach Roger Schmidt is confident about Hou's future with the club.
"As a new player he still needs time to fit in the CSL," said the 51-year-old coach after Saturday's loss.
"Hou made his debut when we were losing against the opponent, and he tried so hard tonight. I believe he will help the team move forward this season through his efforts.
"Although he's still very young, he is already an experienced player in Europe with a mature character. He might have some aspects to improve, but I think he will fit into the team as soon as possible."
On Guo'an's other naturalized player, Schmidt said Li is more experienced with greater defensive capabilities.
The arrival of the 25-year-old, who was a product of Arsenal's youth academy before moving to lesser-known London side Brentford, gives the coach more options in midfield this season.